If you're not from the Philippines, you might not have heard—or heard of—Kulintang.
Even the Filipino members of Toronto band Pantayo had to go on a journey to learn about it. But once they did, they wanted to share it! They did this not only by making their own music (including their debut album, Pantayo) but also by hosting Kulintang workshops for all ages, called KuliVersity. What an awesome idea!
We spoke with all five of them—Katrina, Kat, Joanna, Michelle, and Eirene—to hear how they learned to blend traditional music from the Philippines with Western pop music. No matter what your own heritage is, their story says a lot about life in Canada—a country full of people and cultures from around the globe, who are all learning to live together.
Let's learn about Kulintang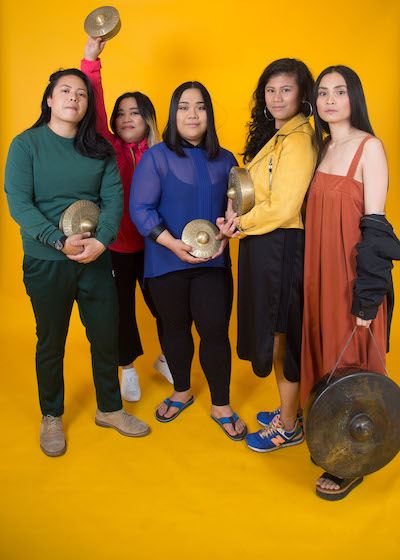 Pantayo and some of their Kulintang gongs. (Yannick Anton)
OC: How would you describe Kulintang music to someone who has never heard it?
Kat: Kulintang music is played with a group of people—called an ensemble—using different pot-shaped metal instruments called gongs. Kulintang is also the name of the main instrument in the ensemble, which is made up of a row of eight hand-sized gongs.
Other instruments in the ensemble are:
a drum called a Dabakan
larger suspended gongs called Agong
a single gong called Babandir
and, in some cultures, a row of four hanging gongs called Gandingan
Kulintang is an oral music tradition. Students learn by listening and watching, then adapting the music according to their own personal style. It is meant to be played by everyone!
Michelle: Through history, the Philippines has been colonized [taken over] by the Spaniards, Americans, and Japanese. And one of the results of colonization is erasure of culture. That's why I am happy to see that the traditions of Kulintang live on through resistance by Indigenous cultural bearers in the Philippines, as well as teachers and many other folks around the world. It is an absolute privilege to be able to play our interpretation of Kulintang music today.
OC: Did you grow up with Kulintang music or did you learn about it later in life?
Katrina: I was way past my teens and into my 20s when I had the privilege of learning and finishing one Kulintang song fully! It definitely has been a journey that started out slow.
Eirene: I think I was maybe 15 or 16 when the local Filipino folk dance troupe offered a Kulintang workshop. Connecting with and having pride in Filipino cultural music was more of a journey through my teens.
Joanna: I was exposed to Kulintang around my early 20s at a Filipino arts center where I met Pantayo. It became a way for me to explore my identity as a Filipino-Canadian in Toronto.
Mixing it all together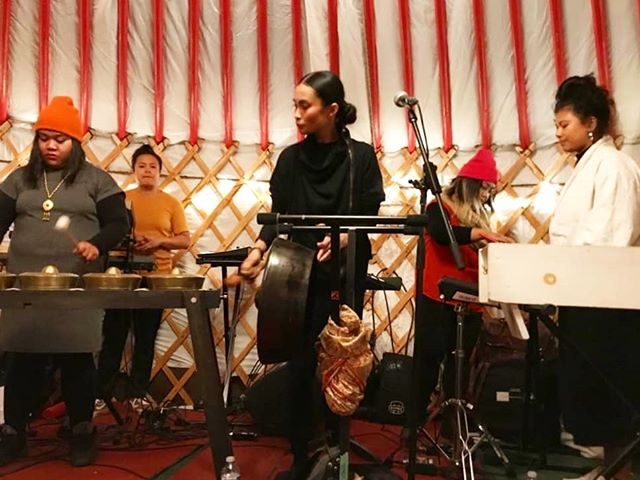 Playing live in Toronto in 2018. (Courtesy of Pantayo)
OC: Pantayo plays music that mixes pop and R&B with Kulintang. When did you first think that mix would work? Did you just go with your guts?
Katrina: Kulintang sheet music (music that is written down) that we received from teachers did not have a legend or script as to how they were supposed to be played. All that we could draw from were our influences!
Joanna: R&B and pop is something we all connected to some level. I guess this naturally made it into the grooves and sound that we really liked and ended up working into our songs.
Eirene: Through trial and error, going with our guts, and many hours of rehearsals we naturally created a sound that mixed Kulintang with synths and electronic drums.
Michelle: The sound you will hear in this album is the spawn of our meaningful collaboration, not just as musicians, but as a group bound by our collective conviction and love for one another. In fact, Pantayo comes from a concept in Tagalog [a Filipino ethnic language] called Pantayong Pananaw. It can be translated to "from us for us" or "for us by us". This idea resonates deeply with how we operate as a group.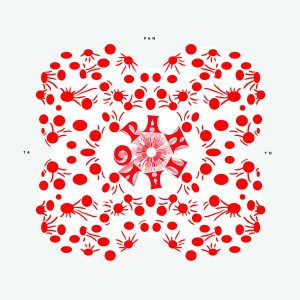 The cover of Pantayo's new album. (Telephone Explosion Records)
OC: You just released your first full-length album, and it sounds awesome! What has it been like making music in Toronto—do you feel accepted?
Katrina: Thank you, we're glad people are liking it as much as we are! I am always overwhelmed at how folks from different backgrounds and disciplines show up to our shows or reach out to us personally. The struggle for me is mostly internal. I am constantly having to make peace with the record that outsiders are bound to critique, while I'm just learning to accept that it's fine!
Joanna: The music scene in Toronto is so diverse, interesting, and complicated! Luckily, this "struggle to find my place" is not a new feeling. As an immigrant this not-knowing-if-I-belong feeling is kind of one of the reasons why I create. It's a way to carve my/our own place in an industry that has historically marginalized or "othered" music being made by women that look like us! Not everyone is going to like what we make, and that's okay, because we will keep on making more! :)
Sharing Kulintang with everyone!
OC: How did the KuliVersity workshops start?
Katrina: I don't quite remember our first workshop, but it was probably rooted in the questions we get after a performance. I'd like to think KuliVersity is for everyone, both young and old. We've been lucky to host workshops with participants varying from four-year-old girls, to professional percussionists, to lifelong students of music at the Halifax Jazz Fest. We like to keep the workshops accessible.
OC: You talk a lot about being a part of the Filipino diaspora [this is a group of people from one region who have been scattered across many different parts of the world]. What advice would you give to young immigrants in Canada who want to connect their own unique heritage to their self-expression?
Katrina: Be curious and work through your ideas! Always ask questions and record answers you get, even if they don't make sense at the time.
Joanna: Keep questioning, sharing, connecting, and unlearning and remember that your experiences are valued. Sometimes it will feel weird and uncomfortable. Culture, identity, heritage can be messy stuff—how you connect with your heritage will look different from someone else. Personally, art and music making helps me work through this "messy stuff". And it's an extra bonus if you make lifelong friends along the way!
Michelle: My advice would really be more towards those able to instruct young people. Be kind and patient to them. Be there for them in ways you are capable of. Provide tools when you are able to. Provide opportunities when you have access to them. All of these will translate to love, and I think this leads to many positive possibilities, like finding the pieces of who you are, your roots, your heritage and culture.
Not understanding and being uncertain of who you are, especially as a young person, can make you feel disconnected. But having a sense of belonging is one of the foundations of self love.
Watch Pantayo use the power of Kulintang to make some new friends in the video for their song "Heto Na".