It's finally July and you know what that means. School is OUT and summer camps are ON!
To help get us even further into the summer mood, we interviewed Spencer Litzinger. She's a host on YTV's The Zone, and she's also an improv instructor at Second City summer camps in Toronto. Improv is a style of comedy performing where people create sketches out of thin air based on only a few suggestions.
So what is it like spending your summer teaching kids how to be comfortable and funny on a stage in front of others? As Spencer tells it, lots of fun! (Plus, she has "zinger" in her name, so we're pretty sure that she was born to have a career based around telling jokes!)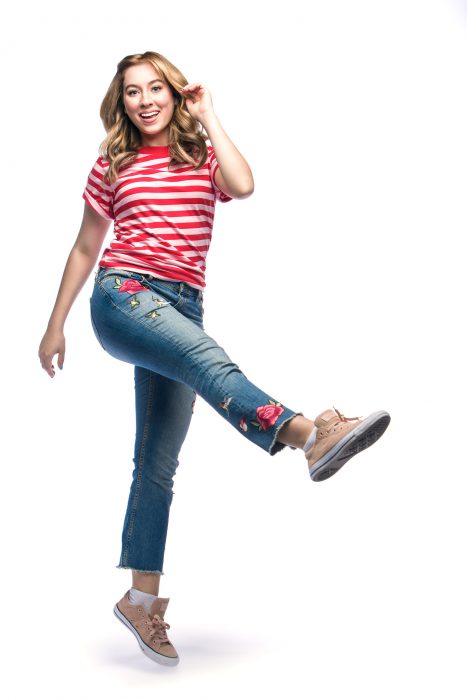 (Shayne Gray)
Who's ready to kick it with Spencer?
The Summer of Funny
OWLconnected: We read you started doing improv when you were just 11 years old! How and why did you get into it?
Spencer Litzinger: Haha, that is true! Honestly, it was because I had a cool mom. I was always into performing, I loved making people laugh. And right near us was an improv theatre—we started seeing shows and I fell in love with the art form. From just a simple suggestion of a word these improvisers could make up funny scenes. I wanted to do that!
I'd come to play in their open jams on Tuesday nights—it was fun, but everyone was an adult and I didn't know what I was doing. So my Mom looked into improv classes for kids and we found the Second City training centre. And I went to their improv camp that very summer. It was amazing. I met so many other kids, I got to learn how to do improv and play tons of games. After that, I just became a regular, taking classes whenever I could at Second City.
OC: What's your absolute favourite thing about improv?
SL: Oh, there are so many things! I guess if I had to choose one thing, it would definitely be working with someone else on stage. It's really fun. I never know what's going to happen. We could be pirates, brother/sister, work at a pickle factory ... That's what I love about improv—the possibilities are endless and made up right on the spot!
OC: Do you ever get scared or nervous to perform in front of audiences? If so, how do you handle those nerves?
SL: When I do get nervous, it's because I'm worried about being funny. Then I just remind myself to focus on making my scene partner look good and that always clears my nerves right up.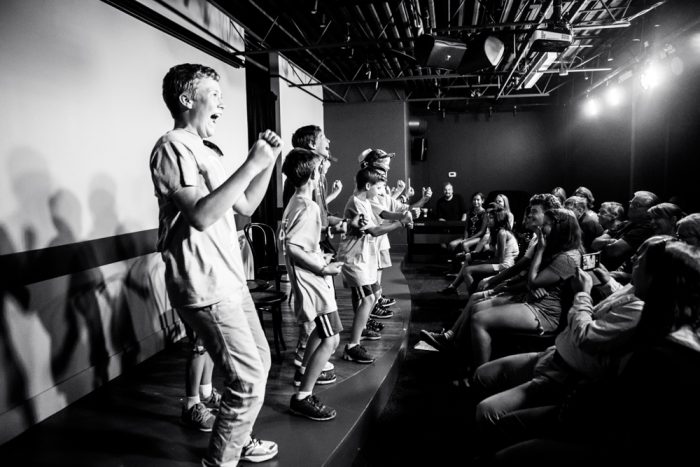 Campers at Second City perform for family and friends. (Courtesy of The Second City)
OC: Do you have a favourite class or camp offered at Second City?
SL: I love them all. I think it's pretty awesome that you can be in a class from the age of 8 and up. There's a grade 2-4 class, a grade 5-8 class, and a 9-12 class. And the more classes that you take, the more opportunities you have to advance in classes for your age! Plus, in the summertime they offer some pretty fun specialty classes, like Teen Acting, Puppetry, Clown, and Stand Up. And the best part? At the end you get to do a show where all your loved ones can come watch you perform!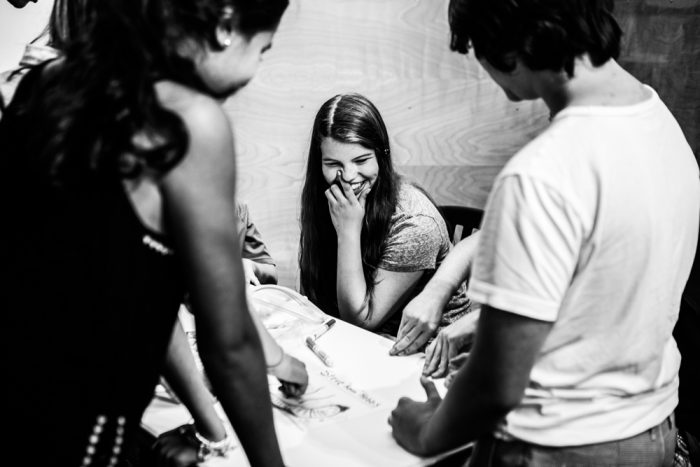 Laughs happening on the reg at Second City camp. (Courtesy of The Second City)
OC: What's the most rewarding thing about teaching kids at Second City?
SL: I think the most rewarding part is when a student is just having the most fun in a scene. When they're surprising themselves with their answers or giggling at their silly voice that they've made. In these moments the student has lost all self-judgement and is just having fun!
OC: What skills or lessons have you learned at Second City that help you in your everyday life? What do you think others could learn from taking classes there?
SL: Improv has taught me how to be more present in any given moment. I think there's a lot someone can take away from an improv class. Like learning that it's okay to make a mistake! In improv, mistakes are beautiful gifts that will be used in the scene. As well, improv is a great outlet to be creative and be silly. Anything is possible with improv, and that sort of positivity can be used in everyday life!
OC: Who inspires you?
SL: My good friend Eli. He's one of the funniest writers I've ever met. He has recently started doing improv and he's amazing at it! He inspires me to try new things, work really hard, and dive fully in.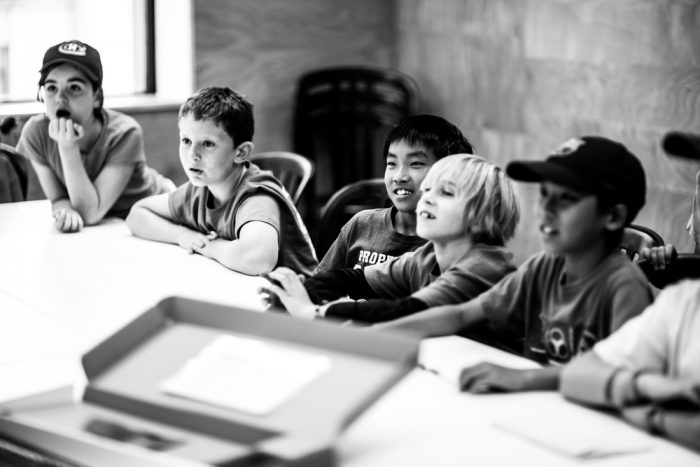 Campers eagerly await their burping instructions. (Courtesy of The Second City)
OC: Funniest memory?
SL: In every summer camp, we will do a talent show. Last year, a large number of campers were able to burp on demand. So I threw a giant burp off! The whole stage was chalk full of campers ready to burp. We passed the mic down, and one-by-one, everyone had a turn to do their best belch. I laughed so hard, I burped!
OC: Answer this "Would You Rather" question from OWL's summer issue: Would you rather earn extra money by running a prune-juice stand OR delivering bricks?
SL: Hmm, well in both cases there's a positive and negative. Delivering bricks positive? I will get stronger ... Negative? Bricks are very heavy! Prune juice stand positive? Some people like prune juice ... Negative? I'm not one of them! So for that very reason, I'll go with delivering bricks.
OC: Summer plans? When you're not performing or teaching classes at Second City, of course!
SL: Oh, swimming at the beach, seeing family, filming at YTV's The Zone, and going to Canada's Wonderland!