The Marvel Cinematic Universe (MCU) keeps growing all the time. But after the climactic events of the epic Avengers: Infinity War and Avengers: Endgame movies, Marvel has been taking a bit of a breather. Considering those movies were nearly six hours in total and had around 100 characters, that's not a bad idea!
But today (Friday, September 3) we get to meet the first new Marvel movie heroes since Captain Marvel in 2019.
Of course, we're talking about Shang-Chi, the title character in the new film, Shang-Chi and the Legend of the Ten Rings!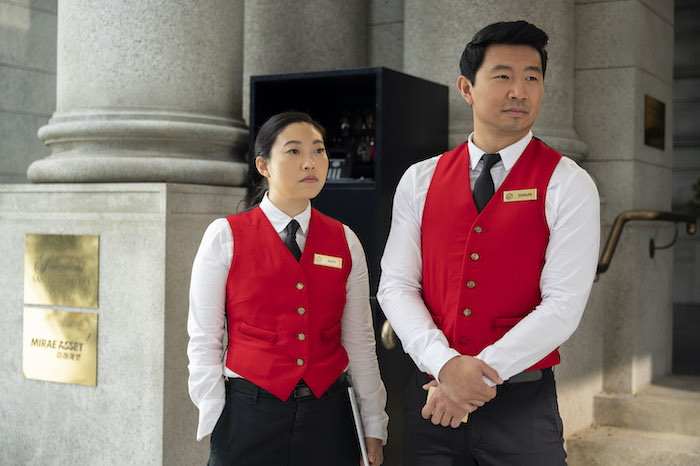 Katy and Shaun may not seem like superhero material here, but just you wait! (Photo courtesy of Marvel Studios. ©Marvel Studios 2021)
We meet "Shaun" in San Francisco. He works as a valet with his best friend, Katy—parking cars during the day and singing karaoke at night. But Shaun has an incredible past that Katy knows nothing about. And it's about to change both of their lives!
Simu Liu leads a new Marvel age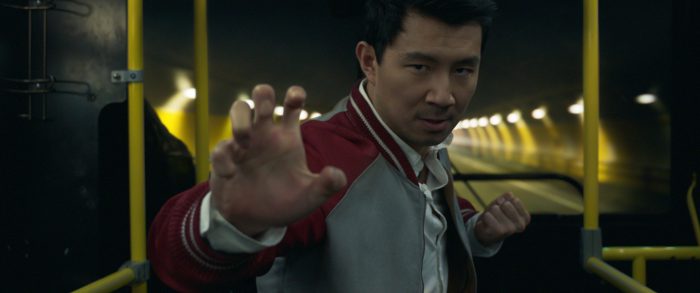 Simu Liu can't wait to introduce you all to Shang-Chi! (Photo courtesy of Marvel Studios. ©Marvel Studios 2021)
The actor who plays Shaun/Shang-Chi is Simu Liu, a Canadian whose family immigrated here from Harbin, China when Liu was five. Liu is already pretty well known here in Canada as a star of the CBC comedy Kim's Convenience. But as famous as that made him, it's nothing compared to the responsibility of being the first Asian superhero in a Marvel movie!
Fortunately, he's up to the task. Shang-Chi the character is skilled, powerful, humble, and determined. And Shang-Chi the film is electric and beautiful—it combines Chinese mythology and breathtaking scenery with fantastical characters and mind-blowing fight scenes. We were lucky enough to speak to Liu about his love of comics, the challenge of getting the role, and what he learned from the other actors on set.
Speaking with Simu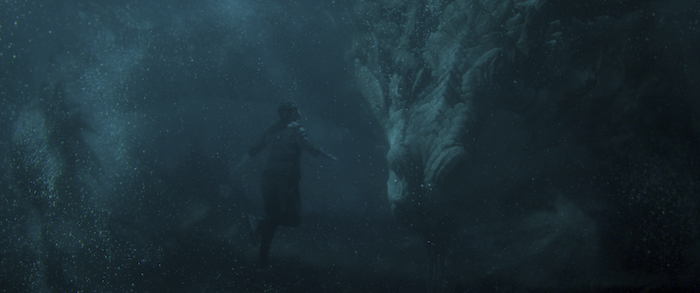 Shang-Chi is a film that filled with imagination and amazing creatures and settings. (Photo courtesy of Marvel Studios. ©Marvel Studios 2021)
OWLconnected: Were you a comic book fan when you were a kid?
Simu Liu: Yeah! I was a huge comic book nerd when I was a kid, and loved all things superhero—loved Power Rangers, loved Mummies Alive!, loved Saturday morning X-Men. Just this idea that these misfits would get together, would have superpowers, and would be able to save the world!
I was very much that misfit kid. I was the only child of immigrants parents, who worked all the time because they were trying to provide for the family. So I would love the chance to escape into these worlds and to try to imagine myself in their shoes—in superhero shoes!—and being in a position where I had a greater destiny. I, too, could do great things!
I always felt this disconnect though, because none of the heroes ever looked like me. But I'm really excited for today. We get to debut Shang-Chi to the world. He gets to be this lead hero in the MCU, and we have not just one but several incredible Asian, and Asian-Canadian, and Asian-American heroes and heroines that are about to be introduced to a global audience!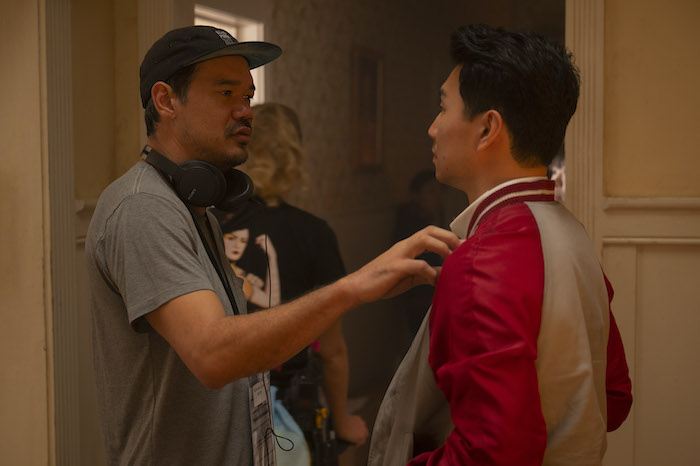 Want to know why Shang-Chi director Destin Daniel Cretton chose Liu for such a big role? Simu answers this below! (Photo courtesy of Marvel Studios. ©Marvel Studios 2021)
OC: Being the lead in a new Marvel is bigger than anything you've ever done! How did you convince them you were the right person for the job? 
SL: Absolutely! Going into the audition process and getting that first notification that Sarah Finn (casting director for Marvel) wanted me to read for the part, I thought that there wasn't a chance in the world that it would ever be me! It's so natural for your insecurities to come out in times like this. I thought, Who am I to think that I could be this Marvel superhero? I was neither the tallest, nor the buffest, nor the handsomest, nor the best at martial arts. And in my mind, the world's first Asian superhero ought to be perfect in every way. And so I honestly did the scene with no expectation that I would ever be called back.
When I did get the call a couple weeks later, I flew down and met Destin (Daniel Cretton, director) in L.A., something shifted in me when we were having our conversation. Because all of the things that he talked about wanting for the character were not to be the tallest, or the best at martial arts, or to be the most handsome, or the most 'ripped'. It was to be the most human. And was something that I could get behind.
I had spent five seasons playing Jung Kim (on Kim's Convenience), this guy who was trying to figure himself out, and is struggling. When Destin first talked about Shaun/Shang-Chi, he spoke about a lot of the same things. He is someone who at his core is running from something and is just trying to figure it all out. That was something that I could connect to, and I let that be the engine of the character. Relatable, rather than perfect. Flawed, rather than flawless. I let that awkwardness inform my performance and I think that went a long way in securing me the role.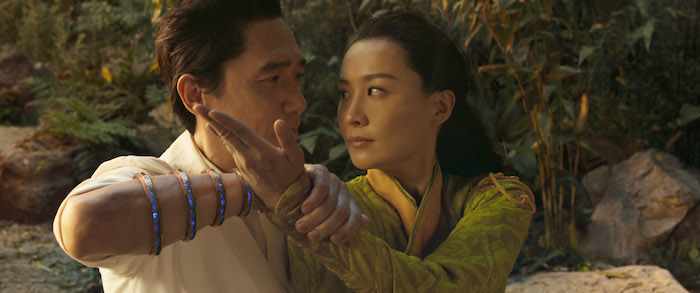 Shang-Chi's parents are both master warriors who pass on different gifts to their son. (Photo courtesy of Marvel Studios. ©Marvel Studios 2021)
OC: This film has great talent from all generations. There are young actors like yourself and Awkwafina. But then you also have great legends of Chinese cinema and Oscar winners! What did you learn from acting alongside these experienced pros?
SL: I was the new guy coming to set, and I wanted to be a sponge [meaning learn everything he could from others around him]. I considered it a massive privilege to have my first movie be with actors like Tony Leung and Michelle Yeoh and Sir Ben Kingsley. And also Awkwafina and Ronny Cheing, both of whom I was a massive fan of and now am very proud to call them my friends, I feel like I had a wealth of knowledge and that I needed to learn from all of them.
Michelle and Tony particularly made me nervous in the days leading up to meeting them, but in the case of both, they did such amazing jobs of dispelling that movie star aura right away. Michelle wrapped me in a giant hug and said, "We are going to have so much fun together!" And she proceeded to be the warmest, kindest, most goofiest aunty character on set ever and just lit up every room she went into. And Tony is so gentle and soft-spoken that you would never think that he was one of the most iconic actors in Asian cinematic history.
OC: His performance in the film is very quiet, even when he's being nasty!
SL: Yeah. And it really grounded me, too. Absorbing his stillness. He is such a master of conveying so much with a single look or stare. And for someone like me, who was nervous and had a lot of anxiety, watching Tony just kind of exist on camera—totally at peace with himself–brought me to a much more grounded place as well. So I can't thank him enough for teaching me the value of that.
Thanks so much for the chat, Simu! For more, watch the Ready To Rise featurette below!
Marvel Studios' "Shang-Chi and the Legend of the Ten Rings" opens in theatres on September 3.