Happy Holidays, everyone! On December 25, Disney+ is releasing the newest Disney/Pixar film for streaming: Soul.
It is about Joe Gardner, a struggling jazz musician who lives in New York City, who finally lands the audition he's been dreaming of. Finally, everything is working out ... until Joe suddenly finds himself on the way to afterlife! Somehow, Joe escapes this fate, only to arrive in an even stranger place: The Great Before.
Bringing The Great Before to the screen was the job of dozens of skilled animators and artists. One of them was talented Canadian Trevor Jimenez. A fan of everything from early Disney films to Japanese anime, Trevor is also an Oscar-nominated short film director, for his movie about growing up as the child of divorced parents.
From Soul to the Raps!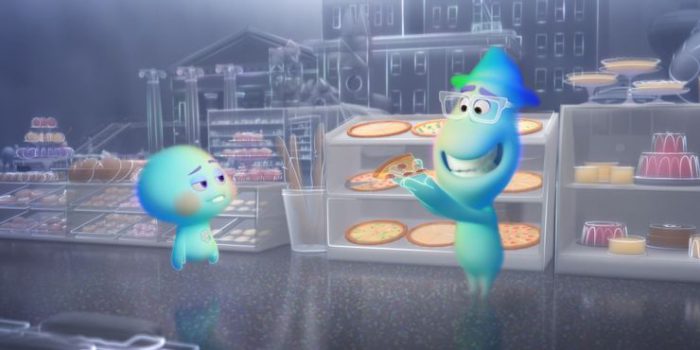 Who wants pizza? Joe and Soul 22 learn about food and The Great Before in Soul. (Disney/Pixar)
We spoke to Trevor about being a story supervisor on Soul, how his team got creative on the project, and maybe the only thing that he loves more than animation: The Toronto Raptors!
OWLconnected: So what does a story supervisor do?
Trevor Jimenez: I actually started as story artist, which might help inform what a supervisor does. Story artists work closely with the director—Pete (Docter) in this situation—and we draw comic book panels called storyboards. They're the first visual representations of the film. Those get edited together with music and sound, and we watch them all like a test movie. We do this about seven times over—we reimagine the whole film several times.
The story supervisor is the leader of the whole team (the story artists). They do some storyboarding, but they're really working with the team and making sure that everybody is on the same page. So the film feels cohesive—the supervisor is the bridge between director and team.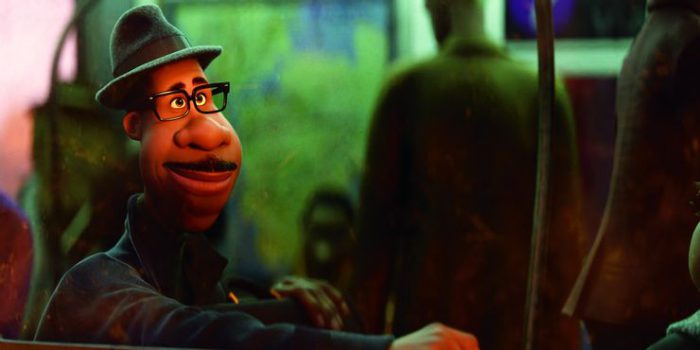 Different animators are used for different scenes depending on their skills. (Disney/Pixar)
OC: How many different teams of artists are there on a film like Soul?
TJ: In story specifically, there are about seven or eight artists at a given time, and each one has a sequence. We encourage people to use their unique talents. Everyone on the team—some people are really funny, some people really board (draw) dynamic action sequences well, some people like to go off and explore something that wasn't even in the script! Because the film itself has funny scenes, dynamic scenes, some scenes that are kind of scary, we want that variety (of talents). Then the editor and Pete (director) cull it all together and use music and pacing to make it feel like a movie.
JC: So knowing an artist's talent goes into choosing them for certain scenes?
TJ: Exactly. And that's part of my job as a story supervisor because I know the team really well. I know what they each love to do, and when a scene comes up from writing that seems right up their alley, we line that up for them so that they can do their best work.
OC: You received two promotions while working on this film! What is it like working on this project?
TJ: It was easy in some ways. Some films that I've been on, it feels like we're just fine tuning it. This one, [asks] such a big question that you can go in any direction. I felt like that was part of the fun, you know? Like, find this brand new version of the film, and go in this other place that we'd never explored. It was exciting. And then my role also changed so I started as a story artist where I was boarding scenes, and then I was a lead, so my actual day to day changed and that kept it interesting.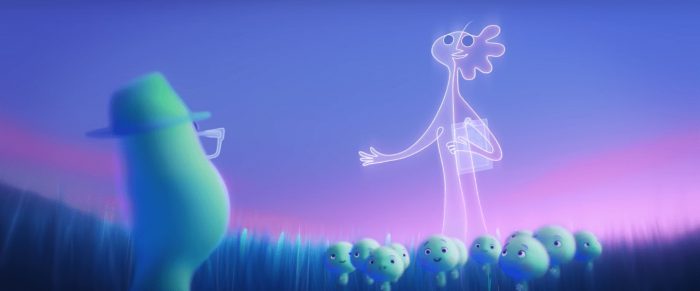 A scene from The Great Before in Soul. (Disney/Pixar)
OC: A lot of Soul takes place in The Great Before, a place where souls exist before they get their human bodies. What was it like creating such a mysterious world?
TJ: Daunting, but also really fun because you can kind of go anywhere. We'd never seen this in a film that way before. We'd started being inspired by the Elysian Fields (heaven to ancient Greeks) and old Greek architecture and then it became really minimalist. Kyle McNaughton, also a Canadian, did these beautiful paintings that really influenced the look of it.
And we did have certain rules. Steve Pilcher—the production designer and another Canadian!—always wanted The Great Before to feel ephemeral (something that lasts for only a brief instant) and soft. And then the real world would have grittiness and texture. Those basic points helped separate the two worlds, but there's still a lot of room to explore. So that was the starting point, and then you just had a bunch of artists riffing (creatively exploring) those ideas. And then Pete selects the ones that feel right to him.
OC: You went to Sheridan College in Oakville, Ontario. What did you learn there that prepared for this career?
TJ: I had a great experience at Sheridan. I had some really amazing teachers, and even more importantly, some great friends. A lot of talented students there—we taught each other in a lot of ways. I think that importance of creative community was big. And then I had some specific teachers like this guy Gerry Zeldin—that's a painting he did in the back (Trevor points to some art on the wall behind him during our Zoom video chat)—and he instilled this gut level artistry that you should bring to the table [as an animator]. He was always great at reinforcing that and getting you to look deep into things.
So just meeting people like that and just getting to play for four years and make films really helped me and my voice [art style] early on.
OC: Speaking of your voice, let's talk about Weekends, the short film you wrote and directed that you received an Oscar nomination for. Do you want to direct feature-length animated films in the future?
TJ: I'd love to. I think that is sort of the direction I'm heading, but also, [Soul] was so amazing to work on as a key collaborator, so I love doing that still. But I'd love to direct something and find out how my voice translates to a bigger platform. I finished Weekends while I was working on Soul, so there was a lot happening, a lot of change—all good stuff! But I'm still discovering what's for me and going on the journey and making sure that I'm doing something I love.
OC: So we're almost out of time, but one last thing: We know you're a big Raptors fan!
TJ: Yeah!
OC: How do you feel about the team losing Serge Ibaka and Marc Gasol, and what are their chances next season?
TJ: I'm hopeful! I've watched them since Day One in 1995, and the championship was amazing. I flew back to Toronto for Game 5 (of the Finals), which they lost (laughs), but I could talk about Raptors all day, man. I'm so sad to see Serge and Marc leave, but I'm really happy they kept Freddie (Van Vleet). Serge became like a hometown hero—his cooking show and his scarves (sighs)—but I'm trying to look forward to what's next. It'll be fun to watch!
OC: We'll be watching, too—the Raptors and Soul! Congrats and thanks Trevor!
Watch the trailer for Soul below.
Soul will stream on Disney+ starting on December 25.