This Friday, July 1st, Family Channel has a particularly cool Canada Day gift for you. It's a new TV series called We Are Savvy. The show is full of pop culture, DIY, cell phone tips, hilarious candid moments, special guests like Alessia Cara, Tegan and Sara, Bailee Madison, and lots more. Its hosts are three energetic newcomers: Sarah Webber, a musical whiz with a love of skateboarding; Spencer Barbosa, a cheery, eager small-town optimist; and Tehya Silbermann, a fashion-smart BFF full of intelligence and warmth.
Each of the three girls bring their own perspective, talents, and general silliness to the show. And all of them are, of course, super stoked to be on We Are Savvy. We interviewed Sarah, Spencer, and Tehya to get the lowdown on life on the show, what they've loved the most so far, and what viewers (like you!) can expect. Check it out!
OWL: Were any of you active YouTubers before getting on We Are Savvy?
SARAH: Yes I was. I mainly make covers of songs that I like but every once in a while I will make a vlog.
SPENCER: I had always wanted to be a YouTuber but never officially started an active account. I am currently now a YouTuber.
TEHYA: No, I was more into watching videos on YouTube before We Are Savvy. I think it's really cool and cutting edge format for a TV show since so many kids are into watching videos online.

OWL: The three of you have great chemistry on screen. Did you spend a lot of time interacting before you started to shoot videos?
SARAH: I found the more we filmed together, the more comfortable we got with each other. We figured out how each of us are on camera. We usually we came up with our video ideas as we were filming.
SPENCER: Sarah, Tehya and I connected the minute we met each other. They are the best people ever! I spend lots of time with both of them so filming a video is a piece of cake!
TEHYA: I think that the moment that we all met it was easy for us to start making the content. Even though we all do seem very different, we have things in common and share a lot of the same interests, so we were all able to get along really well. I think that it just naturally showed through when we started filming.
OWL: How did you decide on the themes of videos? Are they pretty much what you like to do in your own free time? Or did the show introduce you to some of these things?
SARAH: We figured out each of our interests and then tried to put them into the show to share with viewers. The show has opened me up to some new fun things (like tie-dye), but anything music related has always been my thing.
SPENCER: Our videos simply describe us! And we have a very good mix and variety of videos to represent each of our styles. Music videos are made for music lovers like Sarah, DIYs/fashion videos are made for people like Tehya, and crafts or cat videos are made for girls (or boys!) like me. When we started We Are Savvy, the three of us were good friends but the show has allowed our friendship to grow and for us to grow as people.
TEHYA: On the show, we do a ton of DIY. I have always been really bad at crafting or anything related to arts and crafts, so that was really something that was introduced to me through the show. I am always a little nervous before we start filming the DIY segments and sometimes the end product doesn't turn out exactly the way it is supposed to. But I think that's okay and sometimes adds a little bit of comedy...hopefully.

OWL: What went into getting the guests that you have on the show? Did you have a personal wish list? Which guest so far made you the most excited?
SARAH: I specifically have a list of people I want to see perform and a list of people I want to meet. From there I just tried my hardest to get people from those list. One person I was happy to meet was Alessia Cara. We had a lot of the same interests. She was fun and chill and someone I could hang out with. BUT the artist I was most excited about meeting and collaborating with was Christina Grimmie. I've been following her career since I was 9. She is the reason I started singing.
SPENCER: I think we each have a list of people in our head that we would like to interview and questions we would have for them. All the guests on our show are people we look up to, but the guests I was most excited about having on our show were Lennon and Maisy. Those two girls are simply fabulous people (and they are extremely talented!).
TEHYA: Before we started filming the show, we were able to come up with some lists of things that we really wanted to do and topics that interest us. A lot of those things have been incorporated into the show, which has been really great for all of us! I know that my list was more about topics that interested me, so I've been able to do things like go to the National Ballet School in Canada, go to dog shows, and tons of more cool stuff! One guest that all of us were super excited for was Alessia Cara, because she is just so talented!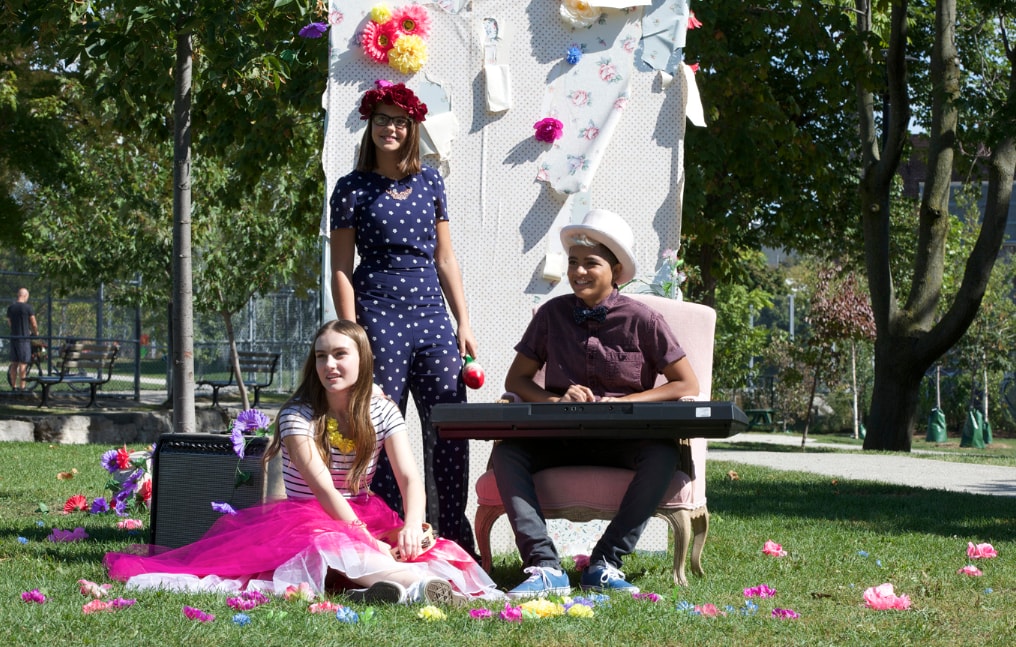 (Courtesy of Family Channel)
OWL: Your show is a lot of fun, but it's also about creativity, self-expression, and friendship. How do you hope to inspire your viewers?
SARAH: I want to give the viewers ideas of hobbies or just something fun to do. That 'something' could possibly later on inspire them to do something great but I really just want people to enjoy the show and have fun with it.
SPENCER: A lot of our show is about being yourself and believing in yourself so I hope we are able to inspire our viewers to do anything — maybe it's trying something new or facing your fears. I hope girls (and boys!) all over learn to never stop trying!
TEHYA: I think that our show is great for young girls because we're really about empowerment and showing girls that there really isn't a limit to what they can do. I really hope that all of the young girls who watch our show understand that there isn't some sort of specific mould that you need to fit into. Being unique is so wonderful and all different types of girls can get along. You can be into ballet or skateboarding or both and that's perfectly fine.