Every two weeks, we publish a new issue of our tablet and computer-friendly eMag, OWLconnected. It's free for OWL magazine subscribers!
In our last issue, No.116, we embraced all sorts of things spring—from the equinox to April Fools! And now, in Issue 117 (out today!), we're continuing our spring theme from a different place.
The playing field!
Spring is a super busy time in the world of sports and we're excited to jump, run, and swing ourselves into it. Are you ready for some athletic excitement? Let's do it!
Baseballs and hockey pucks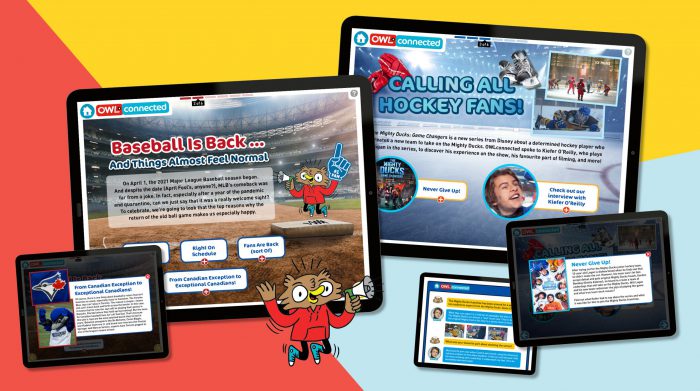 Though they're known as 'the boys of summer', Major League Baseball gets its start in the spring. This year's season is looking to try and bring the world back to a more normal place after a very trying year for all of us. How? We get into it in depth in the Issue 117!
Switching sports, hockey is also really happening right now, with the NHL season nearing its trade deadline and playoffs. The Anaheim Mighty Ducks are one team that is probably not reaching those playoffs. But the Disney franchise that gave them their name? It's going stronger than ever! With The Mighty Ducks: Game Changers series coming to Disney+, we interviewed the show's star Kiefer O'Reilly. Is he a good hockey player in real life? Does he prefer voice acting or performing in shows? Read the interview to find out!
And just in case you find all of this sports talk a bit exhausting, our quiz in this issue is on the science of sleep! Can you follow our clues to master the news about the snooze?  See for yourself by taking the quiz—don't sleep on it!
If you're already a subscriber, you can click here to sign in to the eMag right now!
If not, maybe it's time to take your OWL experience to a whole new level! Get ten print issues a year sent right to your door, plus over 24 issues of our exclusive eMag, by subscribing right here.