Every two weeks we publish a new issue of our tablet and computer-friendly eMag, OWLconnected. It's free for OWL magazine subscribers. Issue 131 is out today, and it's all for the kids!
Okay, true. ALL issues of our eMag are for the kids. But this one is REALLY for the kids. That's because we're celebrating World Children's Day inside, which happens November 20.
This day is all about celebrating the joy, creativity, and excitement of youth. But it is also bringing attention to the needs of young people worldwide, especially those who are less fortunate. You can read this issue to learn more.
Activism and enchantment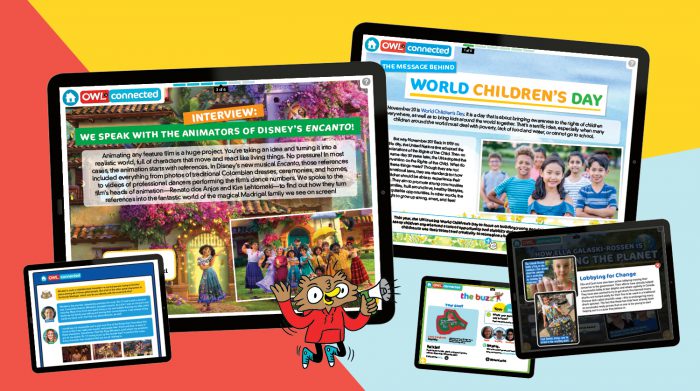 And to further acknowledge World Children's Day, we're using Issue 131 to shine the spotlight on young Canadian activist, Ella Galaski-Rossen. Along with her American friend Cash Daniels, this 11-year-old has started up The Cleanup Kids. This is an environmental group that is focused on getting garbage out of nature, especially in the planet's waterways. And even better, they're helping to organize young volunteers the world over. You could even join!
Still looking for further inspiration? No problem! Because we've also got a really cool interview with a pair of animators who worked on the brand new Disney film, Encanto. This film (which we'll be reviewing on this site next week) opens November 26 and is an imaginative trip to a magical world set in the Colombian countryside. The film is stunning, but bringing it to life was no easy task. How did they do it? Animators Renato dos Anjos and Kira Lehtomaki tell all!
If you're already an OWL magazine subscriber, you can click here to sign in to this latest eMag right now.
If not, maybe it's time to take your OWL experience to a whole new level! Get ten print issues a year sent right to your door, plus over 24 issues of our exclusive eMag by subscribing right here.