Every two weeks, we publish a new issue of our tablet and computer-friendly eMag, OWLconnected. It's free for OWL magazine subscribers.
In Issue 144, we're reflecting on Asian Heritage Month in Canada in a big way. How?
By talking about two truly exceptional Canadians of Asian descent who are definitely 'Continuing a Legacy of Greatness'! Let us preview what we mean below!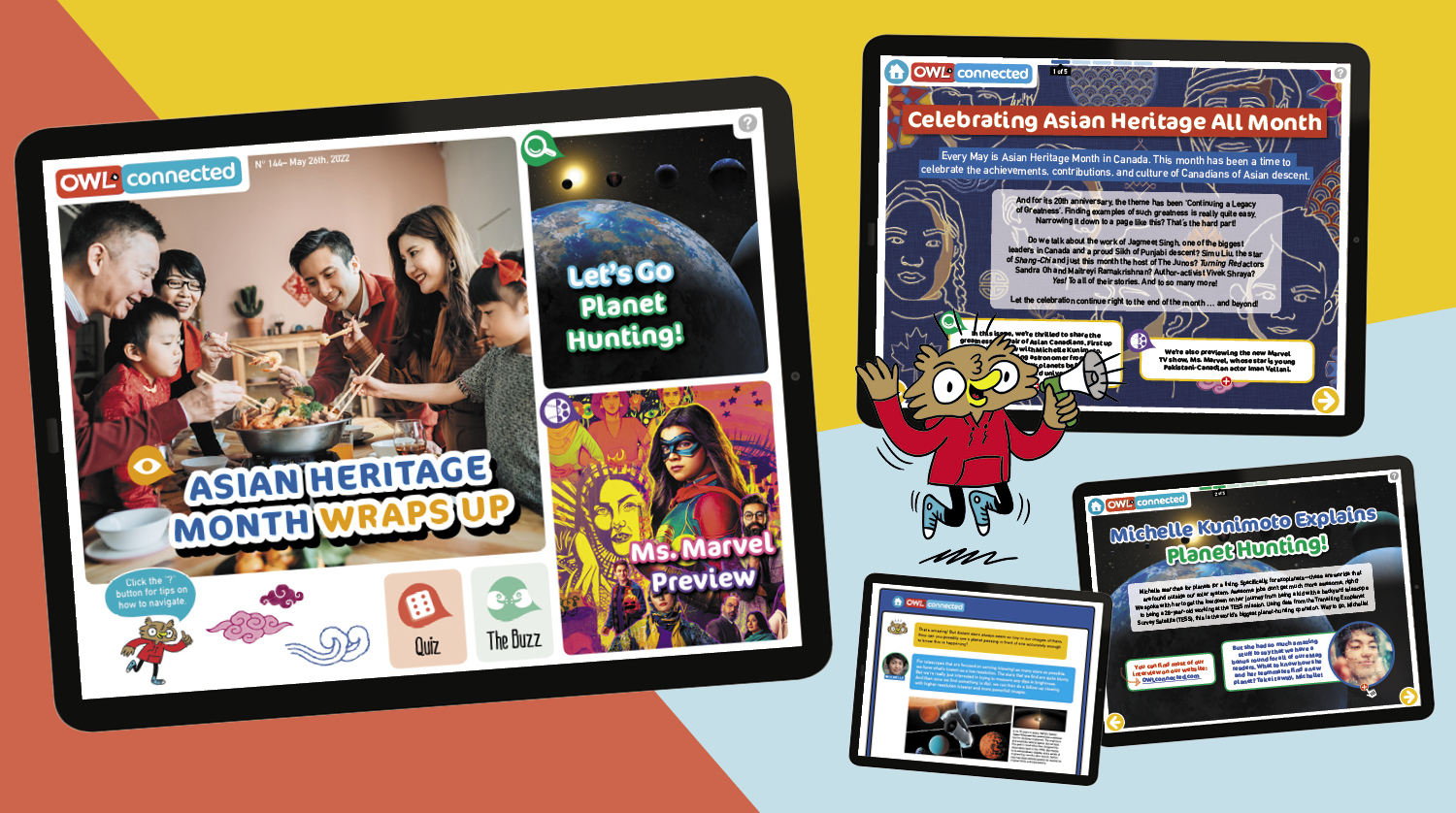 From Planet hunters to superheroes!
Michelle Kunimoto is more than just your average 28 year-old. Since her first year of high school, this sci-fi super fan has been looking up at the stars, wondering what was up there. At first, she was just checking out our own solar system with her great uncle's telescope. But today, she is part of the TESS mission—a NASA project that is designed to hunt for exoplanets. Those are planets outside our solar system!
Our interview with Michelle appeared yesterday on this very website, but for our eMag readers, we saved a bonus Q and A about how Michelle and her team finds planets! So cool!
Speaking of cool, how would you like to be a superhero? That's the dream of Kamala Khan, the Muslim teen character at the centre of the new Marvel series, Ms. Marvel. It's also the dream of Iman Vellani, the Pakistani-Canadian actor who is playing Khan! We preview this exciting new series that merges heroes and high school in a whole new way.
We're also finding time to bring you back down to Earth with a quiz on biodiversity. Think you know about life on this planet? Take the quiz and test your knowledge! And as always, we've got Buzz, which brings the voices of readers into our eMag.
If you're already an OWL magazine subscriber, you can click here to sign in to the latest eMag issue right now.
If not, maybe it's time to take your OWL experience to a whole new level! Get ten print issues a year sent right to your door, plus over 24 issues of our exclusive eMag by subscribing right here.