Every two weeks, we publish a new issue of our tablet and computer-friendly eMag, OWLconnected. It's free for OWL magazine subscribers.
Today is release day for Issue 150. And what is happening in this issue? Well, to truly see it all, you'll just have to download it! But, as always, we can't help but give you all a little sneak peek at what is in store!
We're celebrating the arrival of autumn (the first day of it is today!) with a couple of themes that tie right into the start of this season (especially here in Canada): hockey and school!
Ice to be back!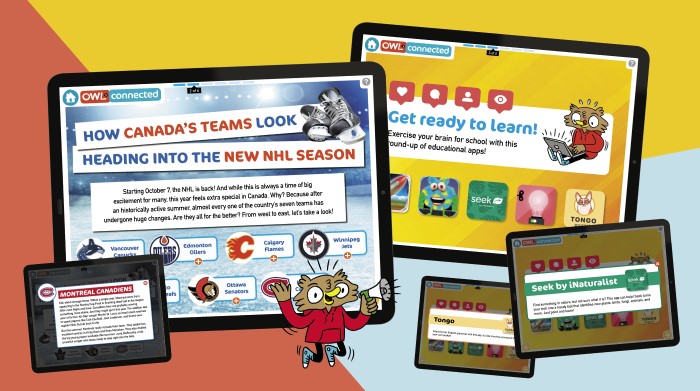 All around the NHL, training camps have begun for all of the teams, including the seven Canadian ones. Several of these teams are in the upper group of the league's best, and nearly all of them underwent some major changes over the summer. Perhaps you are a big fan of one of them? We look at all seven to see where they're at and what you can expect to see in the 2022-2023 season!
But maybe you're not a sports person. Perhaps you're more interested in exploring the world and learning? If so, we've also got a treat for you. It is a list of some of the best educational apps out there for your tablet or other smart device. These apps combine tech and learning in a way that is fun and engaging. You won't believe all of the ways that they open up knowledge for you!
And no issue would be complete without our regular quiz, video, and, of course, Buzz section, where readers like you have their say!
If you're already an OWL magazine subscriber, you can click here to sign in to the latest eMag issue right now.
If not, maybe it's time to take your OWL experience to a whole new level! Get ten print issues a year sent right to your door, plus over 24 issues of our exclusive eMag by subscribing right here.