Every two weeks, we publish a new issue of our tablet and computer-friendly eMag, OWLconnected. It's free for OWL magazine subscribers.
Today sees the release of Issue 152. Wow, does time ever fly! And you know what else flies? Bats!
Bats as in eerie nocturnal things. And eerie nocturnal things as in ... Halloween! (Was that setup a little bit of a stretch? It will all make sense, you'll see!)
Yep, Halloween is oh so close. Do you have your costume selected yet? In this issue, we talk about our most favourite part of this holiday. And it might surprise you!
We're also diving further into the witchy and wonderful with a reader review of the new Disney film Hocus Pocus 2, which is streaming on Disney + right now. (Can you say, frightfully good?)
But Halloween is only one part of October. And our main story is on another aspect entirely ...
How about some hoops?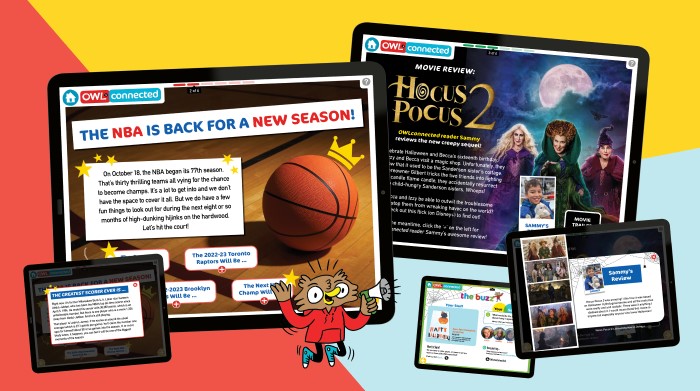 Basketball!
Autumn means that the NBA is back. And like any other year, this season is full of all kinds of storylines. From contenders to pretenders, players with records to break and players with something to prove, we dig into the most exciting things to look forward to in the world's best basketball league.
And the issue has even more to offer. There is a fun maze through a corn field, our regular Buzz section, and, what's this, a quiz on bats! (We told you they would make an appearance!)
If you're already an OWL magazine subscriber, you can click here to sign in to the latest eMag issue right now.
If not, maybe it's time to take your OWL experience to a whole new level! Get ten print issues a year sent right to your door, plus over 24 issues of our exclusive eMag by subscribing right here.