Every two weeks, we publish a new issue of our tablet and computer-friendly eMag, OWLconnected. It's free for OWL magazine subscribers.
In our latest issue, Issue 153, we want to tap into some of your biggest dreams.
How so?
From performance to invention, many of us have big, big dreams for our future. We'd like to think of this issue as a tribute to all of you dreamers!
We're starting the issue off with a look at World Science Day for Peace and Development. Maybe this doesn't sound like an especially great day for dreamers. But we promise that we'll reveal how it is all about using research and invention to solve the biggest problems and make an amazing future for the entire planet.
Now that's a dream worth coming true!
And if you're keen to get started right away, we have also included a super cool puzzle in this issue that is all about helping you discover your own dream gadget to invent. Cool!
A gracious host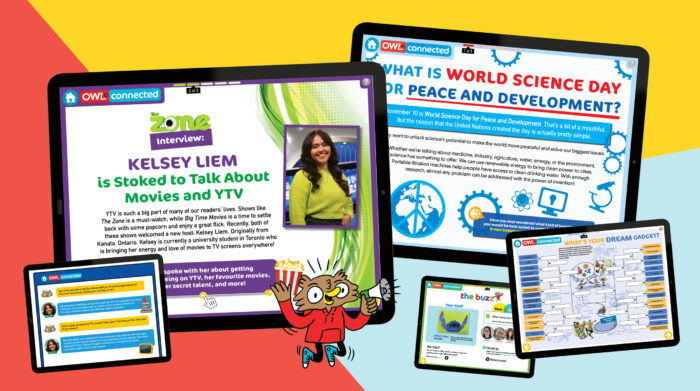 But perhaps your own dreams aren't so scientific. Maybe you're an entertainer!
We've got an interview with Kelsey Liem, the new host of YTV's Big Time Movies and The Zone! From Kanata, Ontario, she's got so much to say about film, learning how to appear on TV, her audition for the job, secret talents, and so much more.
And this month's quiz is all about another type of performance: Ballet. Do you know its history? The terms for a twist? What a shoe is made of? Keep your balance and test your knowledge!
If you're already an OWL magazine subscriber, you can click here to sign in to the latest eMag issue right now.
If not, maybe it's time to take your OWL experience to a whole new level! Get ten print issues a year sent right to your door, plus over 24 issues of our exclusive eMag by subscribing right here.