Every two weeks, we publish a new issue of our tablet and computer-friendly eMag, OWLconnected. It's free for OWL magazine subscribers.
Issue 154 is all about tomorrow. As in November 25.
For some, this is the day known as Black Friday, a.k.a. the biggest shopping day of the year.
And for others, it means almost the complete opposite—it is Buy Nothing Day!
So which side of the debate are you on? To shop or not to shop? We take a closer look in this issue. And, no matter how you feel, this issue has something for you! Let's see what else is inside ...
Of mice and crafts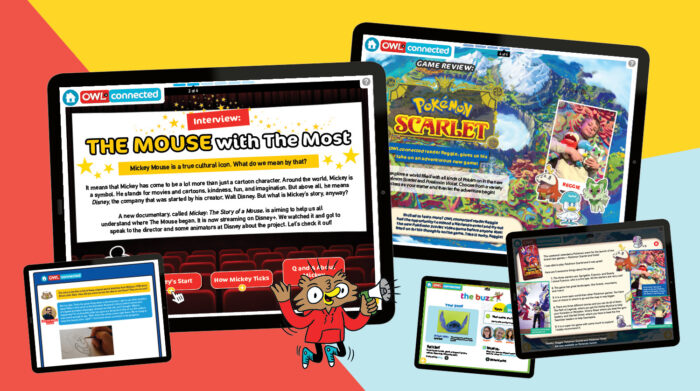 This issue has a pair of magnificent mice in it (sort of). The first is maybe the world's most famous rodent, Mickey Mouse! Disney+ is now streaming a brand new documentary on the history of this incredible cartoon character. We review the film and speak to some people behind the movie, including a legendary animator.
The other mouse connection is a high energy one. Electric, even! It's Pikachu, the electric mouse from the world of Pokémon. Two new Pokémon video games, Scarlet and Violet, have been released. OWLconnected reader Reggie got the chance to try out one of them and we have his review for you.
And what about the buy nothing crowd? We have an excellent DIY guide that will really get your creativity going. Take all sorts of forgotten trinkets and things normally headed for the trash or recycling bin and turn them into useful items—whether as gifts or for yourself.
And after all that reading, fill your tummy with a delicious quiz about breakfast. There's so much to choose from in Issue 154!
If you're already an OWL magazine subscriber, you can click here to sign in to the latest eMag issue right now.
If not, maybe it's time to take your OWL experience to a whole new level! Get ten print issues a year sent right to your door, plus over 24 issues of our exclusive eMag by subscribing right here.