Every two weeks, we publish a new issue of our tablet and computer-friendly eMag, OWLconnected. It's free for OWL magazine subscribers.
Issue 155 finds us at OWLconnected getting ready to embrace the season.
Like many of you, we're looking forward to some time off with family and friends, as well as the chance to enjoy everything that winter has to offer! But of course, not everyone sees winter in exactly the same way. That's why we asked three members of the eMag staff to talk about what they love most about this time of year!
Winter is full of thrills!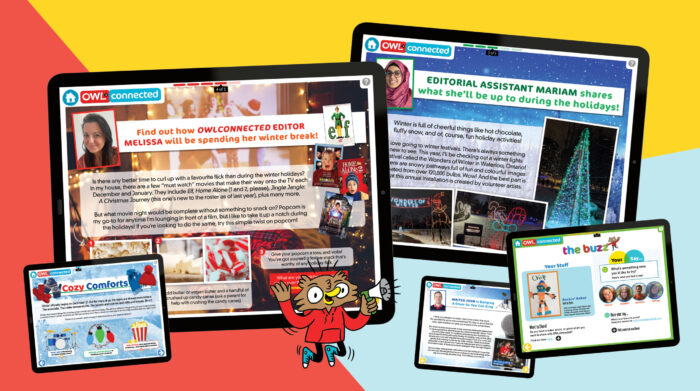 This issue is full of our cozy comforts. Editor Melissa, writer John, and editorial assistant Mariam are each digging into the things that make them happiest in winter.
Some activities are outdoors, some are in. Some are with family, some are with new faces. But whether they are delicious, musical, silly, or bright and colourful, they are all full of joy!
And after you read about what we love to do, we'd love to hear from you about the things that you love most about winter. After all, there's snow wrong way to enjoy this time of year. All that matters is that it makes you happy!
If you're already an OWL magazine subscriber, you can click here to sign in to the latest eMag issue right now.
If not, maybe it's time to take your OWL experience to a whole new level! Get 10 print issues a year sent right to your door, plus over 24 issues of our exclusive eMag by subscribing right here.
And as for us here on the website, we're going to be taking it a little easier over the holidays. There will be a couple more posts between now and the new year, but don't worry: we'll be back up to full steam in early January! However you celebrate, we hope that the next couple of weeks are full of family and magic. Happy Holidays!