Every two weeks, we publish a new issue of our tablet and computer-friendly eMag, OWLconnected. It's free for OWL magazine subscribers.
The month of February is Black History Month in Canada and the United States, and Issue 158 is here to help celebrate and acknowledge this time. We discuss this year's theme—Ours To Tell—as well as test your knowledge about Black history with a special quiz.
But of course, that is not all that we're looking at in this issue. Let's preview what else you can find in 158!
Super duper!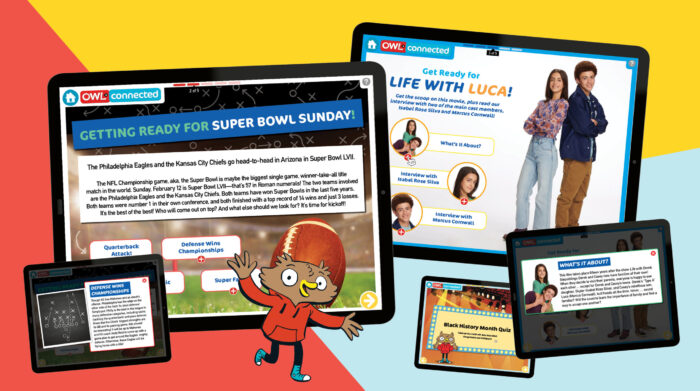 This Sunday, February 12 is one of the biggest sporting events of the year. The Super Bowl!
The NFL championship game is such a big deal that pretty much all of the United States (and parts of Canada) treat it almost like a national holiday. There will be parties and huge get togethers as people watch the Philadelphia Eagles and Kansas City Chiefs battle for glory. Whether you're a fan who can't wait or someone who is unsure what all the fuss is about, we're here to give you the lowdown, including some surprising facts about the game.
(Here's a bonus fact: this will be the first ever Super Bowl to feature two Black quarterbacks, Jalen Hurts and Patrick Mahones.)
The issue also has an interview with Marcus Cornwall and Isabel Rose Silva, two stars from the brand new show Life With Luca. And as always, we've got fun reader answers to questions in our Buzz section. We think this issue is, well, just super!
If you're already an OWL magazine subscriber, you can click here to sign in to the latest eMag issue right now.
If not, maybe it's time to take your OWL experience to a whole new level! Get 10 print issues a year sent right to your door, plus over 24 issues of our exclusive eMag by subscribing right here.