Every two weeks, we publish a new issue of our tablet and computer-friendly eMag, OWLconnected. It's free for OWL magazine subscribers.
The Major League Baseball season has just begun, and there are a bunch of new rule changes that are getting their debut. And that is not the only thing that is changing in baseball.
The Blue Jays have got a newly renovated stadium to play in—we're using Issue 162 to have a look at what the changes will mean for both players and fans. It's just one part of a real 'home' run of an issue!
Home Sweet Home plate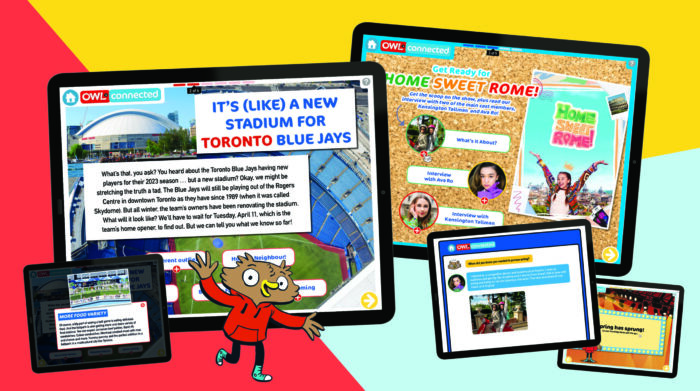 There's a reason it's called 'home field' advantage when a sports team gets to play in its own stadium. You have the crowd on your side, and you're playing in a park that you know better than anyone else. The new changes to the Rogers Centre in Toronto should really make that point in 2023.
Not only will the new renovations to the stadium make for a more unusual outfield for the team to play and hit in, but there are all kinds of cool new features for fans to enjoy. And happy fans are noisy fans. Read the issue to see what's in store.
Elsewhere in 162, we find another way to root for the home team: an interview with Kensington Tallman and Ava Ro, stars of the Family Channel's Home Sweet Rome. Fun!
Then to celebrate the early days of a new season, the quiz is all about spring (so grab an umbrella and some rainboots and jump right in!). We've also got a video breaking down the science behind fizzy drinks, and our regular Buzz feature, full of input from kids like you.
If you're already an OWL magazine subscriber, you can click here to sign in to the latest eMag issue right now.
If not, maybe it's time to take your OWL experience to a whole new level! Get 10 print issues a year sent right to your door, plus over 24 issues of our exclusive eMag by subscribing here.