Every two weeks, we publish a new issue of our tablet and computer-friendly eMag, OWLconnected. It's free for OWL magazine subscribers.
In Issue 167, we are continuing our focus on National Indigenous History Month. This is a time to honour the history, traditions, and resilience of First Nations, Inuit, and Metis people who have lived here for many thousands of years.
In fact, June 21 is National Indigenous Peoples Day—a day full of events coast-to-coast that celebrate Indigenous experiences, culture, food, and art. One of the most important parts of this?
Language. And have we got a great story for you to suit this occasion!
Speak the truth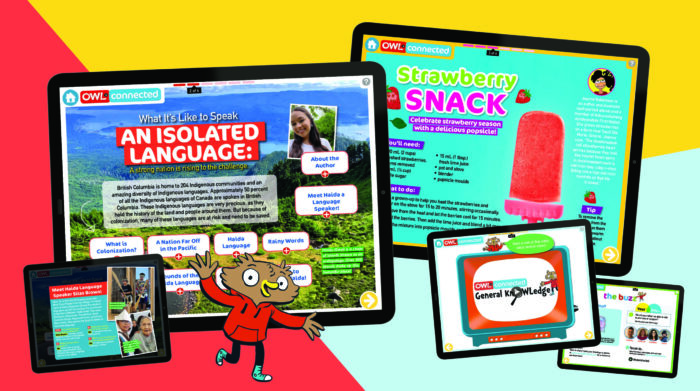 The Haida is an Indigenous nation that is from a group of islands off the British Columbia coast called Haida Gwaii. Their language is a very distinct one, unlike even other languages spoken by other Indigenous Peoples across North America. But it is also under threat.
With less than a dozen fluent Haida speakers in the world, their language is at risk of disappearing forever. That would be a terrible loss! In our feature article, we look at Haida history and culture, and how young people are rallying to learn the language and keep it alive. We even teach you a couple phrases in Haida!
That's not all either! With summer arriving, we've got a delicious recipe for a yummy fruity treat (strawberries, anyone?). We've also got a video all about animal vision, a brain-busting quiz on Indigenous culture, and more!
If you're already an OWL magazine subscriber, you can click here to sign in to the latest eMag issue right now.
If not, maybe it's time to take your OWL experience to a whole new level! Get 10 print issues a year sent right to your door, plus over 24 issues of our exclusive eMag by subscribing here.