The Canada Science and Technology Museum in Ottawa is hosting an exhibition called The Art of the Brick by world-famous artist Nathan Sawaya. For his art, Nathan uses something we all know and love and perhaps use every day to play—LEGO bricks!

Read on to find out more about this amazing brick artist!

(Mandy Ng)
OWLconnected: How did you become a brick artist?
Nathan: I became a brick artist by building with bricks. I had bricks when I was a child and later on in life, I rediscovered them as an art medium. I was a lawyer and I needed a creative outlet at the end of the day, sometimes it was drawing or painting. Then I thought, why not start sculpting with this toy from my childhood. So I started creating with LEGO bricks. I created sculptures and put it on a website as my virtual gallery. Pretty soon after that, people starting requesting that I build art for them. I eventually left the law firm to become a full-time artist that plays with toys!
OC: What's the most difficult sculpture you've built?
Nathan: In this exhibition The Art of the Brick, it was the Tyrannosaurus rex. It took me three months to build. I wanted to do something that kids would love. Kids love dinosaurs! I asked myself, can I build a T-rex skeleton using just bricks? So it was a real challenge. I bought myself a 3-foot maquette (model) of a T-rex skeleton, set it on my desk, and just started building brick by brick.
OC: Do you work out of a studio?
Nathan: I have an art studio in Los Angeles where I have about seven million LEGO bricks that are sorted by shape and colour, so that while I'm working, I can just grab what I need and keep going.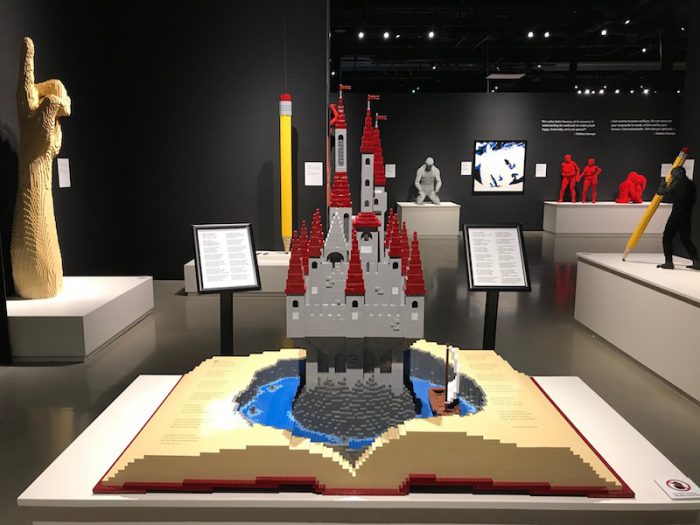 (Mandy Ng)
OC: Have you ever stepped on a LEGO brick?
Nathan: I've stepped on thousands of LEGO bricks. I don't even feel it anymore when I step on a brick!
OC: Do you have a favourite sculpture?
Nathan: It's hard to pick a favourite because I put a lot of my heart and soul into it. When I think about what my favourite piece is, it's usually the next thing I'm working on because that's where my energy is.
OC: On average, how long does something take you to build?
When you're talking about a life-sized human form, it can take up to 2 to 3 weeks using 15 to 20 thousand bricks depending on the complexity of it.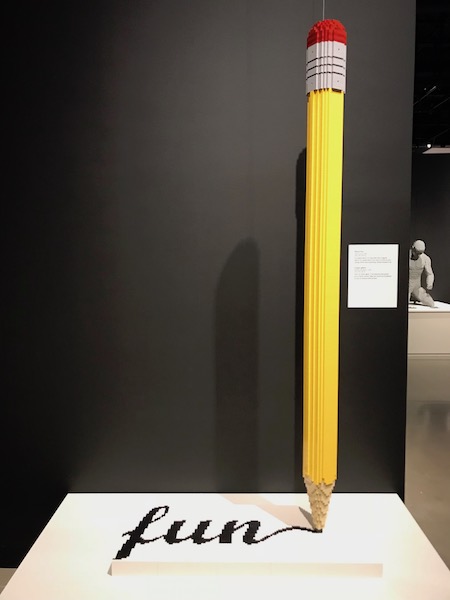 (Mandy Ng)
OC: Any advice to our readers on how to become a brick artist?
Use your creativity and imagination—that's key! Never lose your imagination as you grow up. Sometimes that imagination wants to go away, but keep that imagination and keep exploring that. Also, practice is important. Learning how to take rectangular pieces to build curves is a key part of sculpting and you have to practice that. Lastly, always pick up your bricks when you're done.
The Art of the Brick is at the Canada Science and Technology Museum in Ottawa, Canada until September 3, 2018.