Every November, authors and illustrators, editors and publishers get together and throw a big party in Toronto. Why? To celebrate Canadian children's books and the people who make them, that's why! The event is full of speeches and hugs (and yummy food!), but the real stars are the books themselves. Awards are given out in eight categories, which cover everything from science fiction and mystery, to picture books, non-fiction, and even a fan's choice award!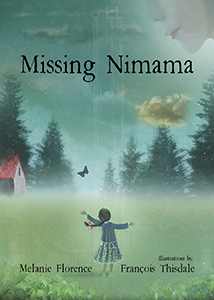 The biggest prize of the night, however, was the TD Canadian Children's Literature Award. There were five finalists for judges to choose from, but in the end it was won by author Melanie Florence for her picture book, Missing Nimâmâ. The book was illustrated by François Thisdale. The story follows the life of a young girl as she grows into a woman and a mother. But the girl's story is told through the eyes of her own mother, an Indigenous woman who disappeared. Everyone who attended the event received a copy of Missing Nimâmâ. Florence won $30,000 for her work, which will no doubt help her write many more books in the future!
Kenneth Oppel wins the fan's choice
Want to know who the other winners were? Of course you do!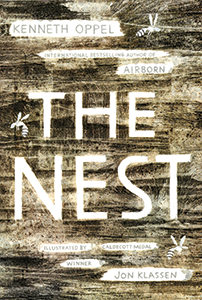 Super awesome author Kenneth Oppel won the Fan's Choice Award for The Nest, which was illustrated by Jon Klassen (we love him!). The rest of the best include...
Marilyn Baillie Picture Book Award: Sometimes I Feel Like a Fox by Danielle Daniel
Norma Fleck Award For Canadian Children's Non-fiction: Sex is a Funny Word: A Book About Bodies, Feelings, and You by Cory Silverberg and Fiona Smyth
Geoffrey Bilson Award for Historical Fiction for Young People: Uncertain Soldier by Karen Bass
John Spray Mystery Award: The Blackthorn Key by Kevin Sands
Monica Hughes Award for Science Fiction and Fantasy: The Scorpion Rules by Erin Bow—this author won the TD Canadian Children's Literature Award in 2014
Amy Mathers Teen Book Award: The Truth Commission by Susan Juby
So, of course, you now know what to do. Get yourself to a library or bookstore and start reading! And while we're on the topic: are there any Canadian children's books from last year that you think deserve an award? Tell us what you think in our comments!