Have you ever found yourself playing Angry Birds for the umpteenth time and thought to yourself, "You know, I wonder what it would be like if these guys were in a cartoon or something?" Yeah, me too! Them and the pigs getting into crazy battles and adventures?! That would be cra...uh? Wait, what's that?
Angry Birds Toons has been around since 2013 and has over 100 episodes?
Boy, is my face ever, well, this guy...
But okay, fine. Maybe they already have their own cartoon. But have you also ever wondered, "If Red and his buddies did more than just squawk and giggle, what would they sound like?" Well, in that case, step right up, because The Angry Birds Movie is here to reveal the answers to that and so much more. What else, you ask?
What's the Mighty Eagle like in real life?
If Bomb sneezes, does he blow up?
Will Terrence ever do more than just growl?
Why are they so angry anyway?
Fun and funny
Slow down, slow down! Sure, I could reveal everything, but you'd probably rather see the film for yourself. But in case you'd like more information, I can tell you that this is a pretty fun and funny little movie. (Comedian Bill Hader as lead piggie, Leonard, is especially hilarious.)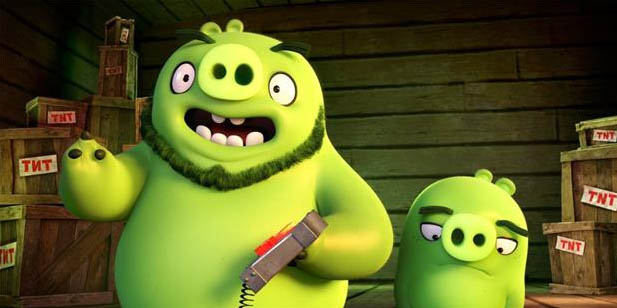 Leonard (he's the big pig) steals the show. (Courtesy of Sony Pictures)
Red is a misunderstood bird whose anger is always getting him into trouble. He even gets sent to anger management classes (where people learn how to control their rage). Then the birds' island home gets visited by a band of overly-friendly, food-bearing-party-having piggies. The birds love it, but Red thinks that something may not be right about them. Is he just another angry bird whose temper is going too far? Or is he on to something?
For fans of the game (and movies where general silliness meet teamwork), The Angry Birds Movie is a pretty fun time. Are you excited to see it this weekend? Check out the trailer below!