When Harry Potter and the Deathly Hallows: Part 2 officially ended the Potter film series, fans had mixed emotions. On one hand, after 10 years and 8 movies, the journey had ended! But on the other hand, the journey had ended!
Of course, the Potter universe could only be kept away from the big screen for so long. This film looks deep into the past of J.K. Rowling's imagined world, long before the birth of everyone's favourite bolt-browed, bespectacled wizard. The book Fantastic Beasts and Where to Find Them was originally published in 2001 (between The Goblet of Fire and The Order of the Phoenix books).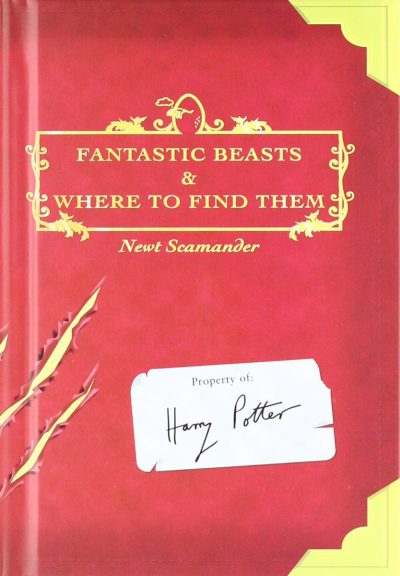 For the Muggles out there (like, oh, us), it was originally mentioned in Harry Potter and the Philosopher's Stone as a first-year textbook for all students at Hogwart's. Its "author" was Newt Scamander, an eccentric wizard whose obsession was finding and cataloguing all of the unbelievable, mystical creatures hidden throughout the world. Other than that, Scamander was never mentioned anywhere else in the Potter books.
But now, he's the star of the show. Well, him and dozens of jaw-dropping beasts of many sizes, colours... and powers.
New wizard, new adventure
Harry Potter fans—and star Eddie Redmayne—were pretty excited about the Toronto premiere of the film on November 8. (Getty Embed)
The original Fantastic Beasts book was basically just what it sounded like: a textbook full of descriptions of amazing creatures (plus cheeky hand-written notes from Harry throughout the book). But this film is based on the new screenplay that J.K. Rowling wrote and released this year. Newt Scamander (played by Eddie Redmayne) is an odd British wizard and magiczoologist (one who studies magical animals). But on a trip to New York City in 1926, a bit of an important accident occurs. Scamander's suitcase—containing a whole collection of fantastic beasts—opens up. Now there are tons of strange creatures loose in New York. And it's up to Scamander and members of the MACUSA (Magical Congress of the United States of America) to capture them before the Muggles (or No-Majs, as the Americans call them) find out.
Sounds difficult enough. But Scamander has more problems. Not only are the No-Majs in New York armed and frightened, he also has to contend with the watchful eye of Percival Graves, an American Auror who is tracking him. And then there is Gellert Grindelwald. This Dark Wizard is only supposed to make a brief cameo in this film. But since he is known as the second-most evil guy in the Harry Potter universe (except for Voldemort, of course), we're pretty sure that this isn't the last we'll see of him.
CONTEST TIME!
Whew... so are we excited yet? You bet! The film opens this Friday, and we've added the trailer below for your enjoyment. And one last thing: Owlkids is having an awesome Short Story-Writing Contest right now. The winner gets a Harry Potter prize pack and his or her story published in OWL Magazine! So click the link, start writing, and we'll see you at the movies on Friday!