We wish we had a genie as cool as Genie. Hahaha! A genie named Genie! Okay, that might not be as funny as we thought... let's get back to the review.
New look, same kid from Agrabah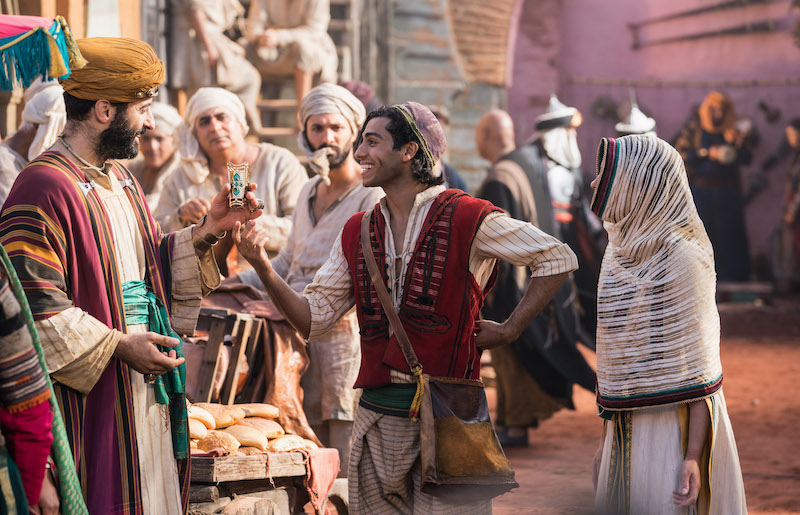 Nothing to see here. That's certainly not Jasmine in disguise with Aladdin. (© 2019 Disney Enterprises, Inc.)
This movie follows the story of a boy whose life magically changes when he finds a carpet and a lamp. How can a simple carpet and lamp change a person's life? Well, it helps to know that the carpet is actually a magic flying carpet and the lamp is the home of a very friendly genie.
Our story begins on the streets of Agrabah where Aladdin helps a girl escape from the police after a misunderstanding in the market. What he doesn't know, is that this girl is actually Jasmine, the princess of Agrabah. After an epic chase full of singing and awesome stunts, they get to Aladdin's home where they bond over how trapped they feel in their lives. She's a princess trapped by palace life and he is a street kid trapped by a life of poverty.
Meanwhile back at the palace, the Sultan's power-hungry adviser Jafar wants the throne. He knows he needs the magic lamp hidden in the Cave of Wonders to truly become the most powerful person in all of Agrabah. When he meets Aladdin, he promises to make him rich beyond his dreams if he gets the lamp. What follows next is a wonderful and colourful journey into the world of magic, love, and upbeat musical numbers.
Be true to yourself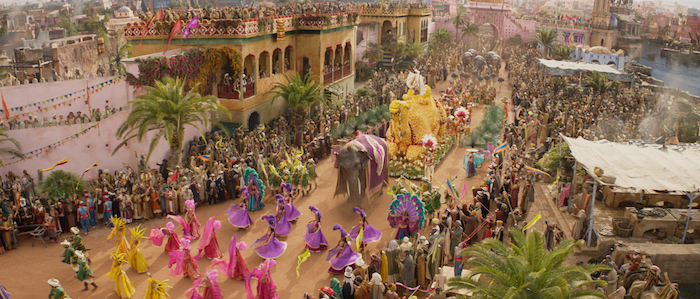 Prince Ali of Ababwa making his way over to see Princess Jasmine. (© 2019 Disney Enterprises, Inc.)
At the core of this movie is a lesson in the importance of staying true to who you are. When Aladdin's wish to become a wealthy prince comes true, he briefly becomes consumed with the idea of never telling Princess Jasmine the truth. He loses sight of himself and what's important which ultimately lands him in a world of trouble. Luckily he remembers that deep down, he's a kind and honest person and that ultimately leads him to do the right thing.
If you've watched the animated version of this film then you already know what happens. For you, this will be a walk down memory lane as you see those characters brought back to life in a beautiful way. If you have never seen Disney's first Aladdin, then you're in for a very fun treat.
You can also watch the trailer below.
Aladdin's wishes come true in cinemas today.