Do you like action, catchy songs, and surprise twists? Disney Pixar's Coco has all of that and so much more.
Ambition versus rules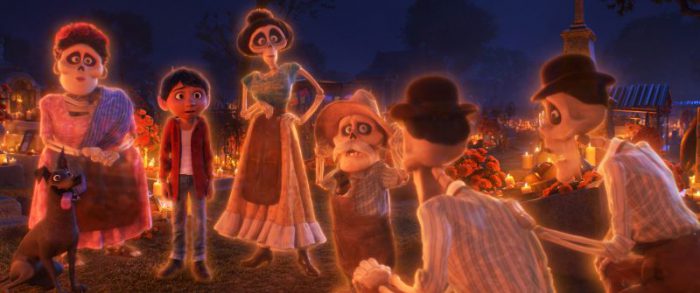 Miguel runs into his extended family... who are dead, by the way. (© 2017 Disney•Pixar. All Rights Reserved)
Our hero in Coco, Miguel, is trying to live out his desire to become a musician. There's just one tiny, little, kind-of-huge problem. His great-great-great-grandmother not only hated music, she put a ban on all things music. Five generations later, his family is still carrying on that ban.
So you see, Miguel is in quite the pickle. He can't seem to shake his love for music. In a desperate attempt to prove he is meant to play, Miguel breaks his family's rule and ends up in the beautiful and amazing Land of the Dead. There he meets a sly fellow named Hector. After quickly becoming friends, they go on an incredible journey that leads to the reason why Miguel's family is so against music... and why he is not.
Inspired by Dia de los Muertos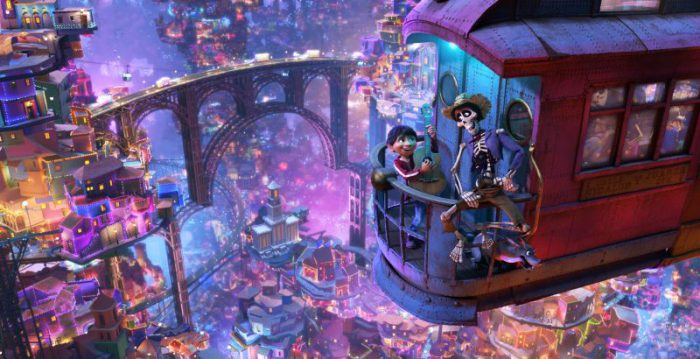 For a place full of dead people, it's pretty colourful. (© 2017 Disney•Pixar. All Rights Reserved)
Disney draws its inspiration this time around from the annual Mexican holiday known as El Dia de los Muertos (The Day of the Dead). On El Dia de los Muertos, families come together to celebrate and remember their loved ones who have passed away. They decorate altars with bright colours, candles, pictures of the loved ones they are celebrating, and a lot of food.
This holiday is the central point of this movie and the culture and customs behind it can be seen throughout Coco.
Life lessons

Miguel and his great-great grandmother, Coco. (© 2017 Disney•Pixar. All Rights Reserved)
You aren't just going to laugh, tear up, and wonder how quickly you can download all the songs, you'll also learn about the importance of family, love, and friendship. You'll learn that sometimes you have to find the courage to go against the status quo and chase after your dreams.
All of this plus the stunning animation, loads of action, and Mexican culture make Coco a movie to be seen.
Still not sure about it? Check out the trailer below.