When serious fire superintendent Jake Carson (played by John Cena) and his crew rescue three siblings, they quickly learn that firefighting isn't nearly as tough as babysitting!
"Jake and the other firefighters are smoke jumpers; people who parachute into fires, put them out and rescue people. They save three kids from a burning cabin and then have to take care of them because their parents are away.
"Jake wants to be the national head of the smoke jumpers and so he trains hard and keeps his lodge clean. But when the kids come they get into a lot of mischief! Will Jake be able to become the national captain while taking care of the kids? And what will happen to them? Watch the movie to find out!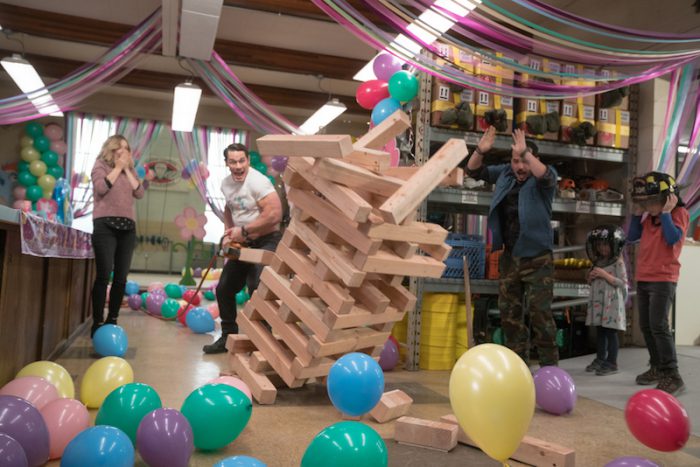 Mayhem ensues when the giant Jenga comes out! (Doane Gregory)
"I really enjoyed this movie overall — the characters, the story, and the hilarious action. I liked it when the smoke jumpers watch My Little Pony. I also liked it when the little boy sneaks into the smoke jumpers garage and causes A LOT of trouble by making bubbles.
"This movie makes you laugh but also has some meaningful parts. The only thing I didn't like was when the kids really misbehaved and sometimes went a little bit too far but at the end of the movie we understand why. I would give this movie a 4.5 out of 5 stars."
Thanks, Ryan!
Check out the trailer for Playing with Fire below. And remember to enter the contest at the bottom of this post to WIN passes to see this movie in a theatre near you!
This contest is closed
Contest time!
You could win 1 of 4 family passes (2 double passes) to watch Playing with Fire at any Cineplex family theatre in Canada. To win, just comment below with your name and answer to the following question:
Who would you take to the film?
Good luck!
Contest is open to residents of Canada only. Prize courtesy of Paramount Pictures Entertainment Canada. Contest closes on November 14th at 11:59PM EST. Winner will be randomly chosen. Full contest rules and regulations can be seen here.