When it arrived in 2014, not many people knew what to expect from Guardians of the Galaxy. Unlike so many films in the Marvel universe, it had no big name superheroes, and no tie-ins to any of their storylines (although this cast will meet up with the Avengers in 2018's Avengers: Infinity War). None of that mattered though because the film was immediately a huge hit.
Guardians was stranger and funnier than the other Marvel films, all while still delivering that exciting mix of adventure, powerful villains, and cool heroes. (And it also had amazing music, thanks to Star Lord's trusty tape deck.)
A sequel was always in the works, and this Friday (hey, that's today!) Guardians of the Galaxy Vol. 2 has officially arrived. Is it any good?
We're happy to report that the answer is... I AM GROOT! (We mean, "YES!")
Same heroes, new alliances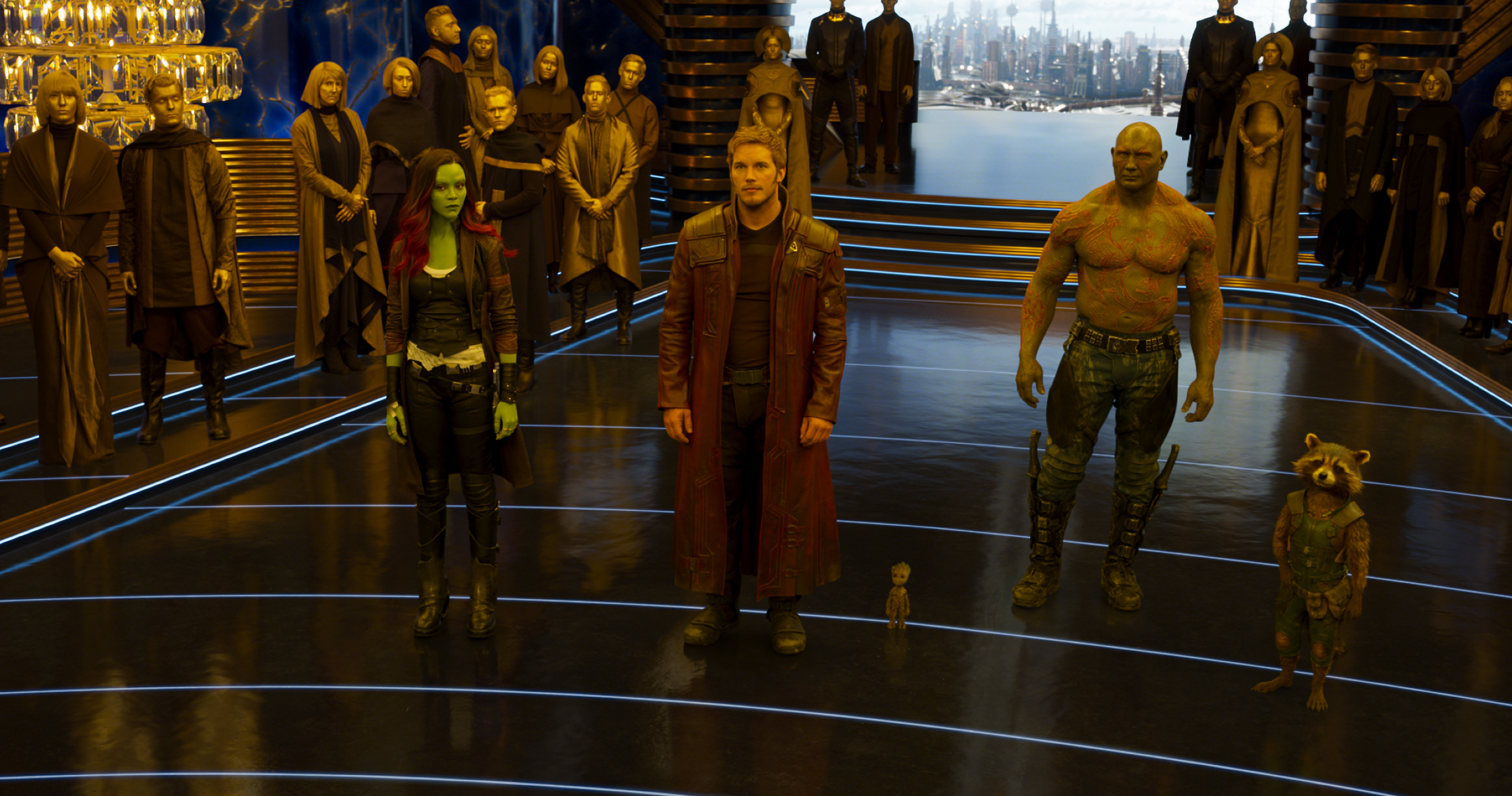 The Guardians meet the Sovereign in their audience chamber... (©Marvel Studios 2017)
This film begins with the Guardians now known as an expert (if odd) team of warriors-for-hire. Peter Quill (aka Star Lord), Gamora, Drax the Destroyer, and Rocket Raccoon are protecting a race of snobby, golden aliens called the Sovereign from a truly disgusting monster. And who is that tiny, dancing woodland creature by their side? Awww... it's Baby Groot! (Just a heads up, Baby Groot is so adorable through the entire movie, you will want to reach into the screen and give him a cuddle... maybe three.)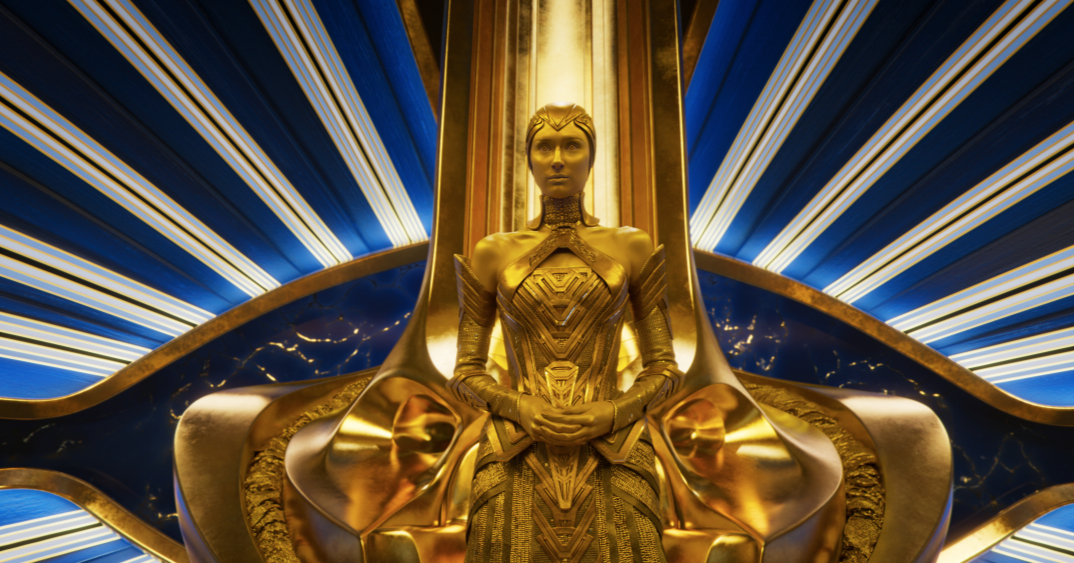 ...but their leader, Ayesha, is not too impressed. (©Marvel Studios 2017)
But in typical Guardians' fashion, things don't go as planned for very long. Quickly, the team is finding itself scattered across the galaxy, trying to outrun the Sovereign (who they offended), Peter's old gang, the Ravagers (who they offended last movie), and Gamora's vengeful sister, Nebula (who she offended way back when... well, you get the idea).
These folks sure know how to offend people.
Father and son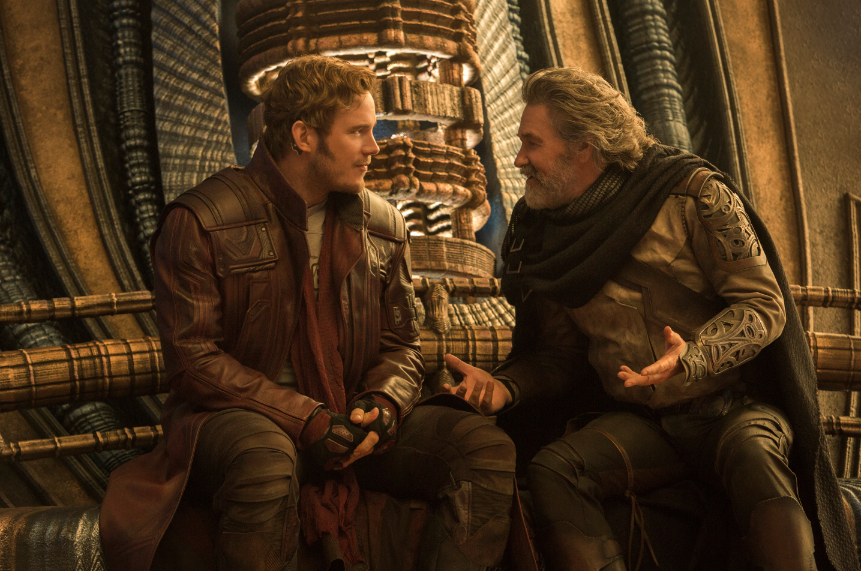 "So what has, uh, your entire life been like?" Peter catches up with his extraterrestrial father, Ego. (©Marvel Studios 2017)
A fateful twist arrives when Peter comes across someone he's been missing his whole life: his father, Ego. Ego is a pretty charming guy with his own planet. And he's beside himself with joy at finally finding his long lost son. What could be better?
But as Peter gets closer to his dad, he gets further away from his friends in the Guardians. Meanwhile, Yondo, the leader of the Ravagers and Peter's ex-boss, is on his way to settle some scores. How will it all end? Ha, we're not going to tell you that! But if you enjoyed the first film, you will love this one. The jokes are funny, the action is crazy, and the songs are awesome.
A family film... kind of, sort of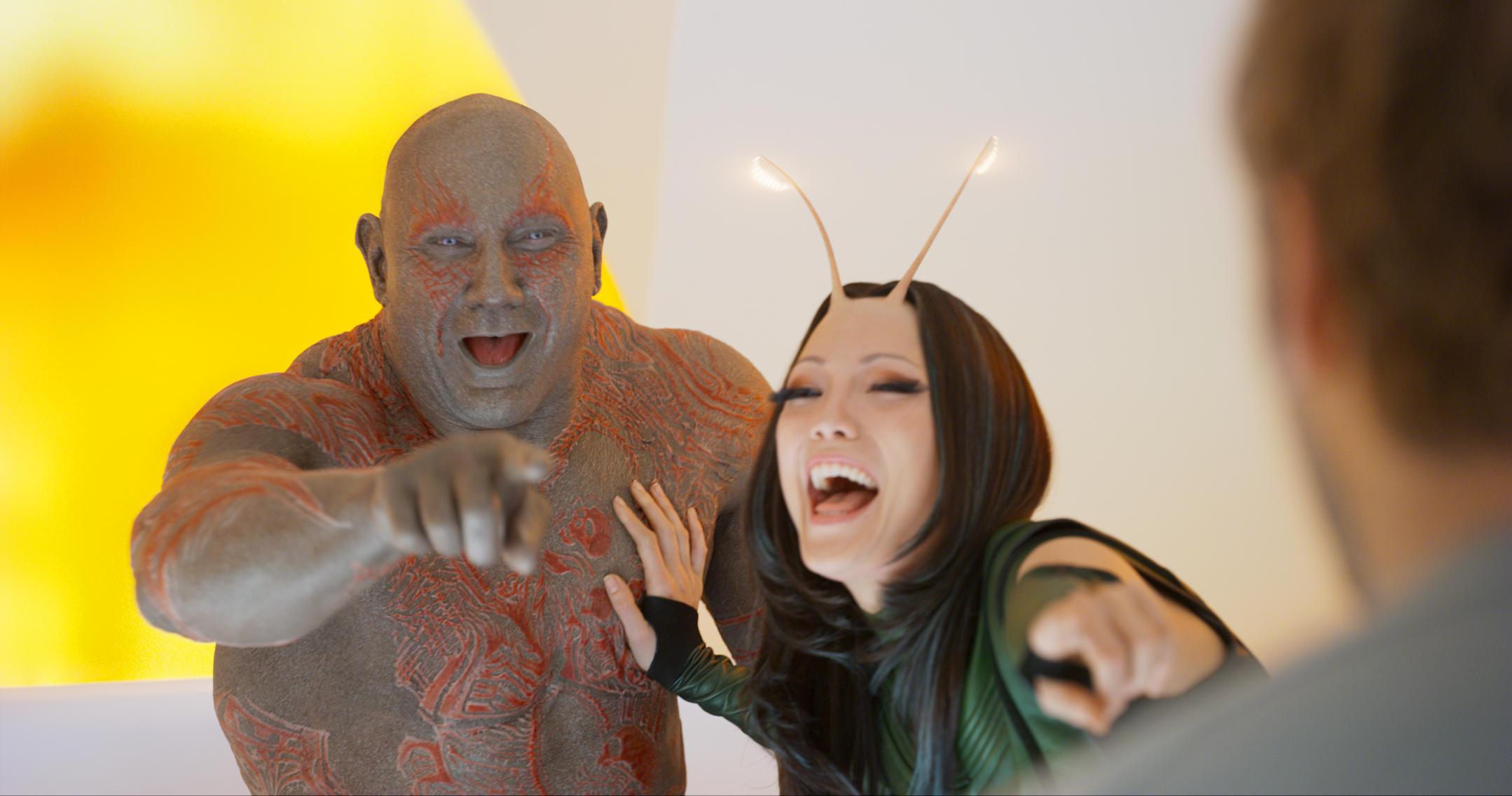 Don't worry, Drax and Mantis aren't laughing at you (they're actually laughing at Peter). (©Marvel Studios 2017)
In the end, Guardians of the Galaxy Vol. 2 is a film about families. Even if theirs is a strange one, the film keeps finding ways to come back to how important these people are in each other's lives. As well as how adopted families can mean as much as (or more than) blood ones. And also, that a talking baby tree is officially the cutest thing in the universe. See?

Baby Groot shows you the best way to enjoy Guardians of the Galaxy Vol.2. (©Marvel Studios 2017)
But before we leave you thinking that this movie is all about making you feel warm and fuzzy, we do want to say that it contains some intense scenes that may not be appropriate for every OWLconnected reader. Maybe the best thing to do is see what your own family thinks of seeing the movie. After all, this is one film that you'll want to talk (and laugh) about together once you leave the theatre!