Following the LEGO Duplo invasion of five years ago, the city of Bricksburg is in ruins. Hope is at an all-time low in this bleak post-apocalyptic world and Bricksburg's citizens have adapted to be tougher, meaner, less optimistic ... well, most of Bricksburg's citizens have adapted...
Emmet to the rescue
Even when his world is literally crumbling around him, everyone's favourite nice guy, Emmet Brickowski, remains awesome. When alien invaders from the Systar System kidnap his friends — including Lucy, Princess Unikitty, and Batman — Emmet sets out on a mission to save them all, confident that he's up to the job.
Things get a bit complicated though when Emmet meets tough-guy Rex Dangervest. Rex convinces Emmet that to save his friends and survive in this new world, he must also grow up and become tougher ... like him. The two new heroes head to the Systar System to stop shapeshifting Queen Watevra Wa'Nabi, super high-tech General Mayhem, and the rest of the super-sparkly, pop-music-loving crew from brainwashing their friends forever.
All that glitters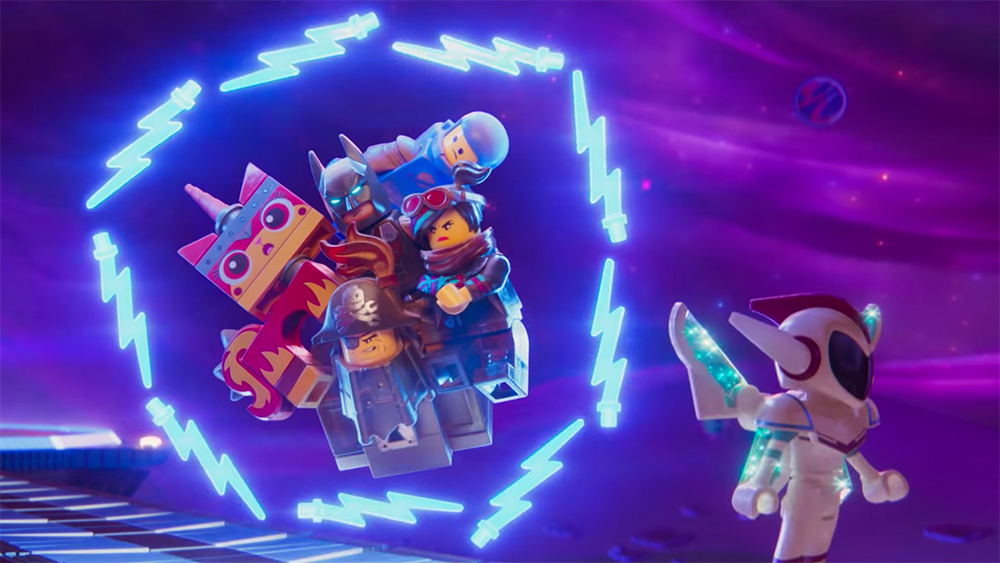 The Systar System is full of glitter and glam. (© Warner Brothers 2019)
But things may not be what they seem in the sparkly Systar System. As the plot unfolds, Emmet starts to question his new hero, Rex. He also questions his own newfound "toughness" and whether or not this glittery Systar world is as terrible as he's been led to believe. But can he get to his friends and save himself in time to build a new world where everyone can live together in peace?
The LEGO Movie 2 is the perfect blend of smart and silly. Although the storyline is a bit more complicated than the first movie (because there is some back-and-forth between the real world and LEGO world), this movie is funny and entertaining from start to finish. And the inclusion of LEGO friends and all the other Systar characters breathe new and exciting life into the story. And a highlight: We get to see a bit Batman's soft side!
Life lessons
What's really awesome about The Lego Movie 2 — besides all the jokes, battle scenes, and glitter explosions — are the lessons taught throughout. The key message is that even though everyone has to grow up eventually, growing up doesn't mean you can't still have fun, joke around, and dance to super-happy songs that were made to get stuck in your head. Even if everything isn't awesome all of the time, with a little imagination and some good friends, it can be awesome a lot of the time.
You can watch the trailer for The Lego Movie 2: The Second Part below.
Go check it out — this movie is in theatres now. If you see it, let us know what you thought!
And click below to hear "Catchy Song (This Song's Gonna Get Stuck Inside Your Head)" from The LEGO Movie 2 soundtrack.