Let's journey back to meet the young Gru, in the newest Despicable Me movie, Minions: The Rise of Gru!
It's 1976. An 11-year-old Felonius Gru has big dreams of becoming a supervillain for career day. His dreams start to come true when he's offered an audition from the biggest criminal organization in the world—The Vicious 6! But alas, Gru's interview doesn't go according to plan and The Vicious 6 all make fun of him.
Poor Gru!
Luckily, minions Kevin, Stuart, and Bob are there to help him out by stealing the stone connected to a Chinese Zodiac. Go Minions!
But what happens next? Will the minions be able to help Gru become a supervillain? Or will someone else have to step in? You'll have to check out this flick (in theatres now) to find out!
In the meantime, check out OWLconnected reader Raven's awesome review!
Raven's Review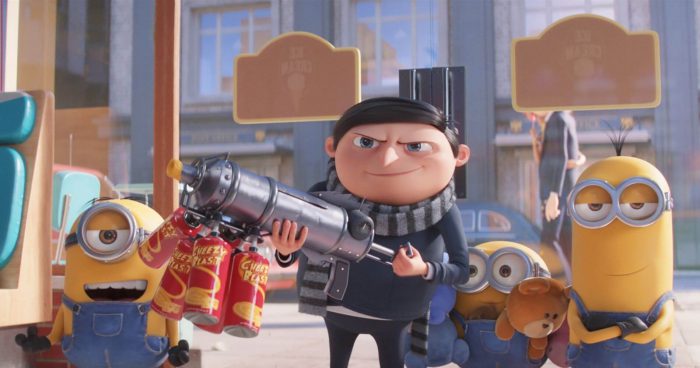 Gru and his main minions are back in this zany origin story. (Universal Pictures/Illumination)
I loved this movie!
My favorite part of the was the scene where the minions and Gru made adorable pouty faces with cute puppy eyes. It was so cute that it was funny!
I don't think I liked when The Vicious 6 threw 'Wild Knuckles', their leader, out of their club. He was the one who taught them everything they knew!
One thing that stood out to me was a new minion named Otto. I wonder why he isn't in any of the other movies. What happened to him? Hmmm … maybe there'll be a movie about him next?
Are you ready for a mini-on adventure?
Thanks, Raven! If you're still deciding if you would like to watch this movie, check out the trailer below!
Minions: The Rise of Gru is playing in theatres now.