Let's be real: Moana has some big shoes to fill. Remember this?

That's the sound of a massive movie mega-hit.

Moana is the first Disney princess since Elsa and Anna stole our hearts back in 2013. It's a tough act to follow—but Moana is up to the task.
A new threat challenges ancient rules
Moana is the daughter of the chief of Motunui, a fictional island in the Pacific Ocean. She's torn between her love for her people and her love for the ocean, which she yearns to explore. But nobody—not even the daughter of a chief—is allowed to leave the island. For any reason. Ever.
But then a mysterious darkness comes to Motunui, withering the coconuts and scaring away all the fish. Nobody, not even the chief, knows what to do. Moana has an idea... but it would mean an epic ocean journey across the seas, far from home. Maybe some rules are meant to be broken?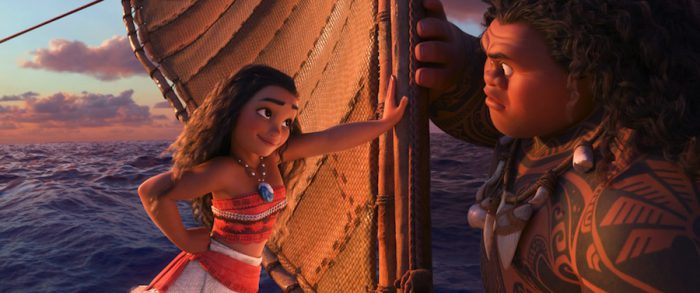 Moana teams up with trickster demigod Maui on her quest to save her people. (©2016 Disney. All Rights Reserved.)

Cue an oceanic adventure starring a loyal but rebellious teenager, who takes the fate of her people into her own hands (and sails).
Inspired by Polynesian myth and legend
This time around, Disney takes its cues from the Pacific Islanders (people who are native to the little islands in the South Pacific Ocean, like Hawai'i, Samoa, and New Zealand). Their ancestors sailed the Pacific more than 1000 years ago, discovering new islands and using the stars to navigate.
These incredible explorers were the inspiration behind Moana, and their culture colours everything about the movie, from the songs to the dances to Moana's cool canoe.
Sailing into theatres now
Epic quest: check. Cute animal sidekick: check. Catchy songs: check. Positive messages about responsibility, perseverance, and being true to who you are: check, check, and check.
Add beautiful animation, plenty of action, and rich Polynesian culture, and this movie has all the makings of a great princess movie. See it in theatres today to decide for yourself how it measures up.
In the meantime, check out the trailer below for a taste of the adventure.