Do you like puns? So do we. And so did the four-year-old who came up with the premise for this movie: what if monster trucks were actually monsters?
The result is Monster Trucks, a movie that is exactly what it sounds like. Silly? Maybe. But there's something charming about a movie that goes all-in on a bizarre idea. And with a budget of $125 million, the creators of Monster Trucks certainly gave it their all.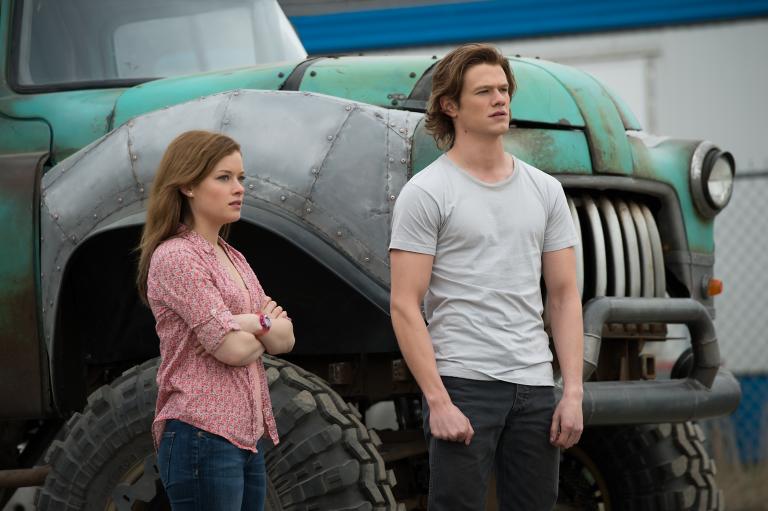 Main character Tripp and his tutor, Meredith, wondering what to expect from this movie. (Courtesy of Paramount)
A boy and his (extra-slimy, magical) "dog"
Tripp, a small-town outcast, only wants to leave home. Creech, an almost-cute squid-monster dredged up from his underground ecosystem by a greedy oil company, wants to get back home. Together, maybe they can both get what they want.
The friendship between Tripp and Creech is part of a long story-telling tradition. From C. S. Lewis' The Horse and His Boy to last year's Pete's Dragon, the human-critter duo warms our hearts every time.
Add a massive blue truck and some creative action scenes, and you get a movie that feels both familiar and kind of strange.
Fun and a little bit thoughtful
But it's not just flashy CGI and fun-to-watch action scenes. There's a surprising amount of heart under this movie's hood. Example: the conflict between Tripp and his mother's boyfriend, the town sheriff, is complicated and believable.
Even more complicated is the town's relationship with the greedy oil company that's after Creech. Almost everybody in town relies on the company for jobs. How do you stand up to something that has so much control over your life? Monster Trucks doesn't try to answer this question, but it at least asks it.
Opens today
You can check out the movie in theatres starting today. See the trailer below for a taste of the action.