After seven films, or "episodes", Star Wars is still going strong. Last year's Episode 7: The Force Awakens gave us a fresh trilogy to explore—one where a new generation of heroes (and villains) were exploring the mysteries of the Force in a galaxy far, far away. Episode 8 will be coming out in 2018, but for now, fans are getting a real treat. This Friday, yet another Star Wars movie is opening. It's called Rogue One and we got a sneak peek! What did we think?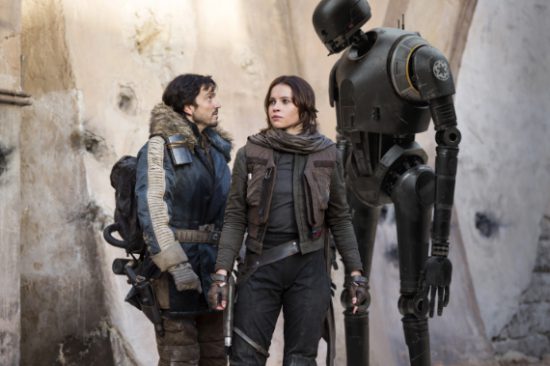 Captain Cassian Andor (Diego Luna), Jyn Erso (Felicity Jones), and K-2SO (Alan Tudyk) are an unlikely team of Rebel fighters. (Lucasfilm/Disney)
Well, this film isn't just any Star Wars movie. Why? For the first time, none of its central characters have the last name Skywalker or Solo or Organa. Instead, the tale is led by Jyn Erso (played by Felicity Jones). Jyn is the daughter of a brilliant scientist, Galen Erso (Mads Mikklesen)—he was kidnapped by the Empire to build a terrible new weapon, leaving Jyn alone as a young girl.
And also for the first time, this film isn't another episode in the series. It is a "stand-alone" story. Or as the filmmakers are calling it: Rogue One: A Star Wars Story. So just what does it mean to be a stand-alone film? And does it stand up?
A key bit of Star Wars history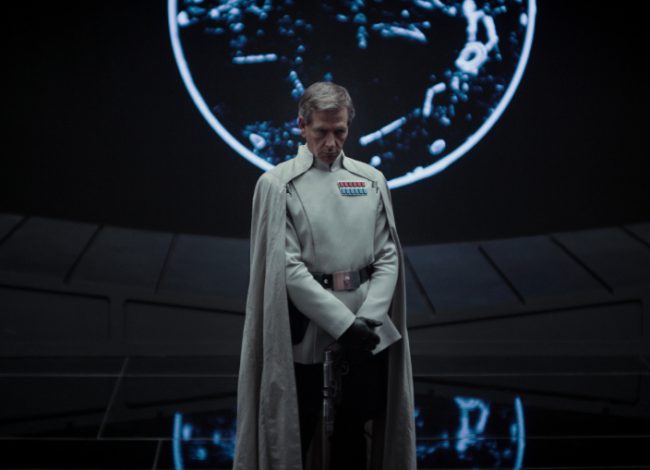 Director Krennic (Ben Mendelson) is the man behind the Death Star—and Rogue One's main villain. (Lucasfilm/Disney)
You bet! Though this may not be about Luke or Leia (or any Jedis either), it is definitely tied to the original movies. Rogue One takes place after 2005's Episode 3: Revenge of the Sith and just before 1977's Episode 4: A New Hope (the original Star Wars movie). A New Hope is all about the Rebellion trying to destroy the Empire's massive space station, the Death Star. Rogue One is the story of how the Rebellion got those plans in the first place.
The story of how they got those plans
When an Imperial fighter pilot escapes the Empire to bring news of the Death Star to the Rebellion, Jyn is asked to help the rebels perform a very risky mission. Steal the plans to the Death Star so that it can one day be destroyed... before it is used to destroy them. A New Hope opens with Darth Vader and a company of stormtroopers searching a Rebellion ship for the plans to the Death Star. So in a way, we already know the end of the movie. Does that spoil the film? No way! In fact, we'd even go so far as to say that this is the best Star Wars movie since The Empire Strikes Back. (Which came out in 1980!)
For one, it's really interesting to see what this galaxy was like in the earlier days of the Rebellion. Rogue One takes us to some incredible new worlds, including Jedha, the original home of worship for the Jedi.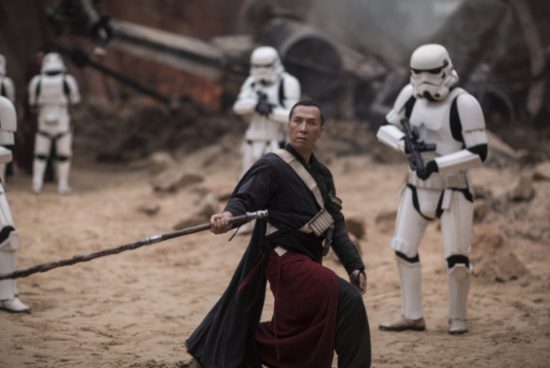 Chirrut Imwe (Donnie Yen) is a blind martial artist who really steals the show! (Lucasfilm/Disney)
It's also really exciting to see an entirely new cast of characters. (A few old ones make appearances, too, but we're not going to spoil the surprise!) Jyn isn't a budding Jedi like Rey in The Force Awakens, but she is just as determined. And while it would take way too long to list all the other characters, we have to give a big shout out to two: new droid K-2SO (Alan Tudyk), who is pretty funny and awesome in battle; and Chirrut Imwe (Donnie Yen), a blind martial artist who is a big believer in the Force (his scenes are pretty inspiring).
Contains some violence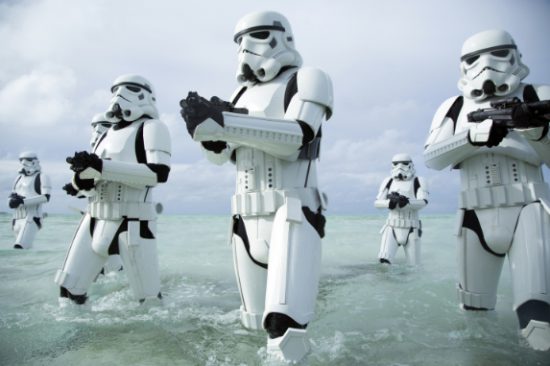 What? There are stormtroopers on the beach? Cancel the vacation! (Lucasfilm/Disney)
Speaking of battles, this movie has a lot of fighting and war, and its heroes aren't always "good". So if that isn't your thing, you might want to let this film...stand alone? (Ha! Get it?) That said, this group of rebels have a big story all their own that is fun for fans or first-time viewers alike.
Are you excited to see Rogue One?