Do you like action? How about laughs? Animals? And do you like... to sing?
The brand new film Sing (which opens today!) has all of these things and more. We think it's the perfect family film for the holidays. Why's that? We're glad you asked!
So many animals!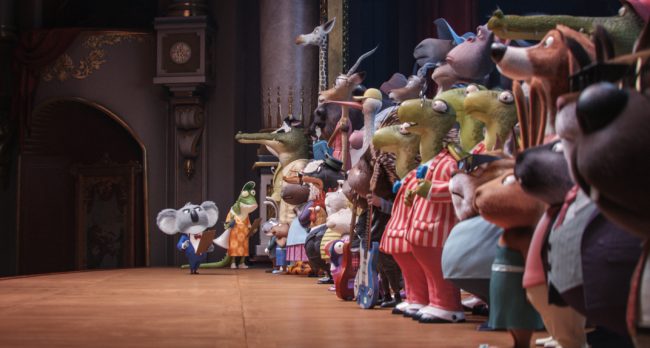 Buster and his assistant, Ms. Crawley, inspect the animals who have turned out for his big audition. (Universal/Illumination)
Watching people do stuff—driving cars, dancing, singing songs—is just fine. But watching animals do those same things is so much better. And Sing is like a zoo taking over a town.
There's gorillas, alligators, bunnies, foxes, bears, mice, sheep, squid... the variety is endless. (Not to mention a hilarious family of 25 adorable piglets!) Leading this cast of fuzzy, furry, slimy, scaly characters is Buster Moon (Matthew McConaughey), a charming koala who is in need of a miracle. Even though Buster is living his boyhood dream of running his own theatre, the truth is that the Moon Theatre is running out of money. So he tells his best friend, a sheep named Eddie Noodleman (John C. Reilly), that he's going to hold a singing contest to save his business. Eddie is skeptical, but Buster just knows that it's going to work! Which brings us to...
So many songs!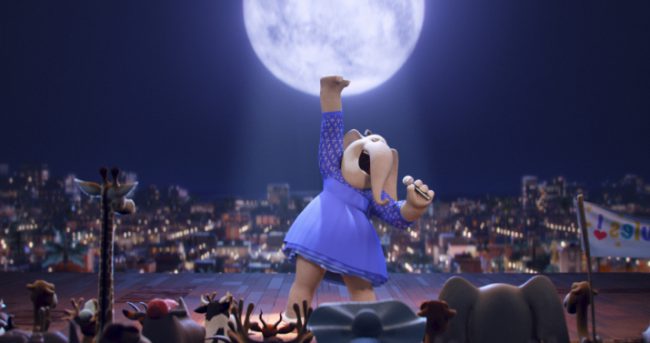 Meena (Tori Kelly) is a big-voiced elephant who brings down the house in Sing. (Universal/Illumination)
There are over 85 different songs featured in Sing. Yep. More than 85. So you can bet that you're going to hear at least a few that you know and love. The scene where animal after animal auditions for Buster and his lizard assistant, Ms. Crawley (Garth Jennings), is one of the funniest in the whole movie. And that's just the primer for the big, show-stopping finale where this loveable batch of misfits and hidden talents bring the whole town to their feet. Speaking of those talented misfits...
So many great characters!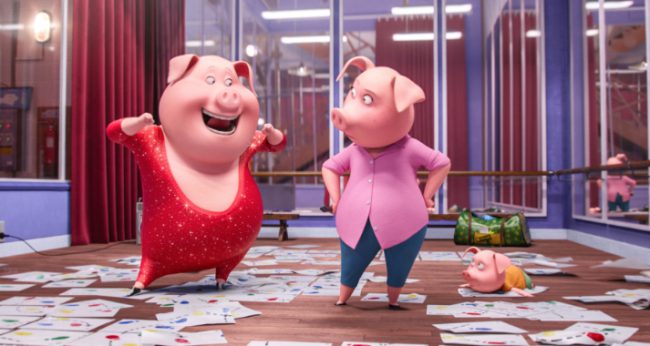 Gunter (Nick Kroll) is a flashy dancing pig who helps Rosita (Reese Witherspoon) live out her dreams... while one of Rosita's 25(!) piglets looks on. (Universal/Illumination)
Sing does a great job at giving everyone in its audience at least one character that it can relate to. Are you shy? You'll love big-voiced Meena (Tori Kelly), an elephant who finds it embarrassing to sing to anyone outside her family at home. Are you sensitive, but look tough? Your buddy is Johnny (Taron Egerton), a gorilla whose love of silky, soulful ballads doesn't exactly match the wishes of his powerhouse father. Are your talents constantly getting overlooked while others hog the spotlight? Meet Ash (Scarlett Johansson), a punk rock porcupine who is tired of playing second fiddle to her bandleader boyfriend, Lance.
And we're just getting started here. Lots of families love to go to the movies over the holidays. If you're one of them, we know that you'll love Sing. Give the trailer a look below and warm up your voices... it's show time!