The new  Sonic The Hedgehog movie opens this Friday. If you're excited to see it, we're running a contest to win tickets here! But it closes tomorrow, so you'd better hurry up (and thanks if you have already entered).
One lucky person who doesn't need to win tickets is OWLconnected reader Liam. He's already seen the film and was kind enough to write a review for us.
So, Liam, what did you think?
Liam's review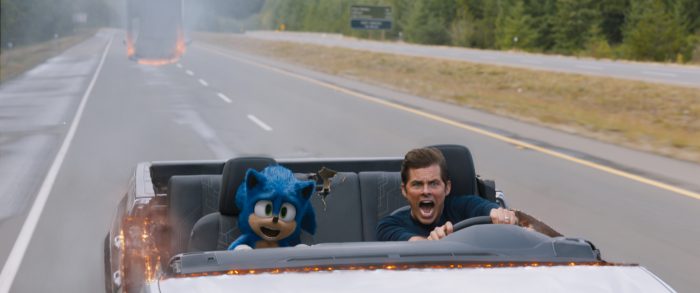 Sonic and Tom become BFFs...eventually. (Courtesy Paramount Pictures and Sega of America)
When Sonic the Hedgehog leaves his home, he is sad because he would never see his mentor again. But Sonic makes a friend on Earth, a police officer named Tom, and they go on many adventures.
Sonic is a blue space hedgehog sent to Earth because evil creatures want his super speed power. He ends up in Green Hills, Montana, where he accidentally sets off a huge power outage. The outage causes a chase by the government forces, led by Dr. Robotnik (a.k.a. Dr. Eggman, played by Jim Carrey). Tom helps Sonic escape Dr. Robotnik and his robot drones so Sonic can get his golden rings back. Then they stop Dr. Robotnik's plans to take over the world!
I like this movie because there is a lot of action. For example, in some scenes people freeze in time, while Sonic changes their environment. He can change the near future — it's funny, imagine if you could jump and freeze in mid air! I also like the colours — especially the blue is very lively and strong. It is well written and the story is exciting. My favorite character is Sonic — I like him because he's funny and chatty.
Audiences would like how funny this film is. They would also like how the friendship grows between Tom and Sonic. There's really nothing I didn't like about the movie.
It was so good, I give it 4.8 out of 5 stars.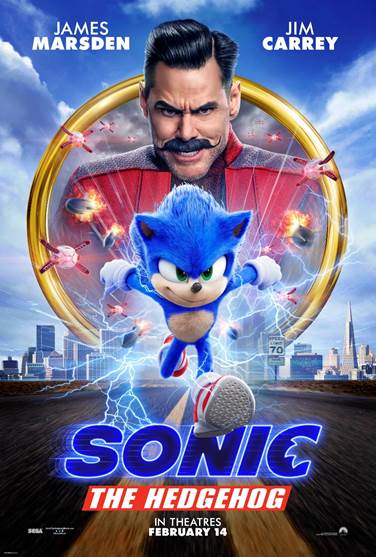 (Courtesy Paramount Pictures and Sega of America)
Hey, thanks for the great review, Liam!
Watch a trailer for the film below.