Did you know that volcanoes helped create the world as we know it? It's true! The continents, the oceans, the air we breathe, life itself... it's all here thanks to volcanoes that erupted billions of years ago. Wow, thanks!
And now, thanks to brave Canadian photographer Carsten Peter and filmmaker Michael Dalton-Smith, we get to see over the edge of some the most famous active volcanoes on our planet in the new film Volcanoes: The Fires of Creation. All from the safety of your local IMAX®/Giant Screens theatre.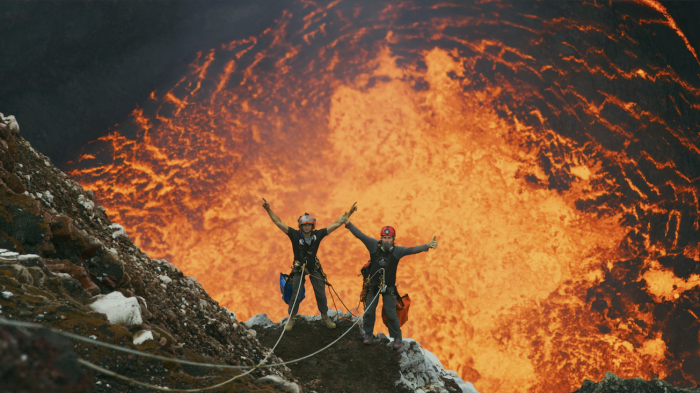 "Uh, if you say it's safe!" The filmmakers standing on the edge of a volcano. (Courtesy of Ontario Science Centre)
The film's hero, Carsten Peter, has been obsessed with volcanoes since he was a kid. We see his passion throughout as he battles extreme weather, hikes to high altitudes where even breathing is difficult, and hovers on the edges of active volcanoes, all to get great shots of Earth's most fascinating natural wonders.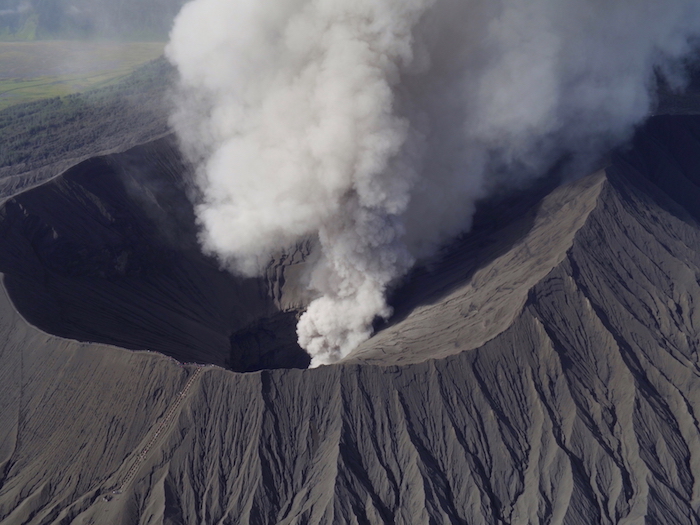 (Courtesy of Ontario Science Centre)
But it's not just all about showcasing great images of eruptions (although that is a big part of it!). This film also does a great job of explaining how and why these phenomenon happen, and how their nutrient-rich ash has actually played a very important role in the history of our planet.
And there is nothing more fascinating than watching hot lava flow downhill, or clouds of ash and rock explode into the air. So if you love exploring nature, this doc is not to be missed.
Get a sneak peek of Volcanoes: The Fires of Creation in the trailer below.
Volcanoes: The Fires of Creation hits the Ontario Science Centre and other IMAX® /Giant Screens across the country this weekend.