Nintendo has exciting news: its new gaming console, called the Nintendo Switch, is coming out on March 3. The big draw for the Switch is that you can play it on the TV, like a Wii U, or on the go, like a 3DS. It's supposed to be the perfect video game experience, no matter how you like to game.
We got to try out the Switch and a few of its games early, before they hit stores. The verdict? We definitely want one.
Meet the Joy-Cons
Instead of a regular controller, the Switch has two mini controllers, called Joy-Cons. These Joy-Cons can be played a bunch of ways: you can hold one in each hand, give one to a friend for multiplayer games, or combine them into a more traditional controller. Different games will ask you to use the Joy-Cons in creative ways. Thanks to these quirky little controllers, the Switch can do almost anything.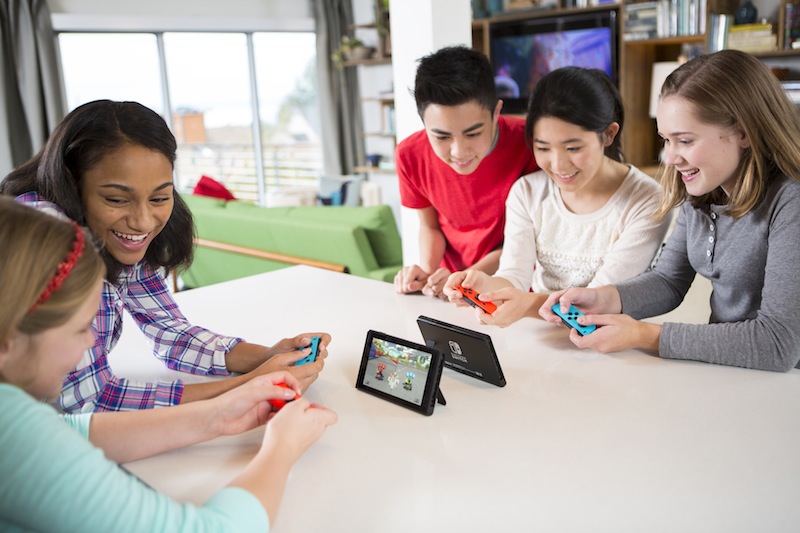 Four friends play Mario Kart 8 Deluxe on the Nintendo Switch, each with their own Joy-Con. (Courtesy of Nintendo)
Games Galore
But what about the games, you say? Oh, we're getting to that!
One of the most popular games at the event was ARMS, a boxing game where you hold the Joy-Cons in your hands and punch. If you really want to win, you'll probably end up breaking a sweat.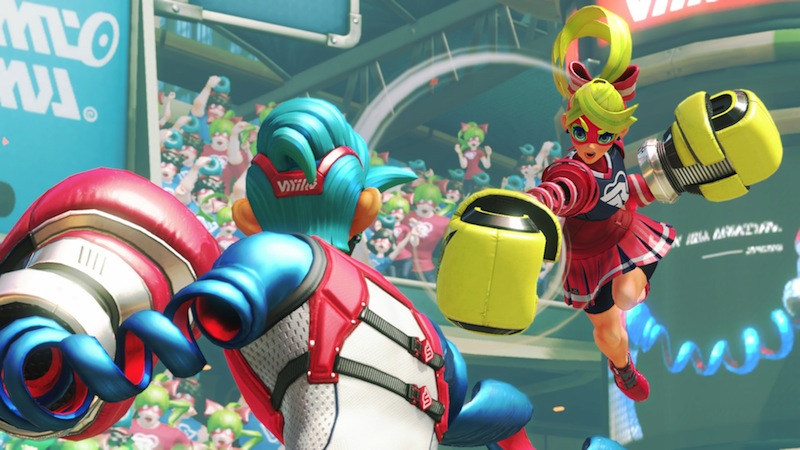 Ribbon Girl faces off against Spring Man in the Switch's cheery new brawler, ARMS. (Courtesy of Nintendo)
And then there's 1-2-Switch, a collection of mini-games including everything from guessing how many marbles are in a box to trying to milk a cow faster than your opponent. Yes, you heard that right.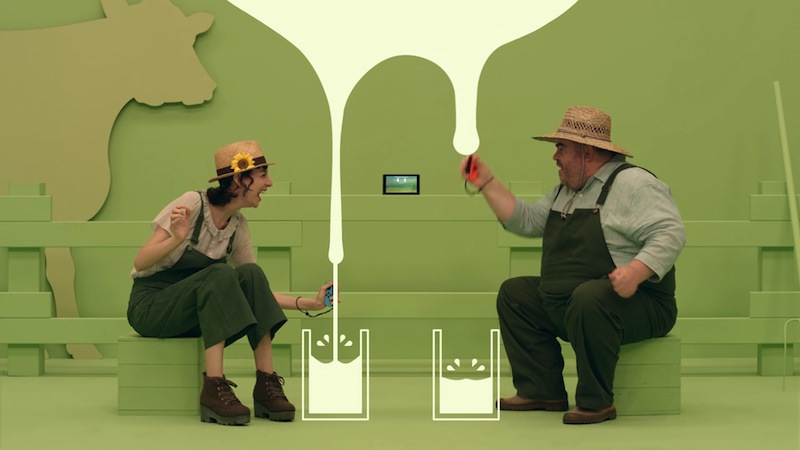 Milk faster, Betsy! Milk, milk, milk! (Courtesy of Nintendo)
Other popular games coming to the Switch:
The Legend of Zelda: Breath of the Wild
Splatoon 2
Super Mario Odyssey
A Creative Risk
Nintendo's last system, the Wii U, didn't do very well. This is partly because it was so unusual. Game developers didn't always know how to make good games for it, so its library (or collection of games) stayed small.
Like the Wii U, the Switch is very different from other gaming systems. Will game developers embrace the challenge, or will they stick to making games for more traditional systems, like the PlayStation 4 and XBox One?
Nintendo is confident that amazing games will keep coming in for the Switch. We think its library looks pretty awesome so far, but who knows what the future has in store?
The Bottom Line
Nintendo is known for innovating. They made motion controls popular with the Wii, they introduced dual-screen gaming with the DS, and now they're trying to shake things up again with the Switch. If you like unconventional, creative games that feel unique and challenge the limits of gaming, this system just might be for you.
Check out the trailer below to see the Nintendo Switch in action.