Summer is awesome, but it can also come with a lot of waiting. Waiting for the rain to stop, waiting in line at the fair, waiting for your parents to pick you up after camp... Luckily, these wait-times are also perfect read-times!
We've got just the book to crack open in these moments. Introducing fantasy graphic novel 5 Worlds: The Sand Warrior, the first book in a new series full of magic, friendship, and questing. There's nothing like getting lost in a bright, vivid fantasy world (or 5) while you wait for real life to pick back up.
We sent a copy of this graphic novel to OWLconnected reader Lizzie, age 12, for review. Check out her thoughts below.
Take it away, Lizzie!
This book gives you a vivid and vivacious view of these five remarkable worlds. Finding out what's in the upcoming pages was an excitement each time for me. Personally, it felt like I was in the book because of the detailed and bold illustrations.The thing that stood out for me was Oona Lee, the main character, who made friends in the most unlikely places. All of her trustworthy friends are unique and special in their own ways.
Despite how spectacular this book was, I noticed that Oona Lee said some rude comments on how Jax Amboy, her friend, was so insanely famous. I was also sad at the end of the book.
This book is suitable for most people. I am 12 and I certainly enjoyed it. I think it would be enjoyed by a wide variety of people because each page is full of emotion, whether it's sadness, happiness, or even bravery. Each chapter is packed with excitement and adventure as they travel five mythical worlds. It makes you feel happy inside when Oona is travelling the five worlds with her courageous friends. I would love everyone to enjoy the thrill and journey this book takes you to.
I rate this breathtaking book a 9/10 because of the unique characters, the mythical journey it took my mind on, and how beautiful and detailed each world is. It also has thrilling twists and surprises that you didn't see coming.
5 Worlds: The Sand Warrior available now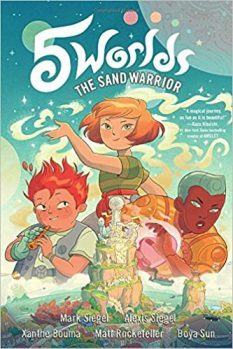 Published in May by Penguin Random House Canada.
Thanks, Lizzie!
If this sounds like your kind of read, ask for 5 Worlds: The Sand Warrior at your favourite library or bookstore.