Summer's here! Woohoo!
If you're looking for the perfect read to get you into the summer spirit, we've got you covered. How about a book set in the tropics, featuring beaches, palm trees, and a few crime-fighting kids?
Around this time last year, we asked OWLconnected reader Isla to review a book called Look Out for the Fitzgerald-Trouts. It was about a gaggle of kids living together on a tropical island where adults were useless and kids were in charge.
In case you missed that review, we'll sum it up for you: she loved it!
Now book two is here. It's called Knock About with the Fitzgerald-Trouts, and it follows the same kids from the first book on more zany adventures.
Back to tell us all about it is Isla, age 9.
Take it away, Isla!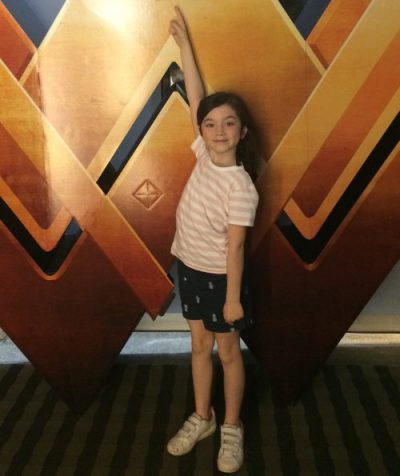 Hi! I'm Isla. (Lesa Hannah)
The first thing I'm going to talk about is the stuff I liked in the book. I liked Johnny Trout's pet pig, Wendell, and I absolutely loooooooooved Penny (because she is so adorable). I liked how they got the boat, the appearance of Leaf was cool, and the Fitzgerald-Trouts solving mysteries and stopping crime? Two words. ABSOLUTELY AMAZING.
I liked how the whole book is in blue, and Sydney Smith's drawing style.
Like the first book, there wasn't really anything I didn't like. If I were to give this book a rating on a scale of 1 to 10, I would give it a 9.
I think the people that might like this book would be people that like adventure, a little suspense and some comedy.
Available now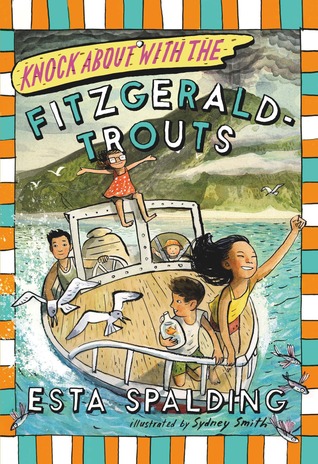 Published in May 2017 from Penguin Random House Canada.
Thanks again, Isla!
Who needs a real beach when you're got a book like this? Head on down to your favourite library or bookstore to join the Fitzgerald-Trouts on their tropical summer adventures.