Spring has sprung! For those celebrating Easter, this time of year might remind you of a particularly sweet activity—egg hunts! However, due to the pandemic, Easter celebrations are looking a little different for 2021.
That's exactly why UK-based chocolate company Cadbury decided to create a safe, virtual solution for egg-hunt enthusiasts. Called the WorldWide Hide, the event combines old traditions with new technologies to create an online global egg hunt where participants can hide a virtual chocolate egg for a loved one to find. Watch this video to see what we're talking about!
So how does it work?

Where in the world is this egg hidden? More importantly, where would you hide an egg? (Cadbury)
To bring this experience to life, Cadbury is using Google Maps Street View so users can hide their egg pretty much anywhere on the planet! Once the egg is hidden in its special spot, the hider can send personalized clues to the finder so they can make the game as challenging as they'd like.
"We felt it was important for us to create something that would help people feel close, even when they cannot be together," says Markéta Kristlová, senior brand manager for VCCP Communications Agency, which organized the event. "There is something so generous in taking the time to hide an egg at Easter, and we wanted to capture that in a way everyone could do."
Why do we even do this?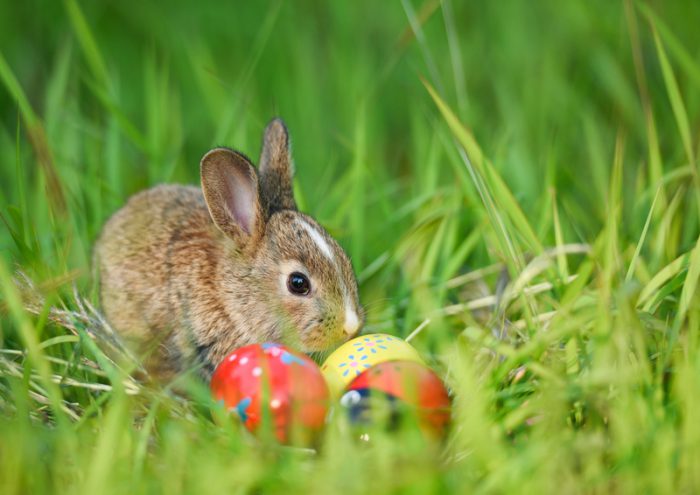 So where are the goods, bunny? (Photo 140520875 © Engdao Wichitpunya - Dreamstime.com)
One question you may have is, where does the tradition of hiding eggs at Easter come from? The egg itself has long been recognized as a symbol of re-birth and a celebration of spring by many ancient cultures, and Easter egg hunts have actually been around of hundreds of years. It's widely believed that egg hunts date all the way back to the 1700s. German immigrants to North America believed in an egg-laying bunny called Oschter Haws, and encouraged children to decorate nests for the creature and search for their eggs. Over time, the myth transformed into what we now know as the Easter bunny, and egg hunts have become a staple of the holiday.
Though the campaign is only available in the UK this year, there are hopes to expand it to a global audience in 2022. In the meantime, if you were to hide a chocolate egg at a famous landmark, where would you choose? Tell us in the comments below!