All of us here at OWLconnected love movies. And we have particular love for Disney/Pixar films. Why?
Their films are more than just colourful, playful, funny, and inventive. They really look deep into what makes life so exciting and rare and wonderful. Take 2017's Coco, for example—that award-winning film based on the Mexican holiday the Day Of The Dead truly brought the afterlife to life! (All those great songs didn't hurt either!)
And this December 25, a brand new Disney/Pixar film is going to take us to the before life. It's called Soul and the trailer is here!
The Great Before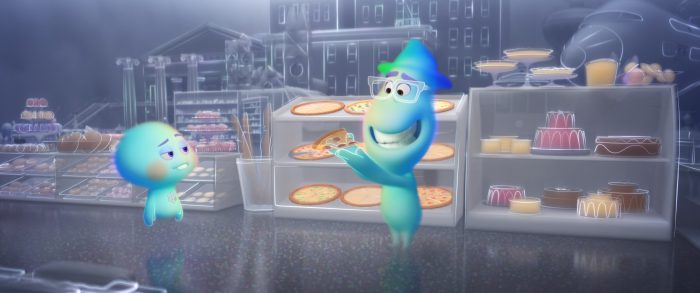 Joe and Soul 22 answer a big question: Do you need a body to eat pizza? (© 2020 Disney/Pixar. All Rights Reserved.)
Soul is all about the journey of Joe Gardner—he is a middle-school band teacher in New York City who loves jazz. He dreams of playing piano in a jazz quartet, but before he can, he gets sidetracked and finds himself in a mysterious place called The Great Before. This is the place where new souls get their personalities before they are assigned to a body on Earth.
Similar to Coco, Soul deals with two big ideas: the world beyond the living and the power of music. How will its magic journey turn out? If it's anything like other Disney/Pixar films, we're sure the film will be electric!
Check out the brand new trailer below!
Soul will stream on Disney+ starting on December 25.