Released in 1940, Disney's Pinocchio was a ground-breaking moment in animation. Even though it was just Disney's second feature film, it is still regarded as one of the greatest animated movies ever made.
Its characters—from the woodworker Geppetto and the magical Blue Fairy, to the wise insect guide Jiminy Cricket and, of course, Pinocchio himself—are timeless. And so are its songs, especially "When You Wish Upon A Star", which is so well known that it has essentially become the Disney theme song.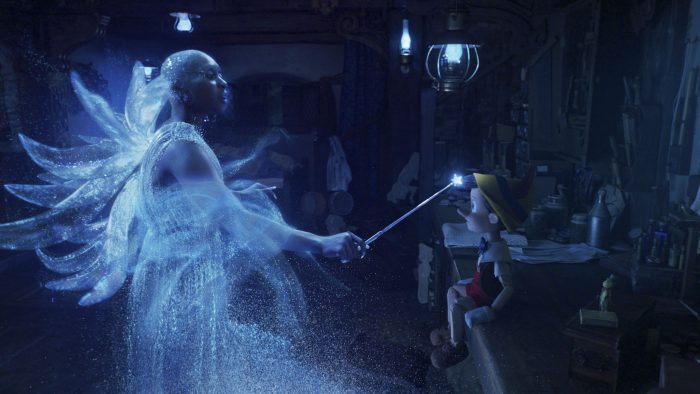 "We wish for a new Pinocchio film. Hey, it came true!" (Photo courtesy of Disney Enterprises, Inc. © 2022 Disney Enterprises, Inc. All Rights Reserved)
But 82 years is a long time, and eventually Disney thought it was time to retell the story for a whole new generation. Released this Thursday exclusively on Disney+, 2022's Pinocchio is an eye-popping, thrilling live-action version of the classic tale. From giant monsters and fantastical theme parks, to musical puppet shows and curious animals, it is full of excitement and wonder.
We speak to Pinocchio (sort of!)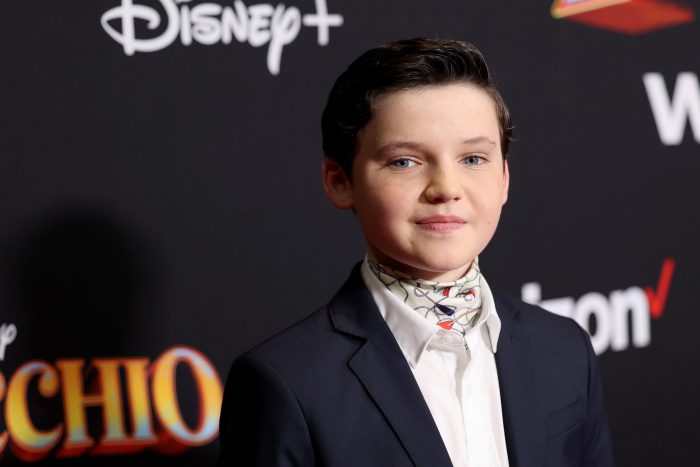 Benjamin is a young actor whose career is really on a roll! (Photo by Rich Polk/Getty Images for Disney)
The new film stars famous actors Tom Hanks as Geppetto and Joseph Gordon Levitt as the voice of Jiminy Cricket. But the role of Pinocchio has been given to a bit of a newcomer named Benjamin Evan Ainsworth. This 13-year-old from Nottingham, England has only been acting for about five years. And now he's doing the voice of one of the most memorable animated characters of all time. Talk about pressure!
But if Benjamin is phased by the situation, he certainly doesn't show it! We got to speak with the friendly young actor and find out all about his journey to the role, getting to work with legends of film, and how he found 'his' Pinocchio.
OWLconnected: When did acting first become something you knew that you wanted to do? Are you surprised by how quickly everything has moved in your career?
Benjamin Evan Ainsworth: I started acting when I was seven or eight. It started as just a fun thing to do on the weekend, and I really enjoyed it. And from that first club (I joined), I started going more and more on different days. And then I went to a management company, after I thought that this was something that I'd really to do and I luckily got in!
Then I started auditioning and got some theatre work. I went from local theatre to a production of The Sound of Music, which was fun.
Then I went to advertisements and then short films, TV shows, and now this film! Only five years in and I'm here playing the iconic Pinocchio!
OC: How much did you know about Pinocchio before this? Had you seen the 1940 Disney film?
BEA: I knew the story. My family had watched the film, and I knew about Pinocchio … Pinocchio is everywhere!
But when the audition came, it was like, "Whoa, this is such an opportunity! Robert Zemeckis (is directing)!" So we spent a lot of time working on the voice and keeping it faithful (to the original Disney movie).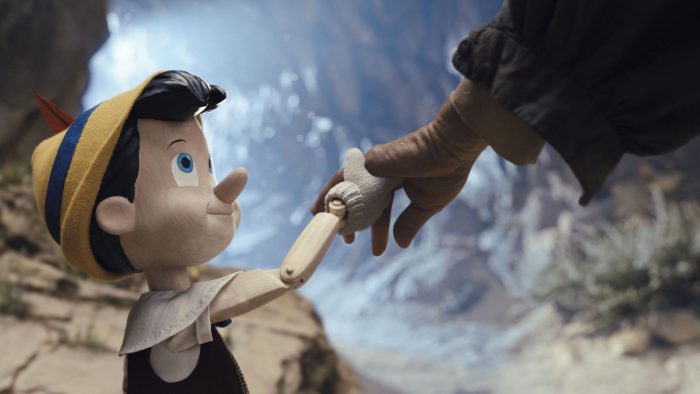 Benjamin worked for a long time to perfect his version of Pinocchio's classic voice. (Photo courtesy of Disney Enterprises, Inc. © 2022 Disney Enterprises, Inc. All Rights Reserved)
OC: What goes into that? Pinocchio's voice is obviously not your natural speaking voice [in person, Benjamin speaks with a British accent!]. How do you prepare for changing your voice?
BEA: It was a challenge to get my voice to where I wanted it, because it is a tricky voice to get down. And Dickie Jones (the original voice actor from the 1940 Pinocchio) is so iconic, I wanted to keep it similar to him. So I spent a lot of time listening to the original movie and watching it. I played with the pitch and volume of my voice, and added a bit of my own energy in there, too. Until I got to the place where I got my Pinocchio!
OC: Pinocchio's director Robert Zemeckis has worked on so many classic movies. Did he give you any extra advice on the voice once you started filming?
BEA: Luckily he liked what I brought to the table in the auditions! So when we recorded my voice, we mostly went over just playing with it. "Okay, I want you to do it a bit louder!" or "This time, put emphasis on this word." We were collaboratively working on my voice when we recorded it.
OC: And speaking of classic movies, you did this film with a major Oscar winner, Tom Hanks! Voice acting is often done in isolation (alone in a booth), but did you get to act alongside Tom at all as well?
BEA: We kind of got the best of both worlds. We recorded just the voice in a booth, with me and Robert Zemeckis. But I also got to shoot live action with the other cast, like Luke Evans (The Hobbit movies) and Tom Hanks.
OC: That's great!
BEA: Yeah, it was! The first day, Tom Hanks came in and sat to my left, and Robert to my right, and I was like, "Ooo! This is kind of surreal. Ohmigosh, what's happening??" And then they started talking about past movies they had done together [including Forrest Gump and Cast Away, where in each Hanks won a Best Actor Oscar], and old Disney movies that they love. And it was just really cool to be listening!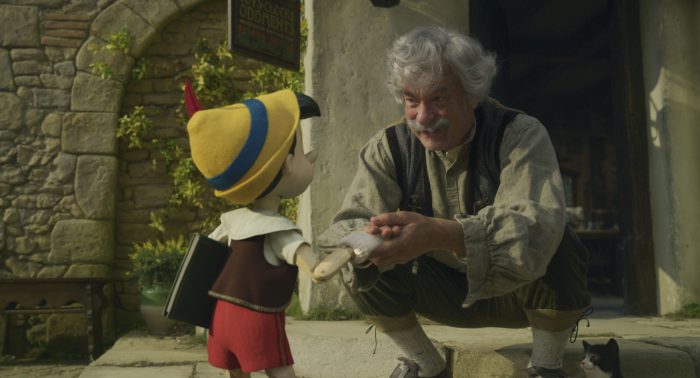 Acting alongside Tom Hanks (Geppetto) was a real thrill for Benjamin. (Photo courtesy of Disney Enterprises, Inc. © 2022 Disney Enterprises, Inc. All Rights Reserved)
OC: Did you find it hard to 'act' when you're just in a booth without any other actors?
BEA: To get the emotion in your voice, I think you have to use motion when you're in the booth. You have to act as though you are there. I find it difficult to just sit still and do the voice. So I do move my arms a bit, move my body a bit. And when Pinocchio gets emotional, you naturally move with the character's emotions.
I felt like [moving that way] helped me get the emotion in the character a bit more.
OC: What about the pressure of playing such a legendary character? How was it being Pinocchio for a new generation?
BEA: There's always some pressure when you're doing that kind of a thing. But it was more of an honour to do it. I felt like, "Okay, this is going to be fun!" I just needed to work on the voice, which was the most important thing. That was the main goal, to have it be faithful.
OC: Acting is a demanding job, but what are your other interests? Do you have time for them?
BEA: I love football (soccer). That's one of my main hobbies. I play for a team locally. And also, I like to make music on my laptop. I just love messing around with that!
OC: Do you have a favourite style or instrument?
BEA: Yeah, my favourite music I'd say is soft rock, like Phil Collins, but I also like hip hop. I like all sorts, I don't stick to one genre. Whatever I think is nice, I listen to!
Thanks for chatting with us, Benjamin!
And if you'd like to learn more, you can watch the trailer for Pinocchio below.
A Disney+ Day premiere, Pinocchio launched September 8, 2022, exclusively on Disney+.