YTV's The Zone is a total Canadian TV institution. It's a mix of interviews, games, comedy, and general zaniness, and it's been going since 1991. That's over 30 years!
This past June, the show's hosts, Spencer and Alex, got a brand new partner: Melony Manikavasagar! An enthusiastic poet, artist, actor, and director, Melony does it all and she is super stoked to be the newest part of The Zone. How stoked?
Well, we asked her about that very thing—as well as her thoughts on pizza, manga, and where in the world she'd love to travel most.
Let's meet Melony!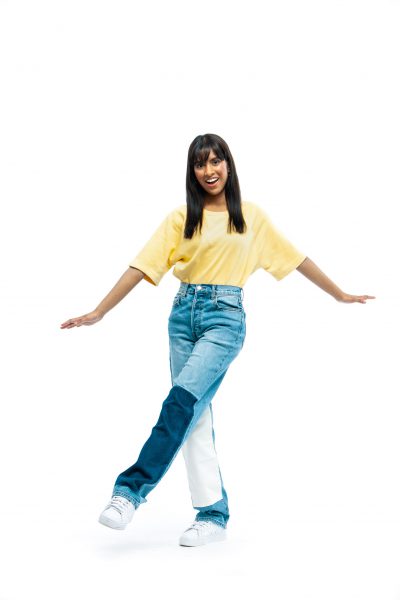 (Shayne Gray/Courtesy of YTV)
OWLconnected: So, you've been with The Zone for about a month now. First impressions? How are you adjusting?
Melony Manikavasagar: It's been a wild ride! I've never done anything like this before! I've been having so much fun, and it's been such a great start to my summer. I'm so glad I get to work in an industry that I'm passionate about—one that allows me to challenge myself and learn something new every day!
OC: Did you grow up watching YTV and The Zone in particular?
MM: Yes! I was a huge cartoon and TV nerd, so YTV played a considerable role in my childhood. I would watch YTV after school, and I remember having to get my homework done at a specific time to catch my favourite shows. When I got the role, it took a while to sink in. It only hit me when I finally announced it on my social, like I was speaking it out into the world.
OC: We understand that you're actually working on a university degree while you do this weekly show. How do you find the time?
MM: Right now, I'm on summer break, so I haven't felt the pressure of juggling school and the show yet. I also don't like to miss deadlines, so that will help keep me in check!
OC: A show like The Zone asks you to wear a lot of different hats, as they say. Sketches, interviews … is there a part of the job you like the most?
MM: My absolute favourite part of the job is playing games! Playing games is fun for everyone—even for the viewers! With the playful competitiveness and live reactions, you really get a taste of everyone's personality, and it helps me engage with the audience. I also just love a good challenge.
OC: And speaking of one of those jobs, who would you most like to interview one day on The Zone?
MM: If I ever get the chance to, I'd love to interview Ed Sheeran. I picked up a guitar and started writing poems because his lyricism captivated me. I find him very inspiring as he used music to help with his confidence and writing. It would be amazing to hear him speak about his story firsthand!
OC: You have done acting, editing, directing … did wanting to work in media come naturally to you?
MM: When I was younger, I naturally gravitated towards the camera. I would always draw my own characters that could fit within the realms of my favourite show's story worlds. With that, I think I always knew I wanted to be a storyteller of some sort, whether that be conveying a message through acting, or writing my own series. However, it wasn't until I got to high school that I realized, "Hmm, maybe that could be me!"
OC: You draw and write poetry. You have one chance to blow someone away with your art skills: Will it be with a drawing or a poem?
MM: Definitely a poem. When it comes to drawing, I am without a doubt a perfectionist; therefore, drawing might take a while. On the other hand, words come naturally to me, and it's much easier for me to get into the rhythm of writing one. There's so much that's up to interpretation when it comes to writing poems, and it's why I enjoy them so much.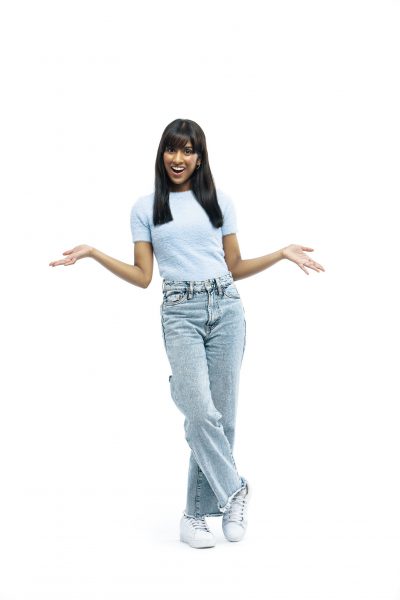 (Shayne Gray/Courtesy of YTV)
OC: Tell us about your biggest inspiration that people might not be familiar with and why they motivate you.
MM: Hajime Isayama is probably one of my biggest inspirations. He is the manga artist for my favourite anime. I find him admirable because he was never a great manga artist, and his work was rejected countless times—all because he couldn't draw well. However, his storytelling was outstanding, and now that story is the biggest selling story in anime! His art style is what sets him apart, too, and it made me realize how important it is to try something different—to be a little different.
OC: We understand that you love pizza (who doesn't?). The greatest pizza topping is …
MM: Jalapeño peppers. I live for spicy food, and jalapeño peppers on a pizza does wonders!! Bacon bits are great, too.
OC: The topping that should never be allowed near a pizza is …
MM: Unfortunately, pineapples and black olives. Firstly, I am not a fan of the sweet and salty combo. It just doesn't work and I will never understand it. I don't know how to explain why I don't like black olives, however, I feel like that one is pretty reasonable, haha!
OC: And the topping that you think SHOULD be on pizzas but that you've never seen tried before is …
MM: Maybe noodles? Specifically Pad Thai noodles? I feel like that is an interesting combo and they're both savouries. In my opinion, it's definitely worth the experience and I would love to try it! I love Pad Thai noodles.
OC: Finally, slowly but surely, people are starting to travel again. What is the one place in the world you most want to visit and why?
MM: I've always wanted to go to Paris. I'm obsessed with Parisian fashion and architecture. Paris is very beautiful, and I would love to experience Parisian culture. It's at the top of my bucket list to see the Eiffel Tower, specifically at night with the lights!
The Zone airs every weekday from 4pm to 6pm on YTV.