Every two weeks, we publish a new issue of our tablet and computer-friendly eMag, OWLconnected. It's free for OWL magazine subscribers. Today's marvelous edition—Issue 139—is one that is full of colour!
Specifically, green and red!
Do you think YOU can decode what mysterious stories these magical colours signify? What's that? You can, you say? Haha! That's what you think—
Oh. You already read our introduction? And the answers are at the top of this very post?
Of course! Haha. We knew that! Just testing you! Onward ...
It's Your Lucky Day!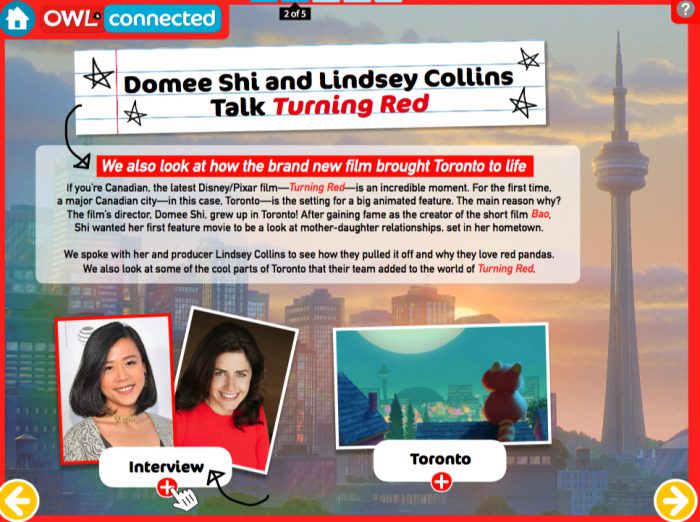 Today, March 17, is St. Patrick's Day. This traditional Irish holiday is a lot more than meets the eye. We break all of this down at the start of Issue 139, so if you're feeling lucky, you should start reading now!
Speaking of luck, the movie Turning Red really is a gift in our books! Not only is it a delightful, hilarious movie full of epic cuteness, but it is a ground-breaker for Canadians because it's set in one of our largest cities, Toronto! We've already reviewed the movie here, but in this eMag, we dive deeper into all of the ways that the filmmakers captured Toronto's spirit in their animation. And we also interview the director, Toronto native Domee Shi!
That's already quite a lot of awesomeness. But as with all of our eMag issues, our cup of awesomeness runneth over (that's means there's more good stuff!). Issue 139 also includes a puzzle full of whimsical words, a quiz on puppetry, and lots of input and art from our terrific readers!
If you're already an OWL magazine subscriber, you can click here to sign in to the latest eMag issue right now.
If not, maybe it's time to take your OWL experience to a whole new level! Get ten print issues a year sent right to your door, plus over 24 issues of our exclusive eMag by subscribing right here.