May 7 to 22 is Science Odyssey, a celebration of all things science! OWLconnected is recognizing this two-week event with lots of science content, as well as with an amazing contest, presented by our friends at the Natural Sciences and Engineering Research Council of Canada (NSERC). Details are at the end of this post—be sure to enter!
Every two weeks, we publish a new issue of our tablet and computer-friendly eMag, OWLconnected. It's free for OWL magazine subscribers.
In Issue 143, we're taking you on a big journey—big in size, and big in years back into history. Over 66 million years back, to be specific!
May 15 is Dinosaur Day, and that's great news for dino fans like ourselves. As you probably know from visiting this website, we love talking about prehistoric creatures of all kinds—it's a very rare month when we don't have at least one or two stories on dinosaurs and other ancient animals. But in honour of Dinosaur Day, we're going to the max with five of our favourite recent finds from the world of paleontology!
Lightsabers and bike-savers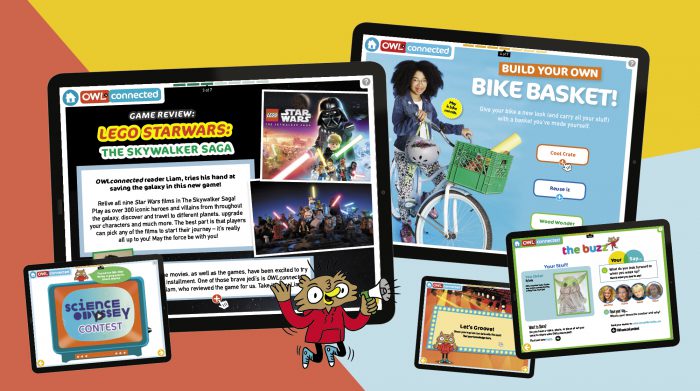 But that, of course, is not all that you'll find in our newest issue. If you're a fan of Star Wars or LEGO or video games (or all three!), you'll dig our review of LEGO Star Wars: The Skywalker Saga. If you've never played them before, the LEGO video games take traditional action/adventure titles and really silly them up! Check out our review to find out how fun they can get!
But hey, maybe video games aren't your thing. Maybe you're more of a crafty/outdoorsy type. Well, we've got you covered with a DIY bike basket that will make carrying things to your next hangout with friends a breeze!
And that's not all. We've also got a video highlighting Science Odyssey, a super 'groovy' quiz, comments from readers just like you, and more!
If you're already an OWL magazine subscriber, you can click here to sign in to the latest eMag issue right now.
If not, maybe it's time to take your OWL experience to a whole new level! Get ten print issues a year sent right to your door, plus over 24 issues of our exclusive eMag by subscribing right here.
Contest alert
Don't forget to enter the Science Odyssey Contest! CLICK HERE TO ENTER.