Every two weeks, we publish a new issue of our tablet and computer-friendly eMag, OWLconnected. It's free for OWL magazine subscribers.
In Issue 157, which is out today, we are zeroed in on tech.
Gadgets! Doodads! The weird and wonderful! The unexpected and amazing!
Every January, Las Vegas hosts the Consumer Electronics Show (CES). This is a huge event. Thousands of new devices are introduced to the public here. We regularly write about it. In fact, we already did that on the website earlier this month!
But with so much new technology to absorb, it was inevitable that we would come back for more. And that's what this issue is all about!
You never know what you'll see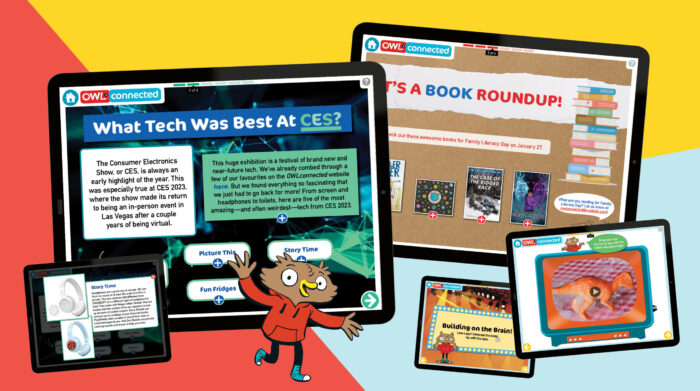 As we mentioned, part of the joy of CES is that you can come across some very unexpected stuff. Yes, there are new cars, TVs, video games, and more. But then there are truly curious inventions that are somewhere between inspiring and 'Is this even something people need?'
Which is the fun of the expo. Being surprised, amazed, and amused all at once. Issue 157 features five of our favourite new tech items from the fest. And in addition, we're also sharing some other new items with you: some of our fave new books! And as always, we also have our beloved Quiz and Buzz features to share with you. Fun!
If you're already an OWL magazine subscriber, you can click here to sign in to the latest eMag issue right now.
If not, maybe it's time to take your OWL experience to a whole new level! Get 10 print issues a year sent right to your door, plus over 24 issues of our exclusive eMag by subscribing right here.