In the recent hit Disney/Pixar film Turning Red, the big climax comes at an event that is a major deal for many young people.
A first concert!
In that film, best friends Mei, Miriam, Priya, and Abby are thrilled to go to see the boy band 4Town. And while that band isn't real, that type of event definitely is.
However, that film is set in 2002. Recently, a little thing known as COVID changed everything about what we were able to do together, including big live concerts. ? Frustrated with not being able to perform for fans, a few creative artists decided to try something different.
Livestreamed concerts over the internet.
And now, even though, restrictions are easing off around the world and people are able to gather in groups again, livestream concerts are still happening. Are they the future of concerts? And what do we think of that?
What is a livestream concert?
In 1987, the musician Prince used a concert film to bring his excellent performances to movie theatres. But this was different to a modern livestream. (Twitter/@blurrymania)
Concert films—multi-camera video recordings of a band's live show—have been around for many years. But these events are edited for months, even years, after being recorded. Performances with mistakes are removed and replaced with what the band considers better performances. Then the whole thing is presented for fans as a 'perfect' document of what it is like to see one of their shows.
But a livestream concert is different. Just like a real live show you see in person, there is a set start time. Don't be late! You buy tickets online to be 'allowed in' to see the show. The show then happens in front of your eyes—no breaks, no editing of performances. And then the show ends and everyone 'goes home'.
You get the thrill of experiencing a live performance, only you don't need to leave your house.
Why go livestream?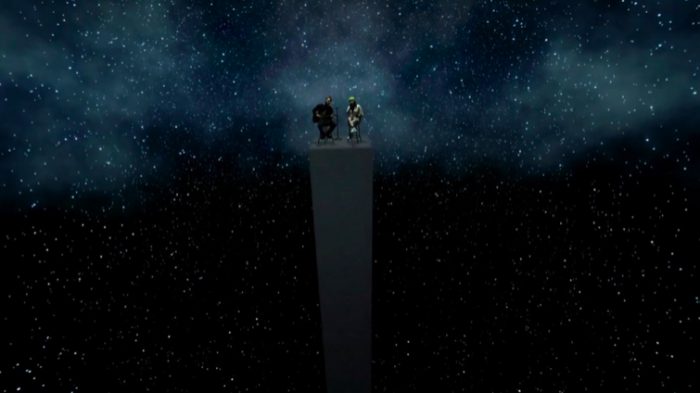 A screenshot from Billie Eilish's 2020 livestream concert. See you in outer space! (Twitter/@blurrymania)
Of course, for many people, getting to leave the house is the point! It's super fun to go out and be with other people who are all just as excited to see your favourite musicians perform. The roar of the crowd, everyone dancing. Woohoo!
So as things slowly return to normal, why would livestream concerts still be a thing? As it turns out, there are a few good reasons.
Touring costs a lot of money for the bands that do it. Gas, hotels, road crew ... it all adds up! If a musician can sell many many thousands of tickets around the world to a single performance but not have to spend anything on travel costs, that can be pretty appealing.
Also, even though the performance is live, musicians can do all sorts of cool things that they might not be able to in a concert hall or stadium, like introduce special effects into their performance.
Mega stars like Billie Eilish have been able to turn their virtual concerts into something like playing live inside a Marvel action flick.
Meanwhile, on K-pop sensations BTS' 2022 Permission To Dance Tour, the band has been combining the two experiences. They are touring from city to city, while also selling livestream tickets so that people who don't live near the venues can still experience their show. Great idea!
There's always a first time
Popstars BTS are combining live concerts and livestreaming in their 2022 tour. (Getty Embed)
So are livestream concerts here to stay?
When it comes to sports, we've been 'livestreaming' those events for a very long time now. No one is saying that watching a basketball game on your couch is the same as being in the arena. But it's still pretty awesome, right?
Do you have a livestreaming event that you're excited about seeing one day in the future? What would you prefer? Going to a concert in person, or throwing a sleepover watching party with your besties in some PJs? Either way, we're just grateful that we get to experience live music in any form!