So what have our heroes been up to since the great war against Thanos? Well, let's find out, starting with Spider-Man.
The Aftermath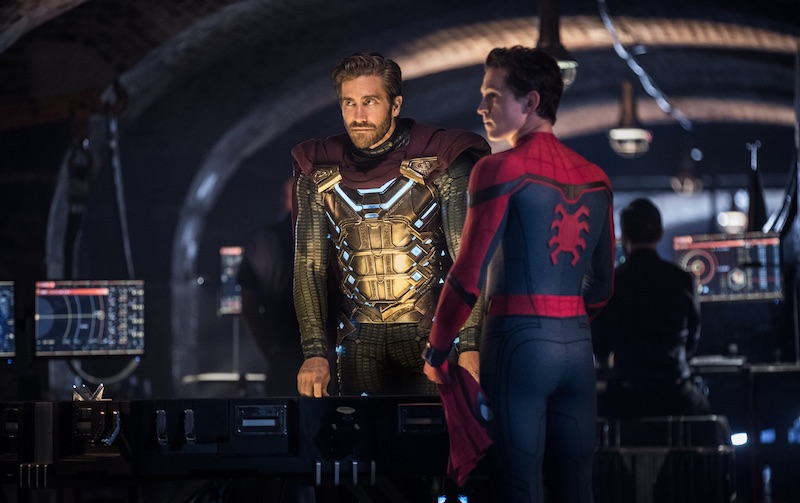 If only Spider-Man knew he was standing next to a villain... (©2019 CTMG, Inc. All rights reserved)
It seems like it was only yesterday that we were saying goodbye to the Avengers. Fans all over the world shed tears as the final scene of Avengers: Endgame played on screens. It felt like a form of closure even though it left us with questions. Thankfully, Spider-Man: Far From Home picks up after the epic events of Avengers: Endgame and gives us answers to some of those questions.
With everyone safe and at peace, Peter Parker (aka Spider-Man), plans to finally take a vacation from saving the world and relax on a class trip. But if you've ever seen any superhero movie, you know that a hero's plan doesn't always go smoothly. Shortly after the class trip begins, Nick Fury calls on Peter to step up and defend Earth against a new threat wreaking havoc all over the world.
The thing is, Peter really wants a vacation and more importantly, he doesn't believe he's capable of handling such a responsibility. What follows is a series of events that ultimately help Peter discover whether he's ready to fully join the Avengers and become one of Earth's trusted heroes.
Heartfelt and Entertaining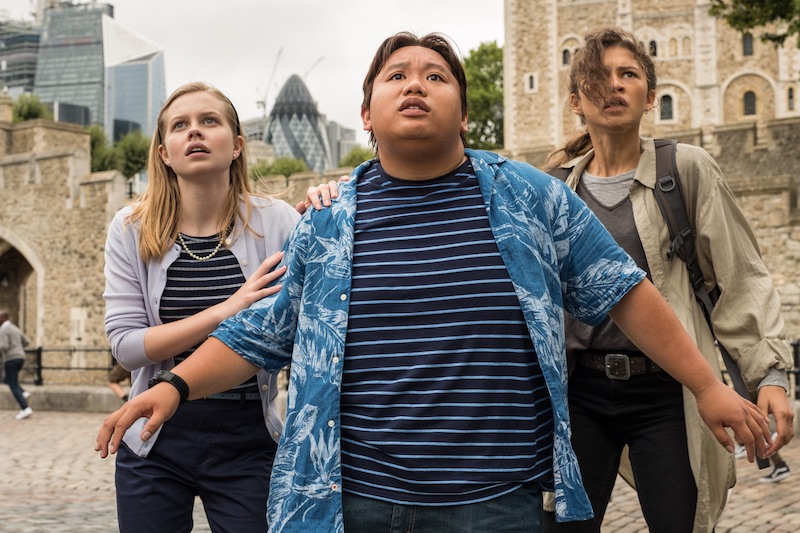 Betty, Ned and MJ find their lives in danger once again ... so much for a relaxing class trip! (©2019 CTMG, Inc. All rights reserved)
This isn't the first or last time you're going to read this, but we have to say it ... Marvel Studios truly does a fantastic job with action scenes. The explosions, camera angles, and gadgets are outstanding. Our favourite gadget, of course, is EDITH, an incredibly powerful piece of technology created by Tony Stark (aka Iron Man). We'll let you see for yourself what EDITH is capable of.
Although we could go on and on about the action scenes, they aren't actually the best parts of the movie. Strange right? Especially since those scenes are what Marvel Studios is best known for. Instead, it's the funny interactions between Peter's friends that stand out. They make the movie less serious and more playful which is fitting, seeing as Peter is supposed to be your "friendly neighbourhood Spider-Man."
Introducing...Mysterio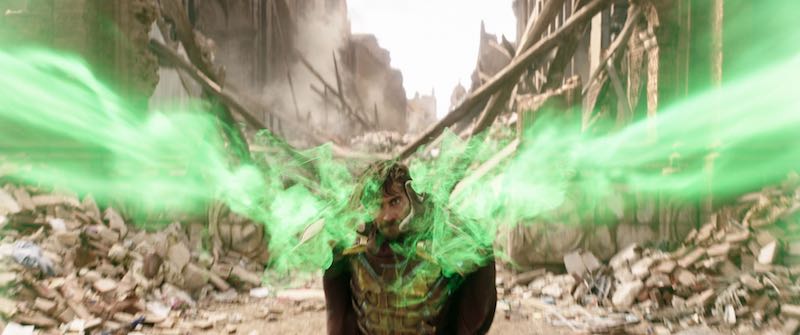 Mysterio is one tough villain and his powers are amazing! (©2019 CTMG, Inc. All rights reserved)
The villain we're referring to is called Mysterio, and he first showed up in Spider-Man comics in 1964. In Spider-Man: Far From Home, Mysterio's background is slightly different from the one in the comics. Here, we find out that he used to work for Tony Stark (aka Iron Man) but was fired. Now he's back with one thing on his mind ... REVENGE! Will our spidey-hero defeat his new foe? You'll have to watch to find out!
Take a peek at what's to come in the trailer below!
Spider-Man: Far From Home is out in theatres now.