Magic: The Gathering is a very popular fantasy card game. In fact, there are around 35 million players worldwide.
And The Lord Of The Rings is one of the most popular fantasy book series of all time, with over 150 million copies sold (never mind all of the films and video games based on it).
So what do you get when you combine the two?
Maybe $2 million?
What a find!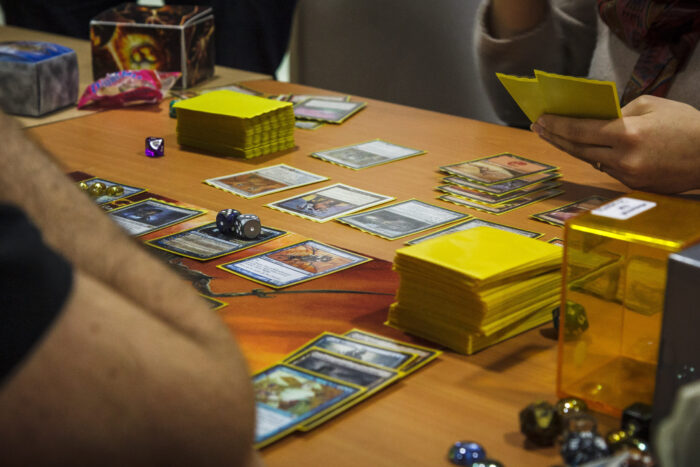 Fans play a game of Magic: The Gathering. (Wikimedia Commons)
At least that is the case with an unnamed collector in Toronto. His name is being kept private because of an especially rare find that he just made. He 'pulled' a Magic card that features the One Ring from The Lord Of The Rings. (Pulling is slang for buying a package of collectible cards and removing them from the package—"Cool, I pulled a Connor McDavid rookie card!")
In LOTR lore, the One Ring was made by the evil lord Sauron, and it is the duty of the hobbit Frodo Baggins to carry the ring to Mordor and destroy it by throwing it in the volcano known as Mount Doom.
Magic has a LOTR series based on the books, and the One Ring card is ultra-rare. The card features a picture of the ring and gold lettering that spells out the Black Speech of Sauron.
Fans of the game and the books know that the odds of finding the card are, well, one-in-a-million, so they never actually expect to find one. In a public statement, the collector said that when he found the card, he was so excited that "his hands were literally shaking."
What is next?
The first step was authenticating the card. This means making sure that it is official. To do this, the card was flown to California to be graded by a company called Professional Sports Authenticator (PSA).
Now that it has been authenticated and graded as 'mint' (meaning it is in perfect condition), the lucky collector has a choice. He can keep the card.
Or he can sell it.
As of now, another collector in Spain has offered €2 million (euros, which is about $2.89 million CDN) to buy the card. And experts say that this could be a once-in-a-lifetime chance for fans to own the card.