In the world of comic books, it doesn't really get any bigger than Marvel.
Though today that name is most well known as the source of many blockbuster movies, their countless heroes all got their start decades ago on the page.
Getting to draw a Marvel 'book' is a dream of any comic illustrator—a dream that has come true for Whitefish Lake First Nation artist Kyle Charles. But Charles' fantasies are being realized in an extra meaningful way.
He is one of a few fellow Indigenous creators who were chosen to draw Marvel's new Indigenous Voices Volume One. The project finally puts Marvel's Indigenous characters in the hands of actual Indigenous artists and writers.
Putting stories in the right hands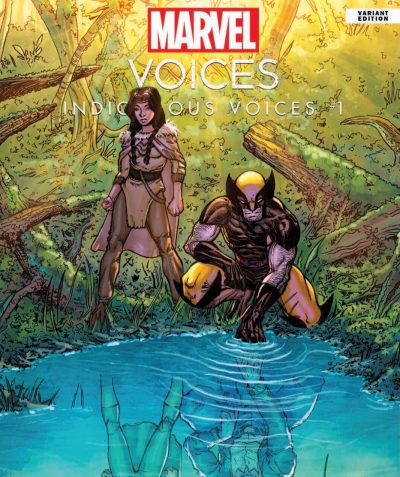 The final coloured version of Charles' variant cover. It features Dani Moonstar and Wolverine. (Marvel)
Marvel has had Indigenous characters—including Warpath and Echo—since the 1970s and 80s. But their stories were always told by artists with no lived knowledge of the various cultures they represented. The result was that the comic books weren't able to explore the depth of the characters in the same way they did with more popular characters like Iron Man, Hulk, or Captain America.
The Indigenous Voices book aims to address this problem. It includes a list of Indigenous creators from across the United States and Canada: Port Gamble S'Klallam artist and writer Jeffrey Veregge, Black/Ohkay Owingeh writer Rebecca Roanhorse, Tongva artist Weshoyot Alvitre, Lipan Apache writer Darcie Little Badger, Blackfoot Nation writer Stephen Graham Jones of the Blackfeet Nation, and Qalipu Mi'kmaq First Nation artist David Cutler.
And last, but not least, Whitefish Lake First Nation artist Kyle Charles. What a great opportunity!
Telling Dani's tale
Charles works with Little Badger to focus on the mutant character Danielle 'Dani' Moonstar. Dani, also known as Psyche and Mirage, is from the Cheyenne First Nation—her character also appeared in the 2020 film, The New Mutants. She has many powers, including the ability to telepathically create illusions of her opponent's dreams or fears.
Dani was always a favourite of Charles, who grew up a huge comic book fan. He drew every chance he got and officially became a comic illustrator in 2013.
"I've been drawing since I was three years old," he told Global News. "I could disappear in a room and have my head down in a notepad scratching away."
Becoming a full-time illustrator has been a lot of hard work, so he was blown away when Marvel actually approached him to work on the project. He not only accepted the offer quickly, but took it very seriously.
"(It's) letting us tell our own stories and I think that's incredibly important," he said.
He worked around the clock for days straight to meet the deadline for the comic. For inspiration, he thought of the many Indigenous women in his life who have inspired him, especially his mother and his grandmother, Coco.
The comic is available now. You can see the trailer for it below.