Dinosaurs!
Do we have your attention? We thought so!
We love dinosaurs here at OWLconnected, as you may have noticed. So we jumped at the chance to get a preview of the traveling interactive show, Jurassic World: The Exhibition! Based on the massive blockbuster movie series, the exhibit is designed to answer one question:
What would it feel like to visit Jurassic World?
Spared no expense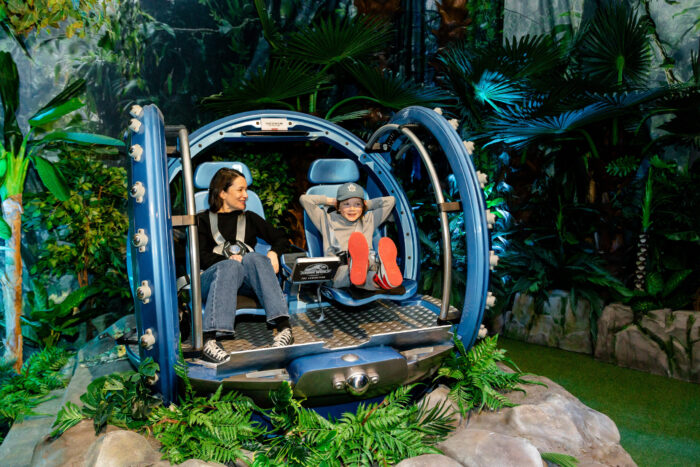 Who's ready for a ride? OWL reader Holden and his mom, Lesa, hop on the gyrosphere! (Vito Amati)
The exhibition, which opens its first Canadian visit in Mississauga, Ontario on Saturday, April 29, does a pretty impressive job of delivering this experience. It uses a cool mixture of animatronics (robots), actors, high-tech computers, and beautiful sets to make you feel like you're at a dinosaur theme park!
You need to use a bit of your own imagination but whether it's petting a baby Parasaurolophus, steering clear of the swinging tail of an adult Ankylosaurus, or witnessing the feeding of the massive Indominus rex, the staff at Jurassic World is super excited to make all of your dino dreams come true.
We loved it!
Explaining how the world comes to life
OWL Senior Writer John and readers Isla and Holden meet a baby Pteranodon. Cute! (Vito Amati)
Of course, we were very curious about—and impressed by—how they pulled this all off.
At Jurassic World: The Exhibition, you get to visit a towering Brachiosaurus, tour the nursery where they carefully incubate eggs before they hatch, and watch one of the staff train Blue, the famous Velociraptor from the recent films. And there might even be a showdown with a certain 'kingly' predator ... but we don't want to spoil any surprises!
To get the scoop, we spoke with Kurt Baker, Senior Vice President of Global Marketing and PR at NEON, a company that is producing this massive show. Let's see what he had to say about the challenges—and thrills—in bringing dinosaurs back to life!
OWLconnected: You must be really excited about this stop for Jurassic World. First time in Canada!
Kurt Baker: Yes! (Our presale tickets) went on sale about two months ago, and we've already sold about 70,000!
OC: People are obviously excited to see some dinosaurs. How did this idea for a real life theme park come together?
KB: This launched in Melbourne, Australia in 2016. Since then, we've built one of four sets. So this is just one of the group that is traveling [around the world]. Each one is a little different— they're about 85 percent the same. But this one [in Mississauga] has a full-grown Ankylosaurus and a Carnotaurus. And that is unique to the Americas—there's another set in the US right now that doesn't have those. So this is the Canadian premiere of Jurassic World, but it is the Americas premiere of those two dinosaurs.
OC: That's great!
KB: Yeah, it's a nice thing to have here. This is the fifteenth city that we've gone to, and we've seen about five million people worldwide so far. People really like dinosaurs!
OC: How similar are the animatronics to what had been used in some of the films?
KB: What's interesting about them is that we create them at NEON. We own an animatronic and robotics company in Nashville, Tennessee called Animax. So all of the dinosaurs are created in our own labs, and then we send them around the world.
When you see the [recent] movies, there might be a small animatronic, but it's usually not a full-scale one. It's usually just a face or a hand. In fact, Steven Spielberg (the original director of Jurassic Park) had never built a full animatronic version of a dinosaur! So when we worked on this project and he came to see the dinosaurs, it was even surprising to him. So this is really the only place, outside of the [Universal Studios] theme parks where you're going to see a full-sized animatronic.
OC: There are so many dinosaurs that have appeared in the movies. How do you decide which ones that you're going to show?
KB: We work really closely with Universal Live Entertainment, and we make sure that the storyline [of our show] fits with the narrative from the films. We might go off just to create a unique experience that makes sense as you walk through it. But we choose dinosaurs that are either the most popular or the most interesting.
And we also want to teach people. Because you do have the real live science behind dinosaurs and DNA, so this can interest school groups as well.
But Jurassic World is ultimately entertainment. Of course T. rex has to be there! Everyone loves baby Bumpy, the Ankylosaurus, so you get that chance [to meet him]. The Brachiosaurus, too.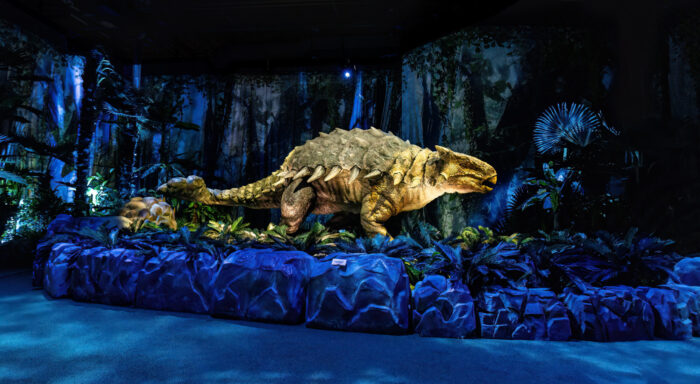 If you visit Jurassic World, keep your distance from this Ankylosaurus' mighty tail! (Vito Amati)
OC: Do you have a favourite part of your show?
KB: The Ankylosaurus in Gyrosphere Valley is my favourite thing. T. rex is impressive, but when you see [the Ankylosaurus] whip her tail around, you just get that sense of awe over how big dinosaurs really were.
OC: Thanks, Kurt. And thanks for having us at the exhibit.
KB: My pleasure!
Jurassic World: The Exhibition opens officially on April 29 in Mississauga, Ontario across from Square One Mall