1989's The Little Mermaid is one of Disney's greatest-ever animated films. And with the company making its way through its catalogue of classics with a series of live action remakes, you knew that it was only a matter of time before they went under the sea and became a part of Ariel's world.
Led by a school of charming sea creatures and a net of memorable musical numbers, The Little Mermaid is the story of Ariel, a mermaid princess who longs to visit the human world above the surface.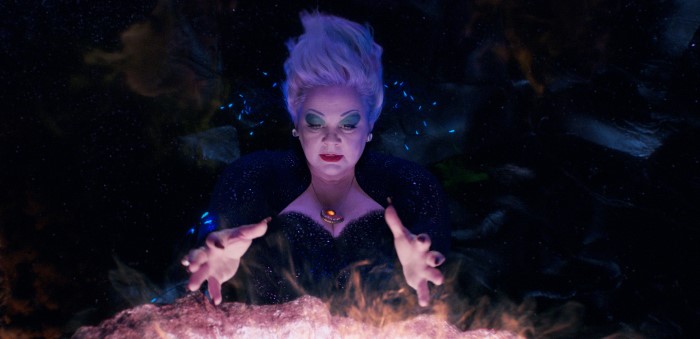 Ursula has big plans for Ariel ... and they're not good ones! (Disney)
Her father, King Triton, not excited by this. He sends Sebastian, a trusted crab, to keep an eye on his youngest daughter. But Sebastian and Ariel's best friend, Flounder, have their fins full trying to distract her from the sea witch, Ursula.
Ursula knows that the young mermaid is very interested in a human, Prince Eric. And she has made a tempting offer that could see Ariel leave the sea—and her voice—behind forever ...
A new Atlantica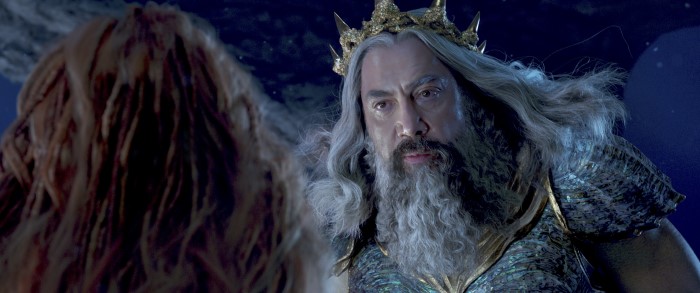 King Triton is not too happy about Ariel visiting humans. (Disney)
The most obvious change in this new version of The Little Mermaid is how it looks.
Instead of classic Disney animation, we're given a tour through a rich, underwater world that looks so realistic that you could dive right into it! Just like in the recent version of The Lion King, all of the wildlife—fish and turtles, squids and crustaceans—look like real-life animals.
This makes the film a lot of fun during the underwater musical numbers, especially "Under The Sea", which plays like a full-on coral reef circus performance. Particularly when you're watching a sea turtle conga line!
More hang time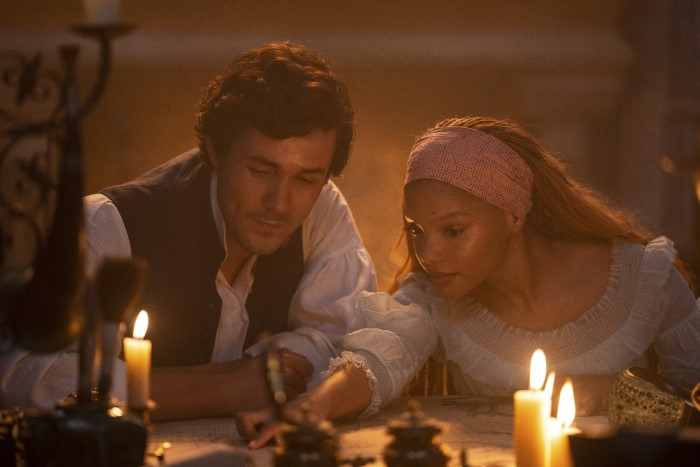 After she saves his life, Prince Eric and Ariel get to know each other on dry land. (Disney)
This remake also gives us more time between Ariel and Eric, letting us see more of his life on the surface. We liked this—their relationship makes a little more sense because the two characters really get a chance to know each other better.
It also gives us the chance to hear a few new songs that were written for this version. Fun! One of them is a song about Eric's desire to explore that is called "Uncharted Waters". The other is a suuuuuper silly rap by the zany bird Scuttle and Sebastian. We know that you'll be tapping your toes to that one!
But even with these visual changes and new twist, the overall plot of the film is the same as the 1989 version. This is a movie about Ariel's big emotions, big dreams, and big choices. We had fun diving back into this tale and enjoyed the new twists!
INTERVIEW: Talking with Jacob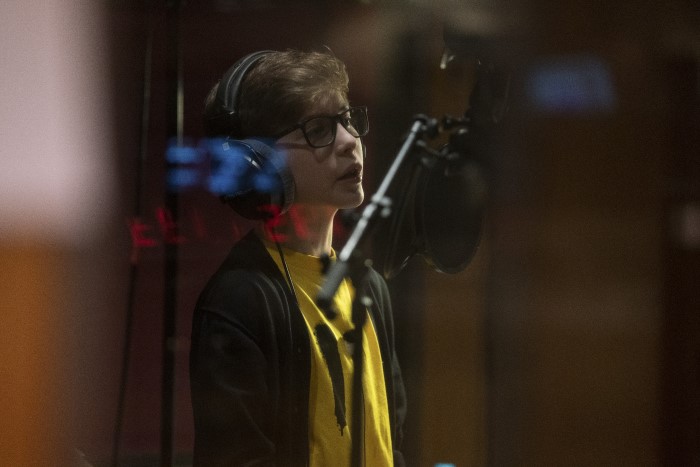 Jacob Tremblay in the studio, recording his voice for the fish, Flounder. (Disney)
Jacob Tremblay may only be 16, but he's already a very experienced actor. The Vancouver native has starred in everything from Oscar-winning dramas to sci-fi monster movies. And he's also done a variety of voice acting in big animated features. His biggest such role to date was as the lead in the 2021 Pixar film, Luca (another film about mer-creatures that we LOVED).
In The Little Mermaid, he does the voice of Flounder, the small fish with a big heart who is Ariel's best friend. We spoke to him about being a part of remaking one of Disney's most famous films, as well as what it is like to be an actor and still go to school every day!
OWLconnected: You started acting at a young age. What got you started?
Jacob Tremblay: I did my first movie when I was, like, five! I didn't do sports, so it was just a way for me to have an activity outside of school that I could enjoy. I started by doing commercials. Most of the time [in the commercial], they would just give you toys to play with, so that was all it was. Playing with toys on camera!
OC: Sounds easy enough!
JT: It was fun! Then I auditioned for my first movie, which was Smurfs 2. The work for that was really minimal and I just got to work alongside these Smurf puppets! I really got to develop my passion for acting. And I got to do a more serious film, which maybe your readers aren't quite ready to watch yet [laughs]. But that's what makes a film like [The Little Mermaid] fun because all audiences get to enjoy them.
OC: You've already done so many different types of movies. How do you choose what you want to do next?
JT: I like to explore all different types of film, all different genres, all different characters. For example, The Little Mermaid is a musical and I've never done a musical before. I've done action and horror, drama ... I guess it's just been really cool to get involved in different types of film and see what I enjoy most. And I think I'm at the point where I just love variety. I think that is my thing.
OC: That and maybe sea creatures! It is funny how both of your biggest animated voice roles (Luca and The Little Mermaid) have been about merpeople!
JT: That's true! I have a lot of experience acting underwater! [laughs]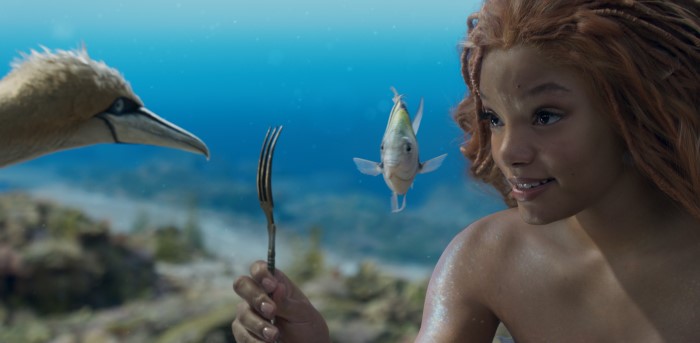 Scuttle, Flounder, and Ariel inspect a mysterious human artifact. (Disney)
OC: How different is voice acting to acting in person with other actors?
JT: In live action, you'll be there in costume and on set and it's really immersive. It's easier to go into the performance. You also have a camera that is capturing your face, your eye movements and expressions. But in animation, you don't have those things.
For this film, we did at least have the concept art (drawings) to see how the ocean and the rocks under the sea would look, which is cool. But you can't just act through your eye movements or arm gestures. You have to display every emotion with your voice, which is a challenge at the start.
But it's really fun to explore that with a director and see what you can do to use your voice to display different emotions.
OC: Did you have a breakthrough on how to do that?
JT: It is a transition, for sure. You really have to play up your emotions. In Luca, Enrico (Casarosa) was a great director and he taught me how to really use that skill. At the end of recording that film, you could really see me going for it and jumping up and down (recording my voice). I remember accidentally knocking over the microphone in the stand and the papers (with the script) went everywhere! That's how big I got for some of the scenes.
OC: What about acting in this movie? Were you a fan of the original?
JT: Yeah. All of its songs were engraved in my mind. This was one of those movies that was very prominent in my household. Definitely a family favourite. I knew all the songs, I knew "Kiss the Girl", which is the song that I have a little part in. That was the song that they had me do in audition.
It is really cool to be a part of something that will be introduced to new audiences, as well as original fans of the film.
OC: And how do you feel about helping to reimagine this classic?
JT: What I like about it is that, for original fans, these are really beloved characters. And we actually go into more depth with them. For example, Prince Eric now has his own song, which Jonah (Hauer-King) does a phenomenal job at performing! It does a great job at expressing his emotions. Ariel also has a new song, there's a song called "Scuttlebutt", with Scuttle and Sebastian. It's all really cool.
OC: Your career is so demanding. Do you have time to keep up with school and see friends like other kids your age would?
JT: Yeah, I actually go to a normal public school, which is less common for children who do acting. But it's cool because I've lived in this neighbourhood for a big chunk of my life. So everyone there is familiar with me, they know what I do and they're friendly. These are the friends that I've grown up with.
I actually remember walking home with a friend once and he was like, "Oh, I completely forgot that you're, like, famous!" It was pretty funny and I like that. I like how they can look beyond that [part of my life].
OC: That must really keep you grounded.
JT: It does. Just being there with everyone, worrying about school—sometimes I just forget about the whole [acting] thing.
Thanks, Jacob! We definitely won't be forgetting about you or your new film anytime too soon. Watch the trailer for The Little Mermaid below!
The Little Mermaid is in theatres now.