Even in a series of films full of fellow toys, Buzz Lightyear really stood out.
The Toy Story hero was loaded with confidence and fully committed to his missions—namely, going to 'Infinity and Beyond!", and defeating the evil Emperor Zurg.
It was all great fun in the films, but it kind of made you wonder: What was Buzz's universe really like? What happened in those epic battles between him and Zurg?
Clearly, the people at Disney/Pixar were wondering the same thing because now we've got Lightyear, a movie that brings us right into that space-tacular world!
Not a prequel, not a sequel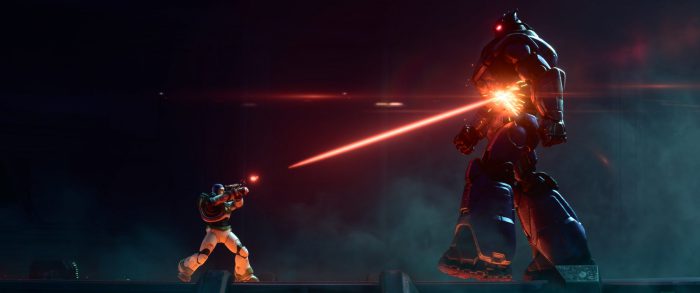 Buzz Lightyear has his hands full with Emperor Zurg! (© 2022 Disney/Pixar. All Rights Reserved.)
Though this film is related to the Toy Story franchise, it is neither a prequel nor a sequel. Instead, the idea is that Lightyear is the movie that Andy, the human boy in Toy Story, saw that made him want a Buzz Lightyear action figure in the first place. Make sense? It's a pretty cool idea.
And, as it turns out, it's a pretty cool film, too.
Space rangers on a mission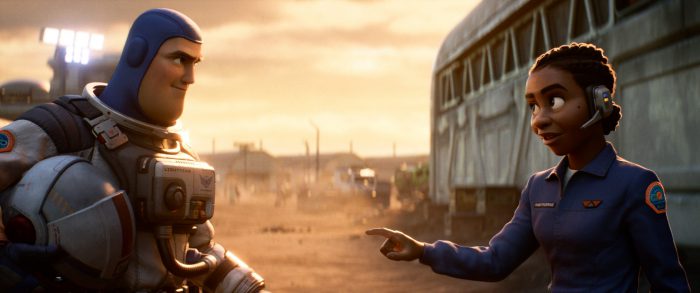 Buzz and his best friend and commander, Alisha. (© 2022 Disney/Pixar. All Rights Reserved.)
The Buzz of Lightyear is a human character himself, not a toy. He is partnered with Commander Alisha Hawthrone. She is more than his leader. She is also his best friend. The two space rangers are the elite members of a human mission sent out across the galaxy to explore new worlds. But then a terrible accident leaves the entire population stranded on a hostile world.
Buzz blames himself and makes it his new mission to repair the transport spacecraft and save his community. But things don't go as he plans. Before he knows it, his mission has isolated him from everyone he cares about, including Alisha. And to make matters worse, the colony is under attack from a powerful new robot enemy ...
All about Buzz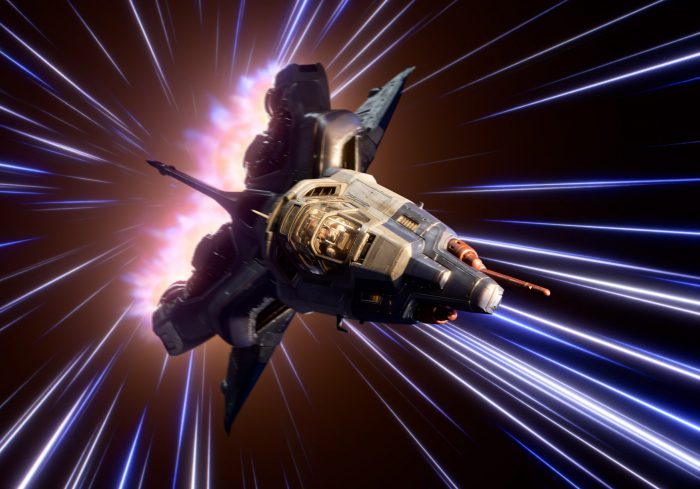 Lightyear the movie is action-packed and full speed ahead! (© 2022 Disney/Pixar. All Rights Reserved.)
Lightyear is a space epic. It is full of spacecraft, lasers, robots, alien worlds, hyperspeed, scientific gizmos, and endless adventure. It also introduces an adorable sidekick in Sox, the robot kitty.
But as the title suggests, the film really is all about Buzz. Not just his adventures, but about how he learns to let go of his big past mistake and live the life that he has ahead of him. Whether you're a fan of Toy Story and other Pixar films, or of the Star Wars movies, there is a lot to enjoy.
Diving into making Lightyear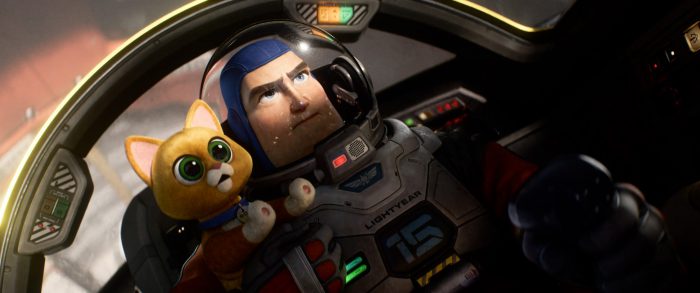 Why is Sox the robot a cat? We asked! (© 2022 Disney/Pixar. All Rights Reserved.)
To get even more perspective on how this new movie was made, we talked to its director, Angus MacLane, and producer, Galyn Susman. They spoke about why the robot Sox is an animal, their favourite space vehicles of all time, and how LEGO (yes, LEGO) helped them make the film!
OWLconnected: We heard that you actually used LEGO to make prototypes for the vehicles in the film. Why that and not pen or computers?
Angus MacLane: With LEGO you can prototype things really quickly. I would say that a lot of the builds that I had for the film were not long builds—they were meant to be just quick gestures. For example, the Armadillo [a personnel transport ship used often in the movie], I was just trying to get a shape out there. Just quickly, so I could bring it to the team and be like, "This is kind of like what I was thinking."
It was a different kind of building than when you're building for yourself and you want it to be this perfect thing. I was letting go of perfection and getting more into, What is the gesture of the shape?
OC: We loved Sox! Why did you choose to have an animal robot? Is he based on any of your own pets?
AM: I have two cats, but personality-wise, he is not like them! He's based on toys, like a limited movement animal toy? I wanted him to be a robot sidekick, but one that was furry, fuzzy, sort of? Like, he's cuddly, kind of?
Galyn Susman: We're making a film that mostly stars human beings. And with humans, people can be like, "Well, I like this part, I don't like that..." But with animals, there's just something that we surrender our hearts to. They just saw, "Awww, that's such a cute guy!"
OWLconnected: There are so many cool vehicles in Lightyear. What is your favourite space vehicle of all time? 
AM: My fave is the Cheyenne drop ship from Aliens. And, I don't know if you'll notice it, but there is a ship in the background at the base in one scene in Lightyear. It is an Armadillo outfitted with all of this additional weaponry. And the ship itself is called The Bug Stomper. And those words are written the same font used for writing on the side of the Cheyenne pilot's helmet in that film. It's a pretty specific reference!
GS: Wow. That is a very specific reference. (laughs) I have nothing so specific. I just always wanted one of those Star Wars speeders. I just wanted one!
We know what you mean, Galyn! Watch the trailer for Lightyear below and enjoy this amazing sci-fi adventure.
Disney/Pixar's Lightyear opens today in theatres across Canada.